David O Russell is back, and that's something of a mixed blessing.
On the one hand, the Silver Linings Playbook director's new movie, Amsterdam, looks like one of the year's first true award contenders, a high-energy 1930s period piece with an absolutely loaded cast. Like, everyone is in it. Everyone.
The problem is Russell himself. The Oscar-nominated filmmaker has long been known as an on-set tyrant, and the release of the Amsterdam's trailer has dredged up an even more disturbing accusation of sexual assault, levied against him by his own niece in 2011.
How might those resurfaced allegations affect the critical and audience response to the film? It's hard to predict at this point. But here's everything we do know about Amsterdam – and about Russell's past misdeeds.
When does Amsterdam come out?
It's scheduled to hit theatres – no streaming, for now – on November 4, 2022.
Is there a trailer for Amsterdam?
There is and you can watch it below.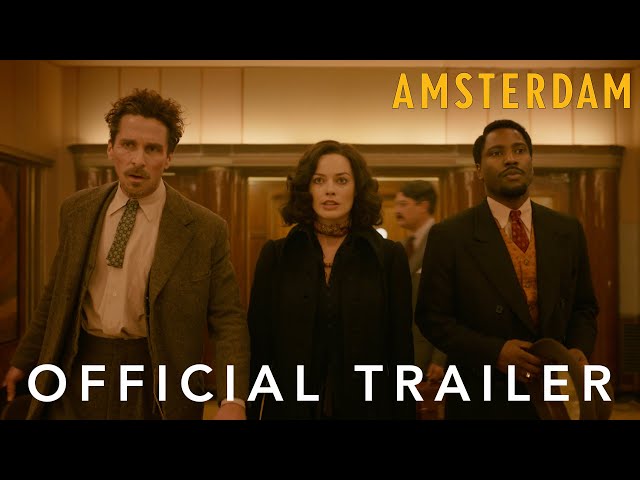 What's Amsterdam about?
While the trailer gives an overview of the tone (comedic and caper-y), the time period (1930s) and the massive cast (see below), it doesn't reveal much about the actual plot. The official synopsis describes it as 'an original crime epic about three close friends who find themselves at the centre of one of the most shocking secret plots in American history.' And the trailer plays up that the film is loosely based on actual events, with a title card reading 'a lot of this actually happened'.
Who's in Amsterdam?
It might be easier to say who's not in it, but the nominal star appears to be Christian Bale, who previously starred in Russell's American Hustle. Here, he plays a doctor with gaunt features, wild hair and some facial scarring. The other two 'friends' mentioned in the synopsis are portrayed by John David Washington (BlacKkKlansman, Tenet) and Margot Robbie, playing a lawyer and nurse, respectively. The three met during the war and, according to dialogue in the trailer, 'formed a pact… to protect each other, no matter what.'
Other big names in the cast include Robert De Niro (in his fourth David O Russell film appearance), Chris Rock, Anya Taylor-Joy, Timothy Olyphant, Alessandro Nivola, Andrea Riseborough, Matthias Schoenaerts, Michael Shannon, Mike Myers, Zoe Saldaña, and Rami Malek. And then there's Taylor Swift, shown only briefly in the trailer, who Variety reports plays the daughter of the murder victim that drives the story. It's her first film role since the Cats debacle.
Like we said everyone is in it.
In addition to the star-studded cast, the movie is also lensed by the great Mexican cinematographer Emmanuel Lubezki, a three-time Oscar winner for his work in Gravity, Birdman and The Revenant. And it's being scored by Icelandic musician Hildur Guðnadóttir, who previously won an Academy Award for the music in Joker.
What's the deal with David O Russell?
Allegations of the director's bullying behaviour first surfaced around the time of his 1999 Gulf War movie Three Kings, when star George Clooney said the two got into a physical altercation over Russell's on-set conduct. Clooney referred to it at the time as 'without exception, the worst experience of my life.'

Later, a video of Russell berating Lily Tomlin during the filming of I Heart Huckabees, in which he referred to the comedy legend as a 'cunt' and 'bitch', went viral. In a 2016 interview, Amy Adams said Russell made her cry almost daily while shooting American Hustle until co-star Christian Bale stepped in.
The most disturbing allegation, however, comes from Russell's then-19-year-old niece, Nicole Peloquin, who in 2011 filed a police report claiming the director groped her while working out together at a gym in Florida. Peloquin, who is transgender, says she and Russell were discussing her hormone treatments when Russell slipped his hands under her shirt and felt her breasts, then made her 'pinky swear' not to tell anyone what happened. According to the police report, Russell confirmed that the incident did occur, but said that Peloquin was 'acting very provocative toward him'. The Broward County Sheriff's Office declined to press charges, however, because the assault was not witnessed by police.
As the long list of names adorning the official poster below makes abundantly clear, there are many actors still more than willing to work with the filmmaker. But whether the bad press catches up with him, and how much it might impact audiences and awards voters remains to be seen.
Amsterdam is in cinemas worldwide on November 4, 2022.