A little over a century ago, the urban planner Ildefons Cerdà was tasked with transforming Barcelona into a modern metropolis. A booming population was crammed within the city's medieval walls, causing constant epidemics, so Cerdà designed a grid-like neighbourhood with broad boulevards, known as the Eixample ('expansion'), that would open up the city and let it breathe.
Today, Barcelona is undergoing another massive transformation. The city is still one of the densest in Europe, and mayor Ada Colau is now freeing up space occupied by cars. At the heart of her ambitious plans is the concept known as the superilla ('superblock'), which involves grouping together several of Eixample's blocks and restricting them to traffic – creating space for squares and green areas. The idea is to disincentivise driving through the city centre, and make pedestrians and cyclists the priority.
So far Barcelona has created five superblocks and got rid of 3,500 parking spaces, while the whole city has been made low-emissions zone. Getting around on foot or by bike is already a much more pleasant experience than it was five years ago. But this is only the start. A second phase of the project starting in June 2022 will give priority to pedestrians in one in three streets in Eixample by 2030. Together, the superblocks will form a network of 21 'green hubs', with no resident more than 200 metres away from one. Janet Sanz, deputy mayor in charge of urbanism, says the idea is that 'cars will go from being the protagonists to being guests'.
While the project has received some typically vociferous criticism from the car lobby, superblocks have mostly been welcomed by residents, perhaps thanks to the public health argument behind them. The amount of traffic here means Barcelonans breathe some of the dirtiest air on the continent, with levels constantly exceeding EU and WHO limits. Sanz points out that Cerdà's grid, once aimed at making the city healthier, is now having to be rethought due to the exact same problem. 'It was designed to make the city healthier, provide cleaner air and better health conditions, but it has become the most polluted area in the city.'
In the second superblock, which was inaugurated around a newly refurbished nineteenth-century market in the neighbourhood of Sant Antoni in 2018, traffic fell by 82 percent and nitrogen dioxide pollution fell by 33 percent in two years. A study by the Barcelona Institute of Global Health calculated that, if the city created 500 superblocks, it could prevent 667 premature deaths every year.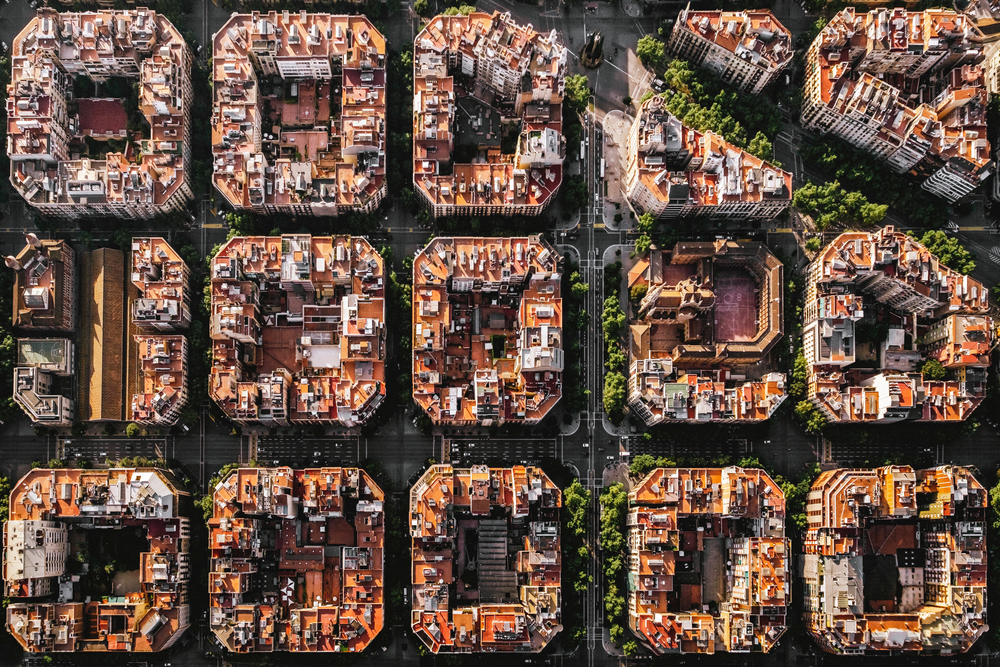 The cleaner air and reduced noise levels are also making it more pleasant to spend time outdoors: an essential aspect of the Mediterranean way of life. While the roads are not completely closed off to cars (there are exceptions for residents and deliveries), intersections have been filled with playgrounds, benches, plant pots and picnic tables, while surrounding cafés and shops have benefitted from increased footfall.
'The market is just in front of us, and a pedestrian area is more practical for shopping,' says Francesca Pavolucci, co-owner of Düal café. 'The space gets used a lot, especially in the afternoon by young people and families with children. For small businesses and for the neighbours it can only be positive.'
The lockdowns of 2020 meant Barcelonans, many of whom live in small apartments, were able to experience a car-free city for the first time, and many liked what they saw. Like authorities in Paris and Amsterdam, Colau used this unusual period as an opportunity to advance her plans, creating an additional 21km of cycle lanes and 30,000 square metres of pedestrian areas.
However, many still think the mayor is not being ambitious enough. Some residents, particularly those with children, regret that the project has stopped short of banning cars outright, which would make streets safer for kids to play. 'The idea behind the project couldn't be better,' says Pablo Peralta, who lives next to the Sant Antoni superblock, where he spends time with his three-year-old son. 'But for me and many other parents, there's still a lot to be done. Only authorised vehicles are allowed in, but some people don't respect it,' he says.
Yet very few cities, anywhere in the world, are undergoing such radical changes. For Colau, the superblocks are about undoing the car-dominated model in order to 'recover the spirit of Cerdà', whose original plan, in fact, included green areas that were never realised. 'One day not very far in the future,' she said at a recent conference about post-Covid cities, 'we'll look back at our cities immersed in pollution with the same disbelief and rejection we have today when we remember smoking was allowed on public transport, cinemas or hospitals'. Put like that, it doesn't seem that radical at all.
Now find out how Bogotá became a world-beating cycling haven – and how Milan is being transformed into one gigantic urban forest.