Heads up! We're working hard to be accurate – but these are unusual times, so please always check before heading out.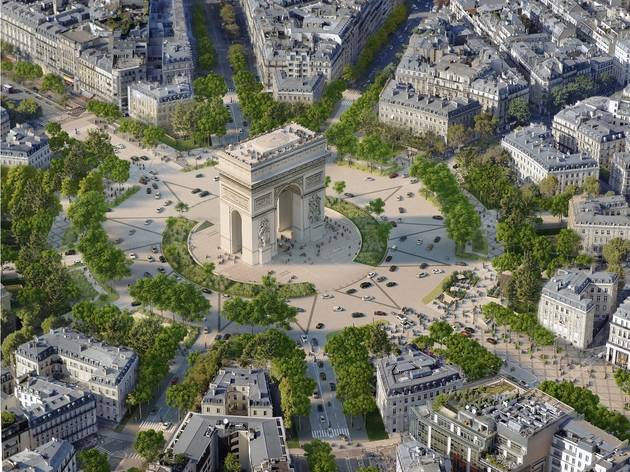 How Paris plans to become Europe's greenest city by 2030
From sweeping car bans to vast urban forests, the French capital is transforming itself for Parisians and the planet
Openness to change isn't a characteristic you'd normally associate with Paris, with its proud, traditional, regulation-hugging image. Nor is green open space – given the popular image of the city is all grand boulevards, gravel parks and a sea of undulating rooftops.
So it might surprise you that the French capital is now leading the charge when it comes to carving out an environmentally-sound vision of city life. Its mayor, Anne Hidalgo, has placed green policies at the forefront her campaigns ever since she was first elected in 2014. And unlike some other leaders around the world, she is also acting on them.
The pedestrianised stretch of the Left Bank. Photograph: Wikimedia Commons / Guilhem Vellut
Just take the roads. If you've walked through Paris at any point over the past five years, it may well have felt like one gigantic building site. Around 900 miles of bike lanes have been created across the city since Hidalgo came to office. Major roads, including the quais that run alongside the River Seine in the very centre, have been shut off to traffic entirely. The world-famous plazas of Madeleine, Nation and Bastille have been redesigned to make them more pedestrian-friendly. From 2024, all diesel cars will be banned from the city, and by 2030 petrol cars will be as well.
These moves haven't been without controversy. Taxi drivers and other members of the car lobby have staged mass protests against many of the measures. But the city continues undeterred, making the most of the fact that the streets have emptied out significantly over the past year to drive through further changes.
During the first lockdown in 2020, for example, the city turned 40 miles of road into bike lanes – dubbed 'corona pistes' ('corona lanes') – and banned cars from the Rue de Rivoli, which stretches all the way from the Louvre to the Place de la Bastille. These initiatives could be made permanent, and many more cycle lanes are in the works.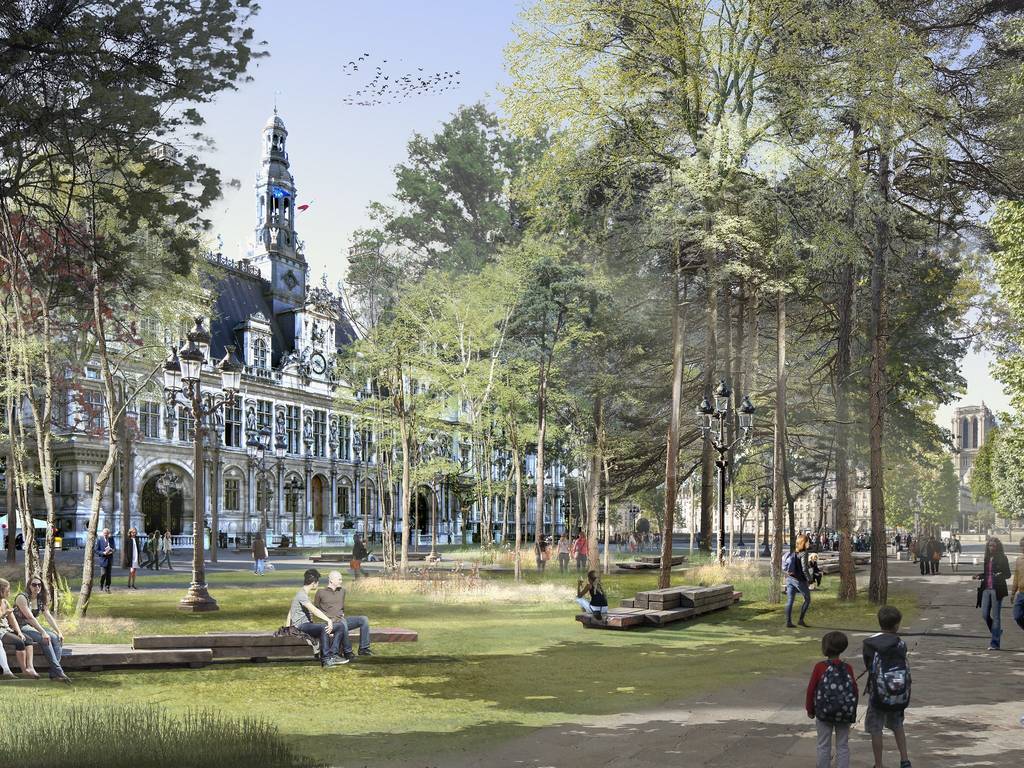 The proposed urban forest in front of the Hôtel de Ville. Photograph: Apur / Céline Orsingher
At the same time, plans are afoot to plant four new 'urban forests' next to major landmarks including the Hôtel de Ville, the Gare de Lyon and the Opéra Garnier. By 2026, mayor Hidalgo has pledged to plant more than 170,000 trees across the capital, with 50 percent of the city covered by planted areas by 2030. To help make that happen, building codes have been loosened so it is much easier for Parisians to plant trees in their neighbourhoods. It's all in line with what Hidalgo told The New York Times was one of her major goals: to 'build this city around the individual'. One simple way to do that, she added, was to put nature back into urban life.
As Paris gears up to host the 2024 Olympic Games, it also plans to give many other major sights a green new look. The area around the Eiffel Tower, for example, is to be turned into an 'extraordinary park' just in time for the games. The Place de la Concorde, Paris's biggest square and the site of Marie-Antoinette's execution, will also be planted with new 'park areas'. And the suburb of Seine-Saint-Denis will soon be home to a new 'eco-friendly' Olympic Village, Media City and Olympic aquatic centre. Riverside pools, built for the games and filled with cleaned water from the Seine, will subsequently be given over to public use.
The planned redesign of the Place de la Concorde. Photograph: PCA-STREAM
Much of the impetus behind such high-profile green projects stems back to another momentous international event that took place in Seine-Saint-Denis. Back in December 2015, all eyes were on this northern corner of the French capital as it played host to the United Nations Climate Change Conference (COP 21). The talks were hailed as a turning point in the fight against climate change, with countries pledging to limit global warming to no more than 2C above preindustrial levels.
Cities, which produce 60 percent of the world's carbon emissions and use 78 percent of its energy, will have to play a major role in turning the Paris Agreement from promise into reality. So perhaps it shouldn't be so surprising after all that the COP 21 host should now be showing others how it's done.
The plans stretch far beyond the 2024 Olympics. By 2030, Paris's most famous street, the Champs-Élysées, will be turned into an 'extraordinary garden' as part of a massive €250 million makeover. The plans include reducing the number of car lanes from four to two, creating new pedestrian and green areas, and planting 'tree tunnels' that improve air quality along the 1.9km-long avenue.
Perhaps most ambitiously, Paris wants to reshape the way its two million residents interact with the city around them, with a focus on reducing car use and encouraging travel on foot and public transport. One of Hidalgo's consultants is Carlos Moreno, a professor at the city's Sorbonne University and one of the major proponents of the '15-minute city' concept. In this model of the city, residents would have access to all basic services (public transport, shops, schools) within a quarter-hour of their home. 'We've seen through the pandemic that it's possible to work differently, to create new hubs,' Moreno told Time last year. 'I am optimistic.'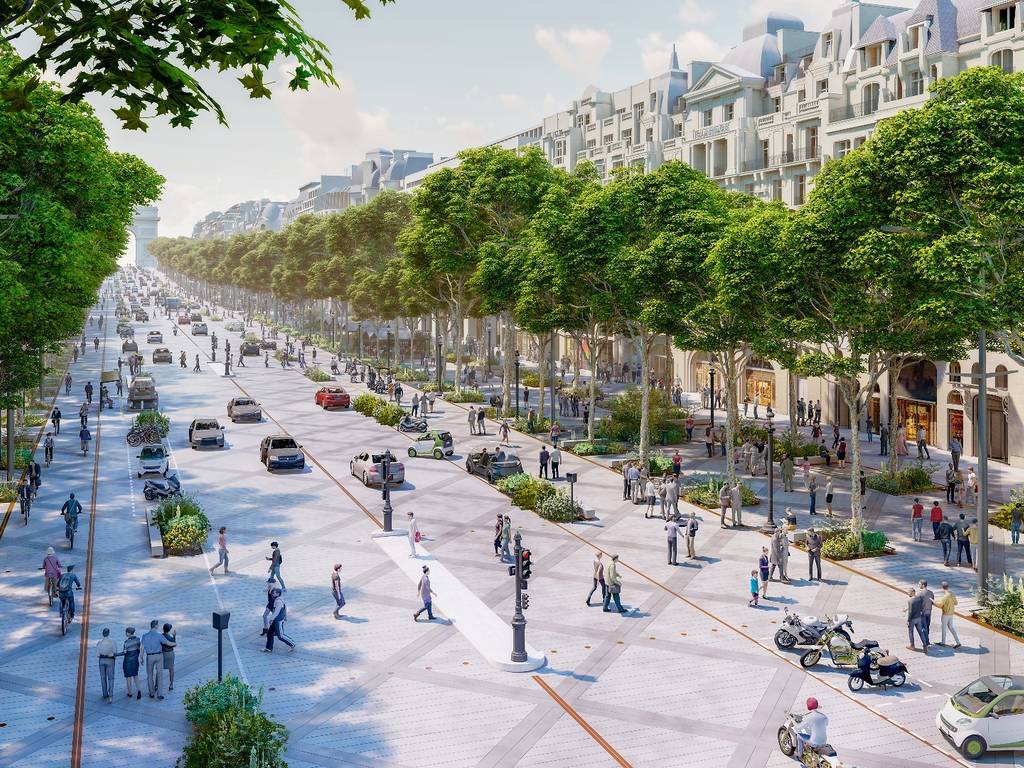 The new-look Champs-Élysées, due to be completed by 2030. Photograph: PCA-STREAM
The lockdowns of the past year have given many cities pause for thought. And in many cases, mayors have capitalised on the lack of foot traffic to push through drastic measures.
Amsterdam, for example, is taking various bold steps to rein in mass tourism, including banning Airbnb rentals in some districts. Barcelona is planning to create 21 new public squares, along with all-new pedestrianised 'green zones'. Milan has widened pavements, brought in strict speed limits and built miles of new bike lanes in its historic centre. Over in the US, meanwhile, urban planners, landscape architects and artists have been tasked with designing a 'green, car-less' vision for Manhattan.
And yet few cities anywhere in the world are acting quite as boldly and proactively as the City of Light right now. Traditionally, the two major parks to the east and west of Paris – the Bois de Vincennes and the Bois de Boulogne – have been known as 'les poumons de Paris': the city's 'lungs'. But if all goes to plan, Parisians will soon have plenty more space to breathe.
More developments shaping the future of urban life
The big developments of the next ten years include plenty of anti-car measures, 'urban forests' galore, and loads and loads of solar panels.