British-American musical ingenue Mark Ronson has long existed at the intersection of styles. He's unleashed the retro-cool of Amy Winehouse on the world and the throwback "Uptown Funk" on wedding receptions; reimagined old Britney Spears classics as slow-funk grooves; helped Miley Cyrus return to her country roots; and scored an Oscar for A Star is Born to go along with his pile of Grammys.
Having forged a legendary career from mining the past, Ronson's always exhibited a curious reverence toward old-school music production and styles. Now, he's set to host a new Apple TV+ documentary about the sounds that have defined generations — and he's bringing along a huge roster of musical royals to back him.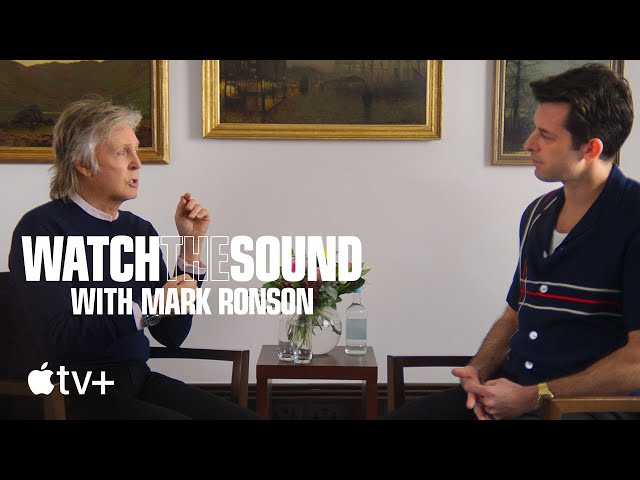 "I've always been obsessed with how things sound," Ronson says at the top of the trailer for Watch the Sound, a six-part Apple TV+ series exploring advances in musical technology across the decades. Far from the standard talking heads-style documentary, it looks as though Ronson's approach is a more intimate one, with the multi-hyphenate having up-close and personal conversations about the impact of synthesizers, sampling, distortion, autotune, drum machines and much more with some of the most influential artists of all time.
According to a statement from Apple, each episode will culminate with Ronson producing a brand-new song using whatever influential tech he discussed with his famous friends.
Those friends include Sir Paul McCartney, who wholly embraced synthesizers in his post-Beatles work with Wings, and hip-hop pioneers the Beastie Boys, who wax poetic about the game-changing value of digital drum machines. (Interestingly, some of McCartney's own work was sampled throughout the Beasties' pioneering Paul's Boutique, bringing the early digital-music landscape full circle).
The trailer also highlights appearances by The Roots drummer Questlove, rapper Too $hort, indie rocker Angel Olsen, pop star Charli XCX, Foo Fighters frontman Dave Grohl, hip-hop sage T-Pain, Queens of the Stone Age's Josh Homme, new-wave legend Gary Numan, Duran Duran's Andy Taylor, Tame Impala, Sean Ono Lennon and Santigold.
Clearly, Ronson collects famous friends with the same vigor he collects awards and DJ equipment.
Watch the Sound debuts on Apple TV+ on July 30, presumably making a bid to give Ronson the "E" in his EGOT before he turns his attention to the Tonys.
The 10 best Amy Winehouse songs of all time