It's a common trope in superhero movies that every new sequel gets 'darker' and 'grittier' than its predecessor – and with a move into the horror genre, Marvel is sticking to that unwritten rule.
Most recently that was with Doctor Strange in the Multiverse of Madness, which had horror movie legend Sam Raimi in the director's chair. But with the exception of a few bone-snapping moments from Scarlet Witch, it was still relatively light on the scares.
That's all set to change as Marvel kicks off Halloween season with its standalone special Werewolf by Night, its first-ever standalone Disney+ special.
Here's all you need to know about Marvel's spooky foray into the supernatural.
What is Werewolf by Night?
Marvel is getting its spook on with their first ever Disney+ special, Werewolf by Night.
Werewolf by Night sits firmly in the horror genre, but don't expect all-out gore. It's more in line with the vintage Universal horror movies than any recent gorefest. To complete that classic horror aesthetic, Werewolf by Night is even presented in traditional black-and-white.
'I feel like the world has gone into this thing where all the scary stuff has gotten too sadistic,' director Michael Giacchino tells Den of Geek. 'And we've lost the heart of it as well. It was important to me that this has a real heart to it, that it's not just blood and guts, that it actually has a real moral center.'
Werewolf by Night is inspired by horror films of the 1930s and 1940s – as well as Tobe Hooper's Poltergeist – with Giacchino citing The Wolf Man and King Kong as key influences.
When is Werewolf by Night released on Disney+?
Werewolf by Night is on Disney+ on Friday, with a runtime of a punchy 53 minutes.
Is there a trailer for Werewolf by Night?
Yes! Check out the clip below for a taste of the spooky scares in store.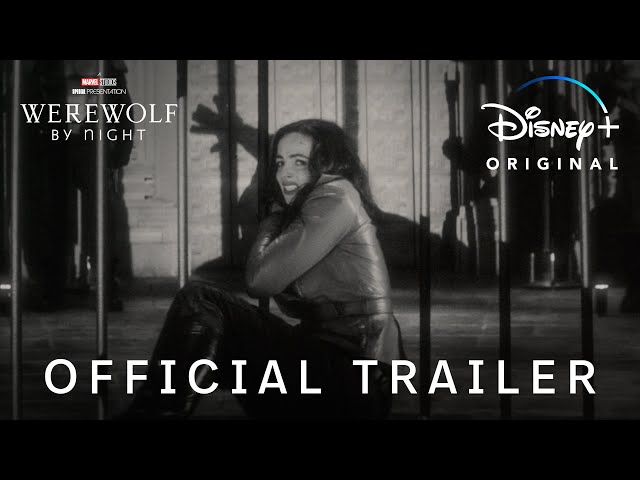 What is Werewolf by Night about?
Disney+ has teased the plot in an official synopsis: 'On a dark and somber night, a secret cabal of monster hunters emerge from the shadows and gather at the foreboding Bloodstone Temple following the death of their leader,' it reads.
'In a strange and macabre memorial to the leader's life, the attendees are thrust into a mysterious and deadly competition for a powerful relic – a hunt that will ultimately bring them face to face with a dangerous monster.'
What is Werewolf by Night based on?
Werewolf by Night is perhaps the most obscure comic-book adaptation to join the Marvel Cinematic Universe thus far.
Less a superhero caper and more of an eerie horror whodunnit, the original comic-book run debuted in 1972 and ran for 43 issues.
In the comic books, Jack Russell, aka the Werewolf by Night, joins forces with or battles the likes of Hulk, Iron Man, Captain America, Doctor Strange and Moon Knight.
Who is in the cast and crew of Werewolf by Night?
Werewolf by Night is Giacchino's directorial debut. If his name rings a bell, it's because he's one of Hollywood's most prolific composers with credits on The Batman, Jurassic World, and a ton of Marvel movies.
Y tu Mamá También's Gael García Bernal is the titular werewolf. By day, he's the very human Jack Russell. But his ancestors were inflicted with the curse of the werewolf while battling Dracula. Jack inherited the curse after turning 18.
Laura Donnelly stars as Elsa Bloodstone, a monster hunter with superhuman strength, speed, and enhanced healing.
While much of Werewolf by Night is being kept secret until release day, there's rumours of appearances from members of the Time Variance Authority (the lads in uniform in Loki), and the introduction to the MCU of swamp creature Man-Thing.
Is Werewolf by Night part of the MCU?
It's been confirmed that Werewolf by Night will sit within the Marvel Cinematic Universe timeline, so while it technically is canon, don't expect to see any major cameos or references to past MCU entries.
Any connection between Moon Knight and Werewolf by Night?
Nope! At least not yet, anyway. Moon Knight did make his first comics appearance in Werewolf by Night decades ago, but for now they are completely separate. Marvel is pitching Werewolf by Night as a complete standalone entity within the MCU.
Director Michael Giacchino has said that there are no plans for any crossovers yet, but given that this is Marvel we are talking about, it's almost a given that if Werewolf by Night is a hit with fans, we could see the likes of Blade and Moon Knight making appearances in future instalments.
Marvel's Secret Invasion - everything you need to know.

New Black Panther: Wakanda Forever trailer shows Namor and Ironheart in action.