So you've probably heard about and salivated over foods from the likes of Mexico, Peru and Argentina. But now's the time for Colombia – and particularly its second city, Medellín – to step into the limelight.
Known as the City of Eternal Spring, Medellín was named the third best city in the world for 2022 – and the best for food and drink specifically. A hive of creativity and entrepreneurship in one of the most biodiverse countries in the world, the city provides creative chefs with the ideal playground for discovering ingredients and experimenting with dishes.
Below we meet three of Medellín's most influential chefs, all dedicated to promoting their city, their country and the social cohesion fostered by the city's buzzing food scene.
The Michelin-star chef reinventing a national cuisine
Perhaps Colombia's most celebrated chef, Medellín native Juan Manuel Barrientos ('Juanma') is the brains and imagination behind ElCielo. Medellín is home to the original ElCielo restaurant but there are also outposts in Bogotá, Washington DC and Miami. The DC restaurant made Juanma the first-ever Colombian chef to be awarded a Michelin star in 2021, while this year the Miami version also received its own Michelin star.
After studying gastronomy in both Spain and Argentina, Juanma wanted to come back to Medellín and reinvent Colombian cuisine – but nowhere in the city was open to it. So the only option was to open his own restaurant: more like a culinary laboratory, ElCielo honours Colombia's various climates in its ingredients and produces tactile dishes that spark emotion and ignite the senses. Impressively, ElCielo also has its own foundation that trains former guerrilla fighters and former soldiers to become chefs. In this way, people from both sides of a conflict learn and work together, fostering forgiveness, integration and social cohesion.
Juanma says one of his favourite Colombian foods is the humble arepa, a thick corn tortilla found in various forms all over Colombia. His team is currently travelling around the country to record the many ancestral arepa recipes and honour the nation's most iconic and comforting food.
For Juanma, who like many paisas (Medellín natives) has seen the dramatic evolution of his city first hand, Medellín is defined by the warmth of its people and its resilience. If he had to describe his city in one word, he says it'd be 'cool'.
The worldly cook fusing Colombian and Asian flavours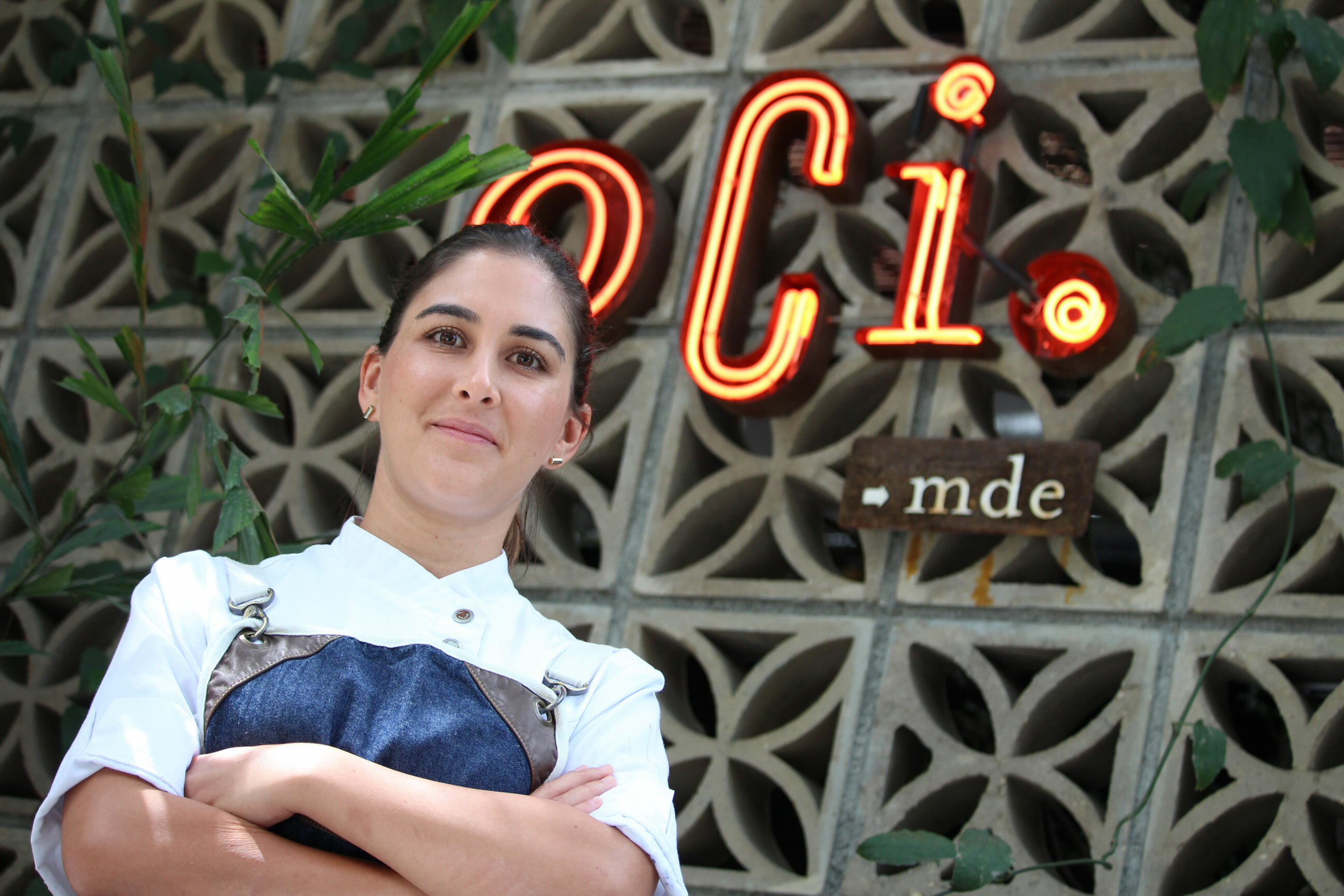 Having completed her studies at the Paul Bocuse Institute in Lyon, Laura Londoño cut her culinary teeth at the three-Michelin-star Astrance in Paris and two-star Il Rigoletto in Italy. She then made her way to Asia and Australia to experiment with other cuisines.
Fascinated by her experiences with Asian cuisines in particular, Laura returned to Medellín with a plan to open a restaurant fusing all the techniques and flavours she'd amassed during her years abroad. She wanted to bring them to a Colombian context, focusing on slow-cooked sharing plates – and so she opened Oci.Mde.
Her philosophy is that food should be prepared as near as possible to where it's going to be consumed. Oci.Mde's dishes include beef delicately cooked for 12 hours, served with a Colombian green pepper sauce, mashed yucca and a star fruit salad. Laura's vision has been wildly successful: Oci.Mde is now one of the most sought-after restaurants in the city.
Passionate about food and its role in enacting change in her country, Laura also founded Recolecta Medellín, an organisation that collects excess food and delivers it to vulnerable communities.
The homegrown talent elevating local ingredients
Unlike other renowned chefs, Yeison Mora didn't leave Colombia (or even Medellín) to go to culinary school. He earned a scholarship to study at the city's Luis Amigó Catholic University on its first-ever gastronomy course before truly developing his passion for food with an internship at none other than Juanma's ElCielo.
Yeison ended up working at ElCielo for a decade, progressing to become head chef in Medellín. While there, he had the opportunity to travel and exchange ideas with maestros at world-renowned restaurants like Central in Lima and El Celler de San Roca in Girona.
After years of experience and experimentation, Yeison decided to open a humble, ingredient-focused restaurant. His creation, Idílico, prides itself on 'environmental cuisine', including carefully chosen ingredients that honour the four corners of Colombia. One dish features the Medellín skyline artfully created from a squid ink and apple sauce, alongside an arepa topped with crispy pork, seasonal kumquats and edible flowers inspired by the city's vibrant annual flower festival.
Yeison says he's inspired by paisas' determined, entrepreneurial attitude. For him, it's the city's proactiveness and optimism that makes Medellín stand out.
From a dark past to a blossoming present, Medellín is cementing its place on the global stage. Just like the colourful fruits, flowers and vegetation that define the City of Eternal Spring, Medellín's resilience will see it flourish. It's clear that nothing can stop a determined paisa from following a tenacious dream and coming out on top.
Discover our full ranking of the 53 best cities in the world for 2022.