Paris is still known the world over for having a distinct lack of green space. But the city has big plans to change that, and it's well on its way to meeting its pledge to cover half the city in 'planted areas' by 2030. Work is already under way to plant four forests right by major landmarks and the world's largest urban farm is open for business. Now the city's most famous street, the sweeping Champs-Élysées, is to be turned into an 'extraordinary garden' as part of a massive €250 million makeover.
Known as the location for the city's annual Bastille Day parade, the Champs-Élysées is comparable to New York's Fifth Avenue or London's Park Lane. Now Paris's mayor, Anne Hidalgo, has given the go-ahead for a major redesign of the 1.9km-long avenue, which stretches from the Place de la Concorde to the Arc de Triomphe.
The ambitious plans include reducing the number of car lanes from four to two, creating new pedestrian and green areas, and planting 'tree tunnels' that improve air quality.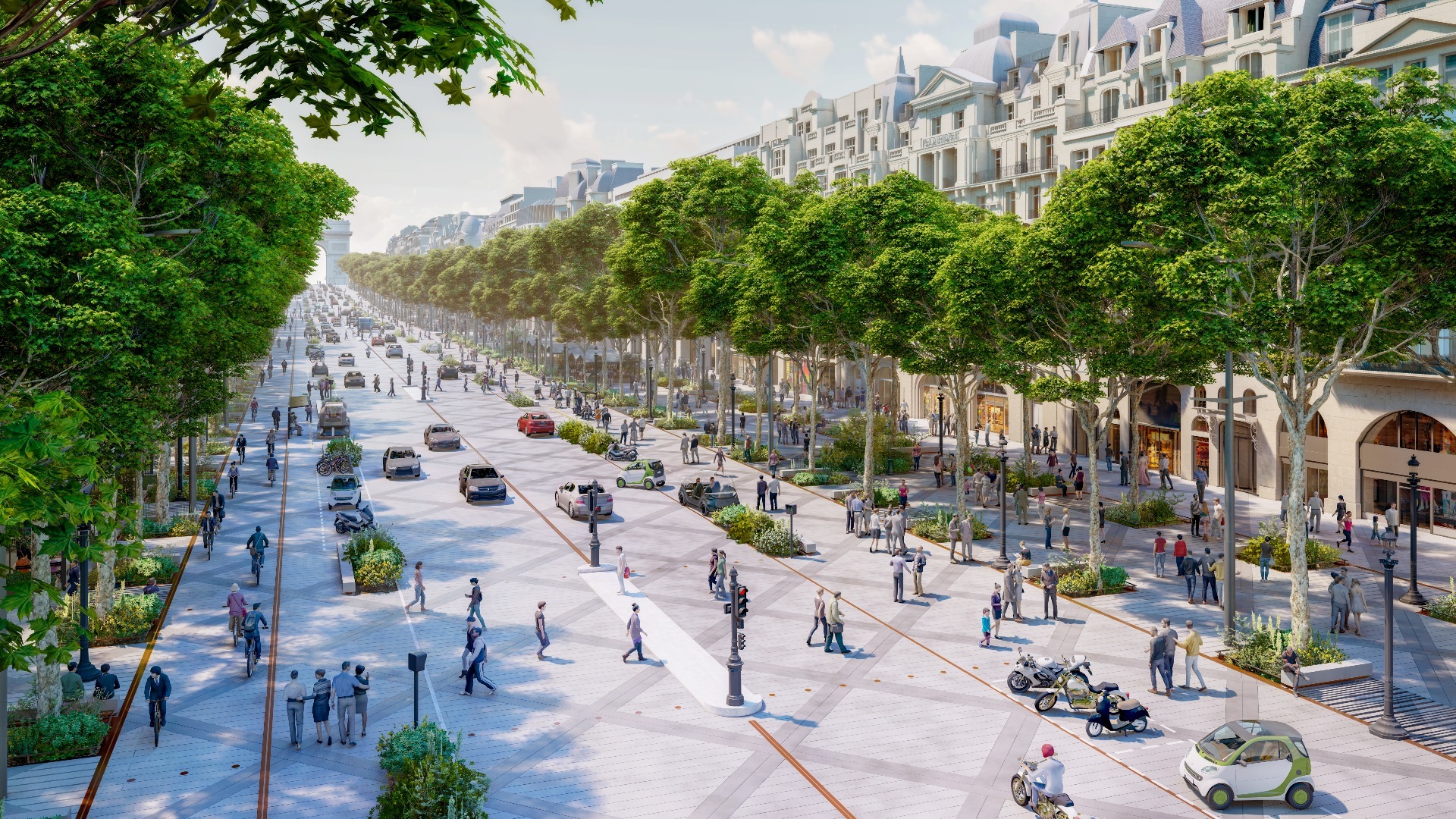 Photograph: PCA-STREAM
The redesign, by architect Philippe Chiambaretta and his firm PCA-Stream, was backed by local community leaders back in 2019 and was finally given the city council's seal of approval earlier this month. Announcing the plans, Chiambaretta said that of the estimated 100,000 pedestrians who would hit the Champs-Élysées on a typical day pre-pandemic, 72 percent were tourists and 22 percent worked there. (Sky-high rents mean that virtually nobody actually lives on the street.)
The hope is that the redesign will shift the balance back in favour of Parisians – though, to judge by the preview images, it's going to be an even more essential stop for visitors too.
The neighbouring Place de la Concorde, Paris's biggest square and the site of Marie-Antoinette's execution, is also set to be given a green new look. This will be finished in time for the city to host the 2024 Summer Olympics, while the Champs-Élysées work will be complete by 2030. The area around the Eiffel Tower, meanwhile, is also set to be turned into an 'extraordinary park' in time for the Olympics. Soon we might be asking: could this city even get any greener?
Photograph: PCA-STREAM
Here are 10 super-cool developments that could shape the future of urban life around the world.
Meanwhile, Paris's most famous bookshop needs your help to stay open.