Shopping on the Champs-Elysées
We reveal five shops making waves on the world's most famous avenue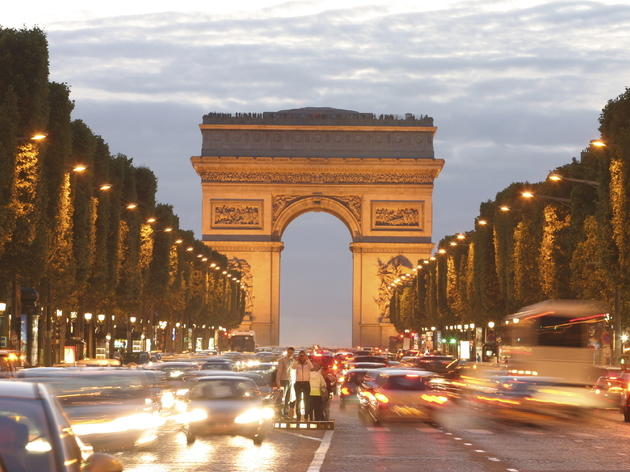 In 1969, hoary French crooner Joe Dassin released 'Les Champs-Elysées', a perfect piece of cheesy French chanson with the lyrics 'in the sunshine, in the rain, in the dark or in the day, all you need's on the Champs-Elysées'. The song captured the role of the avenue at the time as one of the most fashionable and eclectic streets in Paris. But during the '90s the 'Champs' lost its magic, becoming smothered in offices, car showrooms, overpriced eateries, run-of-the-mill shops and fume-pumping traffic jams. Novelty megastores FNAC and Virgin failed to overcome its new déclassé status, leaving the formerly glamorous avenue to the mercy of tourists and businessmen.

Since 2011, however, things have been looking up. The congestion, the tourists, the showrooms and the daylight robbery restaurants are all still there, of course. But several mainstream fashion brands – Banana Republic, Levi's, Hugo Boss, Abercrombie & Fitch and even Marks & Spencer's – have chosen to locate exciting new flagship stores on the Champs, luring Parisians back to their long-neglected capital of consumer chic. More than just high street shops, these brands are promising unique shopping experiences: cutting-edge art installations at Levi's, daytime clubbing at Abercrombie & Fitch or free personalised shopping at Banana Republic. So now that the Champs-Elysées are calling fashionable Parisian shoppers back again, we've put together a guide to help you stay ahead of the curve...
Five recommended Champs-Elysées shops
The American megabrand's grown-up preppy style has finally arrived in Paris. Its neo-Art Déco style, 1,500 square metre, Champs-Elysées flagship features a multitude of mini-boutiques within the larger store. Themed sections include Weekend (casual separates), the eco-friendly Heritage collection and the higher-end Monogram range. One big draw is the free personal shopping service, with absolutely no requirement to buy. Reserve in advance, and Magali or Lee (who head the service) will take you round the shop to help tailor your look. This also gives you access to your own (and rather lovely) 1930s-style dressing room away from the throng. For extra fizz and sparkle, they'll even serve you champagne and coffee.