Shondaland's Netflix period romance Bridgerton is officially huge. How huge? Well, season 2 clocked 627 million hours of viewing time in four weeks flat. It was destination viewing in 190 countries around the world, spreading the reassuring joys of Regency England to all corners of the globe. Its diverse, colour-blind ensemble of characters (and their thrillingly overheated love lives) have helped change the narrative around how period settings can be depicted on screen.
And another treat awaits, gentle reader.
Shonda Rhimes and her production company, Shondaland, are focusing on the teenage versions of Queen Charlotte and her BFFs: Violet and Agatha, who would became Lady Bridgerton and Lady Danbury respectively.

The biracial Charlotte, the most gossiped-about character in Bridgerton, is half-Guyanese, half-English and played by Guyanese-British actress Golda Rosheuvel. She's known for her love of snuff, Pomeranians and high-rise wigs, and her origin story will chart her love affair with her future husband, George.
So plant some wisteria, prep your finery, order a bone china tea set and start mastering the art of the cucumber sandwich, because 'Queen Charlotte: A Bridgerton Story' is coming soon. Here's what we know so far.
When is Queen Charlotte: A Bridgerton Story on Netflix?
The series is likely to land in 2023, although no official release has been announced. But we know that it will be eight episodes, with the opener, 'Queen to Be', introducing the pre-royal Charlotte. Expect Netflix to sally forth soon with further tidings to help plan that binge watch. Egads, etc.
Is there a trailer for Queen Charlotte: A Bridgerton Story?
No trailer yet, but a first-look clip was launched at Netflix's Tudum fan event in September. Take a look below.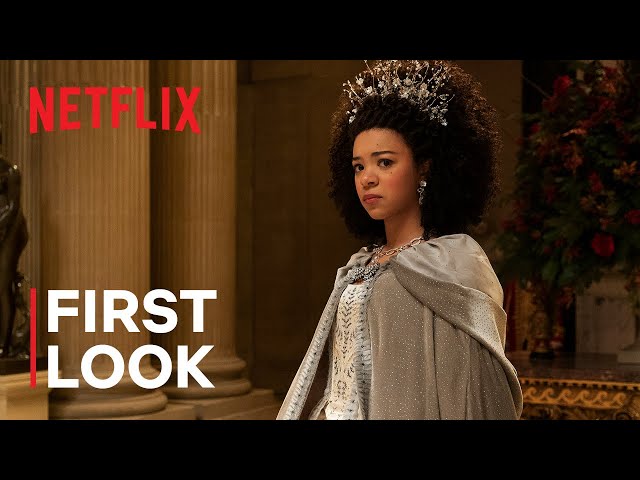 What is Queen Charlotte: A Bridgerton Story about?
Set in the same era as Netflix's Emmy-winning Bridgerton, it's the story of the witty and headstrong Queen Charlotte (India Amarteifio) and George (Corey Mylchreest), the man she'll marry and raise 15 children with. George – soon-to-be King George III – and his struggles with mental health may play into the story (as anyone who's seen The Madness of King George will know).

Queen Charlotte doesn't feature in Julia Quinn's 'Bridgerton' books about the love stories of the eight Bridgerton siblings, so we can only speculate about where the plot of this spin-off series might carry us. We do know a few things about the real Queen Charlotte, while Bridgerton stans will be au fait was this world of arranged marriages, courtly manners and heaving bosoms.
Quinn and Shonda Rhimes are collaborating on a literary take on the life of Queen Charlotte – aka German noblewoman Charlotte of Mecklenburg-Strelitz – in the shape of a fictional novelisation of the Netflix series. It'll be out to align with the show dropping on Netflix.
What will happen in Queen Charlotte: A Bridgerton Story?
Let's be honest, all true Bridgertonians have wanted to know more about Queen Charlotte and her impeccable rise to power. She was a superstar of her time and an iron-willed character, even as a teenager. She also had a major snuff habit, as historians will testify, which is pretty rock 'n' roll. Her romance with King George, her rise to a position of political influence and the throne will all feature strongly – and in visually resplendent fashion.
Who is starring in Queen Charlotte: A Bridgerton Story?
Sex Education alumni India Amarteifio is playing the younger Queen Charlotte, with Corey Mylchreest (The Sandman) starring as the younger George. Look out, of course, for Bridgerton's Golda Rosheuvel reprising her role as the older Queen. There's no word as yet if the older King George will feature – or who will play him.

Other Bridgerton character crossing over include Adjoa Andoh as the older Lady Agatha Danbury, while newcomer Arsema Thomas plays the young Agatha
Ruth Gemmell returns as Lady Violet Bridgerton (Connie Jenkins-Greig is the younger Violet) and Game of Thrones' Michelle Fairley is back as Princess Augusta Danbury.

Will Regé-Jean Page be appearing in Queen Charlotte?

It's a valid question, as some of the Bridgerton cast will appear in this limited series. Sadly, the answer is no: Page and Bridgerton are officially now olde news. The Londoner is now busy with his blossoming Hollywood career.
Is Queen Charlotte a colour-blind take on Regency London?
Bridgerton offers a multicultural hymn to Regency England, and Queen Charlotte: A Bridgerton Story follows suit. Expect to learn plenty about this biracial Queen, her king and their love story, as well as marked social shifts in the world around them. After all, by this period in British history large-scale immigration movement to and from Britain, was commonplace. As many as 20,000 Black and Asian people lived in London during this period. Bridgerton – and its new spin-off – continues to help normalise this long-neglected area of Georgian history.
Where is Queen Charlotte being filmed?
The teaser trailer keeps the show's secrets modestly behind a dressing room screen, but we expect to see Hampton Court standing in for Buckingham House (now Buckingham Palace), Queen Charlotte's home. Other rumoured locations include Kew Gardens, The Holburne Museum in Bath, and Belton House, a grand pile in the heart of Lincolnshire. The Ranger's House in Blackhealth – aka the Bridgerton family's mansion – may feature, too.

Are there more seasons of Queen Charlotte to come?
No, this spin-off is strictly a limited series, Then again, who knows? This grand world keeps expanding.
You can stay overnight in these famous gardens where an extravagant Bridgerton ball was filmed.
Who exactly was Queen Charlotte? Read our historical primer on the real monarch behind the show.