Napa Valley is a bucket-list destination for every wine lover — the rolling vineyard hills, award-winning wineries, and gourmet California cuisine make it a foodie mecca that people around the world flock to. And one of the most magical ways to take in all that wine country has to offer is aboard the Napa Valley Wine Train.
The wine train is an iconic piece of Napa that's been operating for more than 30 years, running directly through the valley on a rail line originally built in 1864. It was on a long hiatus during Covid, but officially re-opened in May. On board, visitors are treated to a fine-dining experience aboard refurbished 1951 Pullman coaches that transport you back in time to the early 20th century, with period details like plush booths, mahogany paneling, and brass accents.
Rides start at the McKinstry Street Station in downtown Napa, located about 50 miles north of San Francisco. Guests are then whisked north past expansive vineyards belonging to hot spots like V. Sattui Winery and Nickel & Nickel, as well as through charming towns including Yountville, Oakville, and Rutherford.
Guests can choose from various experiences and times, including daytime and evening rides, as well as those that includes stops at wineries and special ones like the Murder Mystery Train, jazz trains, tequila trains, Santa trains and other special events offered throughout the year.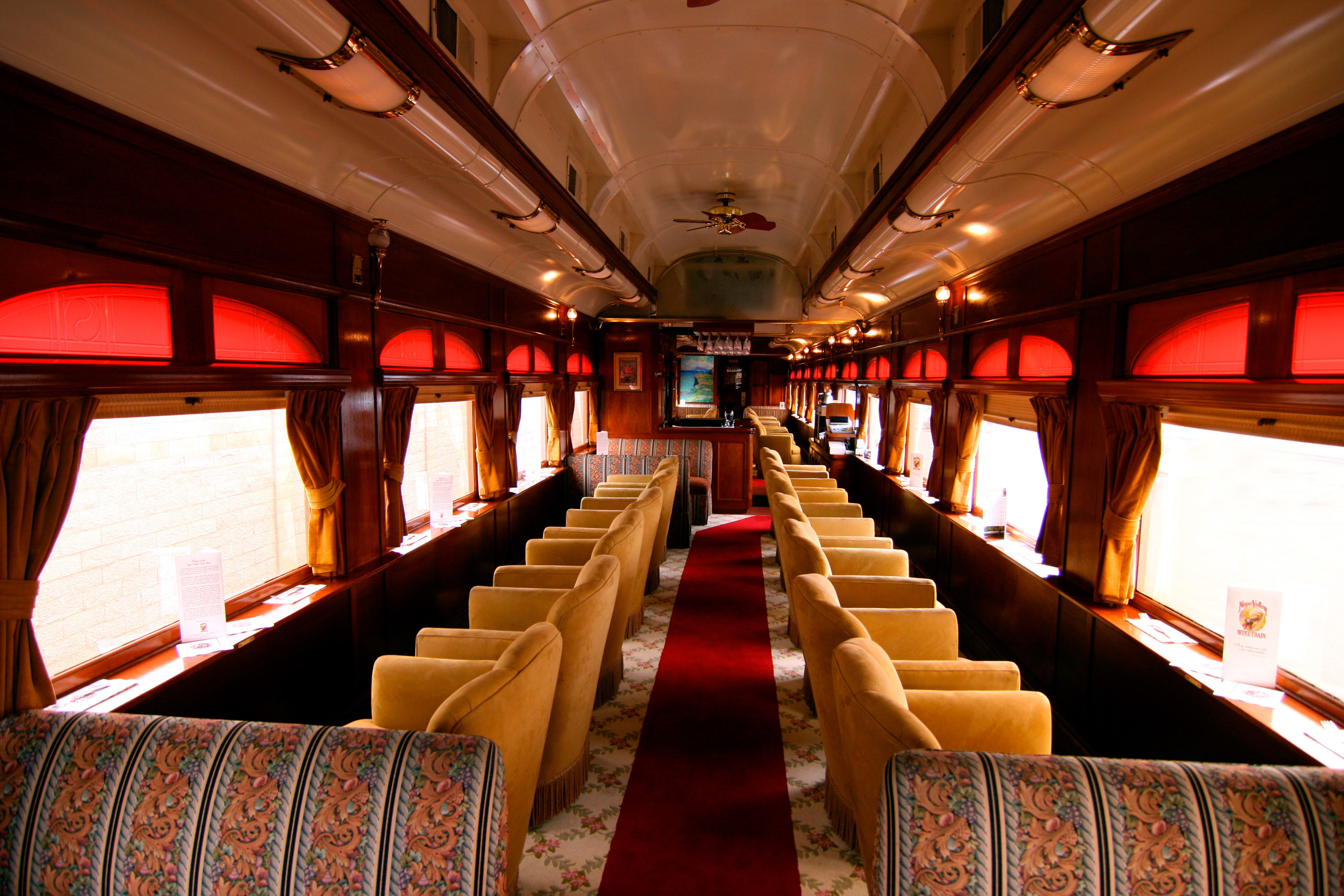 One of the most popular choices is the Gourmet Express, which ranges from $180-$220 depending on dates and seating times. The lunch experience begins at 11:30am, taking riders on a three-hour, 36-mile round-trip voyage to St. Helena and back to downtown Napa. The dinner option runs two hours and begins at 6:20pm; depending on the time of year, the dinner experience can offer magical sunset viewing over the valley.
While taking in the lush countryside, diners are treated to a multiple-course meal made on board one of the rail car's three kitchens led by executive chef Donald Young. The train considers itself first and foremost a restaurant, serving dishes focused on fresh and seasonal California ingredients. Diners typically start with a first course of Sonoma greens or soup du jour, and then a choice of a main entree —roasted tenderloin of beef, lemon thyme roasted chicken, or pan seared pacific halibut, for example—followed by dessert. Wine from local wineries is available to purchase.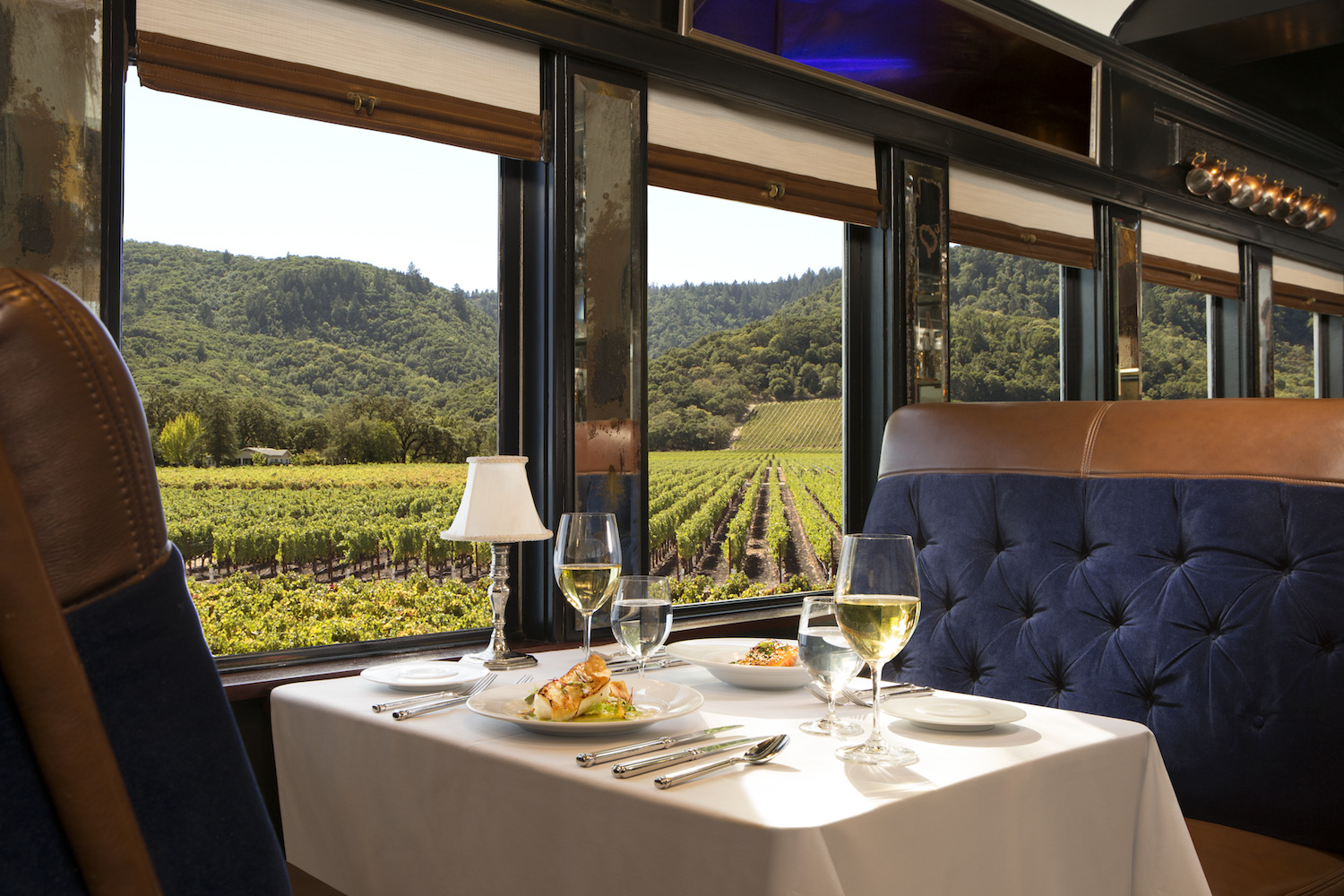 For an even more intimate experience, choose the Champagne Vista Dome experience with pricing ranging from $245-$305. While other tours like the Gourmet Express offer 'traditional rail seating' where you may be seated next to another party, the Vista Dome car guarantees you a private table. This car has a completely different look as well, with curved glass windows in the observation-style dining car that give even more expansive views. Diners on this coach are welcomed onboard with a glass of sparkling wine.
If you're looking to make stops at wineries along the way, the wine train offers several options, including the 'legacy tour', a six-hour journey that includes stops at the Napa Valley sign, Charles Krug winery and V Sattui.
Whatever route you choose, you're bound to enjoy good food, wine, and a relaxing ride that's a reprieve from the typical, chaotic nature of travel today.