The 14 best restaurants in California
From Michelin-starred spots to neighborhood dives and food trucks, here are the very best restaurants in California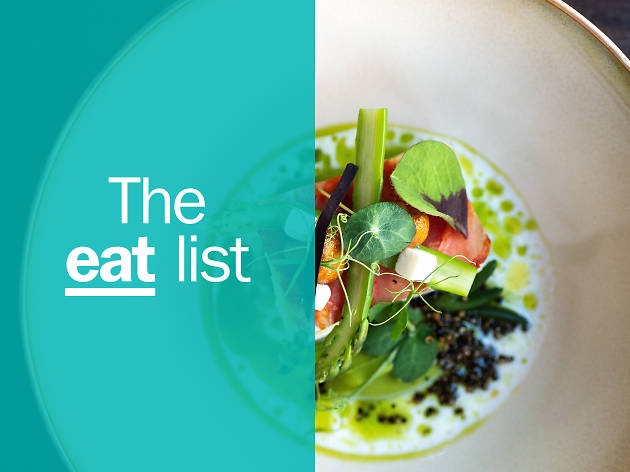 California's namesake cuisine still defines contemporary menus throughout the United States after having forced us to reconsider our vegetables—don't dare claim that you've always loved Brussels sprouts—while the modern food truck movement, which began on the streets of Los Angeles, has already been co-opted by national fast food brands. And thanks to generations of diverse immigrants, Californians enjoy the nation's best tacos, Thai food, and—look away, New Yorkers—maybe even pastrami.
So if you're looking for quintessential things to do in California, we suggest lots of dining. Whether you're seeking eateries with three Michelin stars or just a few post-meal wet naps, here are the best places to get a taste of the Golden State.
Best restaurants in California
1
Photograph: Courtesy Yelp/Jeanie L.
Where: Yountville
Bourdain said this rarified Napa Valley institution was the best restaurant in the world; French Laundry's organic garden is likely more impressive than your favorite park; and it's seemingly easier to gain admission to Stanford business school than nab a reservation. The historic stone structure actually served as an actual French laundry during the early 20th century, and is an inspiring backdrop for chef/owner Thomas Keller's carefully considered, three Michelin-starred tasting menu designed to imbue the perfect bite—artfully plated dishes of Alaskan King Crab with crispy garden cauliflower; charcoal grilled Japanese wagyu with cèpe mushrooms—while leaving you craving another, until the next course arrives and the sensation repeats.
2
Photograph: Courtesy Yelp/James L.
Where: Los Angeles
This funky eatery showed L.A. that high-end dining can be fun, thanks to its home in a former strip mall pizza joint—original bulb-lit sign still intact—and the power trio partnership of Chef Ludo Levebvre and restaurateur pair Jon Shook and Vinny Dotolo. At Trois Mec, meals start with a series of snacks, such as a mustard crème brûlée and crispy tapioca with parmesan and passion fruit, before the actual five-course meal begins. The constantly changing tasting menu might include creative dishes such as roasted lobster with charred pineapple, or lamb with mint pesto and smoked eel. There are only 24 seats, and you'll be required to buy tickets in advance. Not willing to throw down for $110 a nonrefundable reservation? Pop next door to the casual Petit Trois for expert bistro fare including a deliciously messy, foie gras-infused double-decker dubbed the Big Mec.
3
Photograph: Courtesy Yelp/Lisa I.
Where: San Francisco
Chef/owner Brandon Jew pulled off a culinary feat when he brought San Francisco foodies back to famously touristy Chinatown with his elegant transformation of a tired landmark restaurant into a gorgeous Michelin-starred hot spot accessed via an obscured entrance on an atmospheric alleyway. Jew tossed out the bottles of Kikkoman, opting instead to fashion everything from scratch, from the soy sauce to the lick-the-bowl-clean hoisin. With beloved dishes such as wagyu fried rice with cured tuna heart, and whole roasted duck with all the fixings, reservations are tough, as are walk-up spaces at the 15-seat bar. Thankfully, Mister Jiu's upstairs former banquet hall has recently been reimagined as a stylish, dim sum-fueled cocktail lounge.
4
Photograph: Courtesy Yelp/Hieu H.
Where: San Francisco
The visionary, dim sum-style San Francisco restaurant—which now prompts lines around the block and hackers to steal all available reservations—was a happy accident. While waiting for what was supposed to be their first restaurant to be constructed, husband-and-wife chef team Stuart Brioza and Nicole Krasinski decided to open a temporary eatery in an adjacent storefront. Because there wasn't room for a full kitchen, they prepped meals in advance and served them dim sum-style via a cart that roved the cozy dining room. Soon after, it was named Bon Appetit's Best New Restaurant of the Year, and the rest is history. The novelty is undeniable, yet it's Brioza and Krasinski's delicious, inventive dishes—often featuring seemingly incongruous ingredients such as miso caesar asparagus with seaweed breadcrumb and sourdough pancakes with sauerkraut, pecorino & ricotta —that made it a hit.
5
Photograph: Courtesy Yelp/Lisa I.
Where: Berkeley
Not only did this humble Berkeley restaurant (opened by Alice Waters in 1971) introduce the world to California cuisine—highlighting peak-of-the-season ingredients with simple preparation—it also gave rise to its own surrounding neighborhood, The Gourmet Ghetto. The 47-year-old destination still has it as evidenced by a kitchen that turns out both consistently excellent dishes: despite inviting Portlandia-esque quips, Chez Panisse's prix fixe menus still read like a list of local food producers as in the hand-cut linguine with Hog Island clams, pancetta, and sweet peas or Grilled Wolfe Ranch quail with sage, braised green garlic, and porcini mushrooms. Frugal foodies should look to Monday nights which feature a simpler, more rustic tasting menu—and a lesser price tag—as well as a secondary upstairs eatery, The Café, which features come-as-you-are environs and moderately priced, a la carte options.
6
Photograph: Courtesy Yelp/Mimi H.
Where: San Diego
A far cry from the dowdy seafood shack that its name might imply, this buzzy eatery in San Diego's hip Little Italy features an Instagram-ready interior with a wall of piranha skeletons and restroom hallway illuminated by a giant marquee sign reading "Shit Happens." Glitz and giggles aside, the seafood here is no joke. You'll see an endless stream of impeccably fresh oysters, rich uni toast, and savory Spanish style octopus whiz by your table to feed the boisterous dining room. Because Ironside is owned by local cocktail impresarios Consortium Holdings—which own the superb Craft & Commerce up the street—you can pair your lobster roll with expert tiki drinks served in a Shamu mug.
7
Photograph: Courtesy Yelp/Janice C.
Farmstead at Long Meadow Ranch
Where: St. Helena
Craving the quintessential Wine Country experience without forfeiting next month's rent? Head to Farmstead in the quaint Napa Valley town of St. Helena. Al fresco dining among the vineyards? Check. Wine and olive oil tasting? Check. Organic farm stand, blooming edible garden and event lawn with live music? Check, check, check. The expansive, crowd-pleasing menu combines Wine Country cuisine with downhome BBQ the feature ingredients from their ranch as in a grass-fed steak tartare with farm egg, and smoked ribs with green apple slaw. Plus, the property is likely walking distance from your in-town hotel which means you can enjoy that extra glass of wine or two.
8
Photograph: Courtesy Yelp/Anahid K.
Where: Los Angeles
No one does a brunch scene better than L.A., and this upscale Venice deli and bakery is pleasant proof. The white-washed, warehouse-like eatery is illuminated by bright skylights and patrons who look impossibly fresh-faced for an early weekend morn. With homemade bialys, a cabinet full of pickles and flavored smears, and some of the best house-cured and smoked fish in town, you might mistake Gjusta for a contemporary Jewish deli. Yet, the wooden counter that runs the length of the restaurant displays a smorgasbord of delectables including pastries, fancy toasts, and sandwiches such as a tasso ham-spiked croque madame and a rotisserie chicken bánh mì. Order at the counter, grab your latte, and wait for your food to be brought out to the canopied backyard patio for weekend bliss.
9
Photograph: Courtesy Yelp/Kerry O.
Where: Tomales Bay
Few eateries on this list capture a sense of place as does the Marshall Store, a humble, waterfront seafood shack perched over the gentle lapping waves of Tomales Bay and brimming with oysters sourced from their nearby farm. Get them raw with mignonette or grilled and slathered with a variety of toppings including house BBQ sauce and garlic butter or crumbled chorizo with chorizo butter. Outside, a smoker churns out aromatic salmon and exceptional crostinis topped with smoked oysters and a mound of fromage blanc. Grab a bottle of rosé from the cold case, and enjoy your feast on a wrap-around wooden deck overlooking the water, or join the party at the communal tables lining the shore that's blanketed with craggy white oyster shells.
10
Photograph: Courtesy Yelp/Brian J.
Where: Los Angeles
Taco trucks—both traditional loncheras and the new school hipster sort—are quintessential LA. Wesley Avila, no stranger to both worlds having been raised on his mom's Mexican soul food and classically training in high-end kitchens such as Le Comptoir, has taken street food to the next level with his Guerrilla Tacos truck. We're talking char siu pork tacos with avocado, gooseberry-topped hamachi tuna tostadas, and their best-selling sweet potato tacos with fried corn, feta, and almond chile. You'll often find the truck parked in front of LA's hip coffee shops, but check their site for a weekly menu and schedule to find out what's cooking and where.
11
Photograph: Courtesy Yelp/Arali W.
Where: Big Sur
Regular visitors to Big Sur have their favorite hike that they look forward to all year. We have our favorite pastry: the ethereal, glazed Cop Doughnut at Big Sur Bakery. Housed in a romantic 1936 ranch home surrounded by lush foliage, the charming eatery sports a line out the door each morning for a counter full of fresh baked pastries, shelves of wood-fired bread loaves, and an apothecary-like selection of teas. Grab your goodies and linger on the sun-drenched garden patio against a dramatic backdrop of the majestic Santa Lucia Mountains. Dinners are especially magical thanks to an enchanting candlelit atmosphere with warming fireplace and rustic, wood-fired dishes such as blistered sourdough pizzas and a wonderful roast chicken with savory garlic gravy.
12
Photograph: Courtesy Yelp/Randy F.
Where: Half Moon Bay
Don't pass up the red train caboose parked along a scenic coastal stretch of Highway 1 between San Francisco and Santa Cruz. Quaint mom and pop eatery? Sort of, but "pop" is an SF restaurant vet whose most recent gig was in the kitchen of California's most expensive restaurant, the Michelin three starred Saison. After the birth of their son, Scott Clark and partner Alexis Liu traded city life for surfboards in the quiet seaside town of Half Moon Bay. At their casual eatery, Clark slings the coast's best roadside grub including a ridiculously good maitake mushroom sandwich that, like the equally popular burger, is served with melted cheese, red onions, pickles and a gooey fried egg stuffed between two thick slices of toasted white bread. Pair it with a beer from SF's Fort Point brewery and enjoy on a convivial adjacent patio.
13
Photograph: Courtesy Yelp/Sara P.
Where: Los Angeles
The legendary #19 sandwich alone—a heaping portion of pastrami served on double-baked rye and topped with Russian dressing, coleslaw and Swiss cheese—earns this 71-year-old L.A. institution a spot on this list. The family-owned deli serves a lengthy menu of deli classics—chopped liver, corned beef and cabbage, whitefish and lox—but it's the pastrami that draws the crowds. The recipe is a secret, passed down over generations, but you can bet it's steamed for hours, hand-sliced, and oozes a tender mix of fat and smoky flavor. Given how much LA's food trends have changed since 1947, Langer's pastrami is still a welcome, reliable comfort just like their throwback, tufted booth-filled interior.
14
Photograph: Courtesy Yelp/Melissa T.
Where: Nipomo
Like the American south, California boasts its own regional BBQ—and accompanying die-hard proponents. Originating from the ranches of its namesake valley 70 miles north of Santa Barbara, Santa Maria BBQ consists of beef tri-tip grilled on giant, adjustable metal grates—think the platform that raised Frankenstein to the lightning—over a pit of live oak embers. Jocko's exemplifies the local BBQ in a cheerful, time warp dining room with leather booths and cowboy decor. No a la carte here; just like the old days, steaks come served with a full dinner of salad, potatoes, beans, garlic bread, dessert and coffee. Just be sure to make a reservation. Even though it may like the boonies, don't assume you can mosey in anytime and grab a seat.
More of the best in California
We've gathered the destinations and activities that capture the best of California in all its iterations—past and present, highbrow and kitschy—from sipping tiki drinks at Disneyland to exploring a redwood forest featured in Star Wars. As Tupac and Dr. Dre proclaimed, it's all good from Diego to the Bay, because California knows how to party.