Since his premature death in 2003, Joe Strummer has been celebrated in song, on screen and even on Spanish street signs (seriously – you'll find both Placeta Joe Strummer and Calle Joe Strummer in Andalucia).
Now the artist, activist and frontman of The Clash is being fêted with a free, streaming concert on what would have been his sixty-eighth birthday – and the line-up is pretty stellar.
Hosted and produced by musician Jesse Malin, the two-hour show 'A Song for Joe' will feature previously unseen live footage of Strummer himself, alongside a pretty mega line-up of musicians, public figures and creatives such as Steve Buscemi, who starred alongside the singer in the film 'Mystery Train'.
The line-up includes appearances from…
Albert Hammond Jr. (The Strokes)
Beto O'Rourke
Bob Gruen
Bob Weir
Brian Fallon
Bruce Springsteen
Butch Walker
Cherry Glazerr
Craig Finn & Tad Kubler (The Hold Steady)
Dave Hause
Dhani Harrison
DJ Scratchy
Dropkick Murphys
Eugene Lutz (Gogol Bordello)
Frank Turner
HR (Bad Brains)
Hinds
The Interrupters
Jesse Dayton
Jesse Malin
Jim Jarmusch
Joe Ely
Josh Cheuse
Josh Homme (Queens of the Stone Age)
Lucinda Williams
Lyza Jane
Matt Dillon
Nikolai Fraiture (The Strokes)
Ray Gange (Rude Boy)
Richard Dudanski (101ers)
Sara Driver
Shepard Fairey
Spider Stacy (The Pogues)
Steve Buscemi
Tom Morello
Of course there's a message, man – and so the organisers are inviting donations to the very worthy Save Our Stages campaign, which aims to protect live music venues across the USA.
'A Song for Joe' streams on Friday August 21 at 8pm BST (3pm EDT, 5am AEST). It will stream for free on Friday via the Joe Strummer Foundation website. You can also watch it here: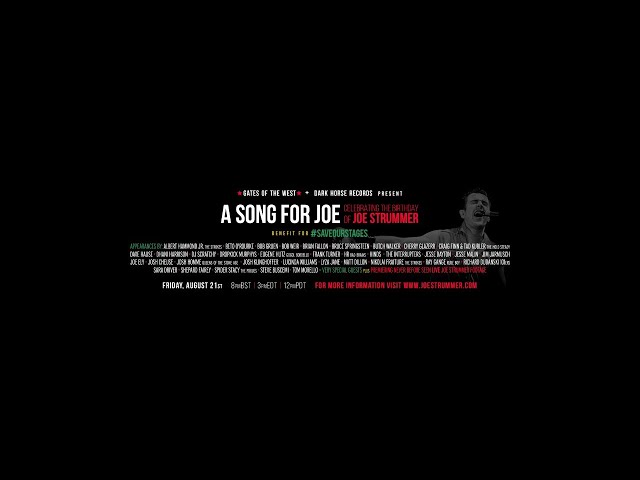 Now look back on some of the best streaming concerts from lockdown.