Four seasons in and the Netflix's The Crown is firmly established as destination viewing for millions around the world. There's a lot to bathe in with this show: the costumes; the ever-rotating but always immaculate casts; the palatial locations (and budgets); the in-fighting and drama; the occasional appearances by the corgis. Wherever you look there's escapist eye candy to transport you and national disasters to bring you back to earth – a blend of real-life drama and posh fantasia that even Downton Abbey struggles to match.

What also keeps the show top of people's binge lists, though, is its regularly thrilling depiction of a family in a state of almost permanent crisis. And there's plenty more of that ahead as season 5 draws closer: Princess Diana's rift with Prince Charles is about to go apocalyptic and the Queen is, once again, torn between family and duty. And there can only be one winner there.

When does The Crown season 5 come out?
The fifth season of The Crown will be released on 9 November with all ten episodes arriving on Netflix that day.
Is there a trailer for The Crown season 5?
Yes! Check out the trailer below for a glimpse of the drama that will unfold.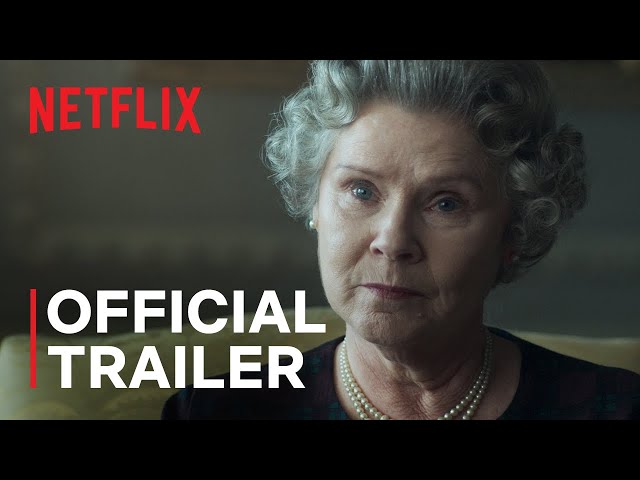 Who will play the Queen in the next season of The Crown?
Donning the ermine in place of Olivia Colman as Queen Elizabeth is Imelda Staunton, while Jonathan Pryce replaces Tobias Menzies as Prince Philip.
The Crown cast: who else is in season 5?
It's all change again elsewhere in the cast as the series' timeline skips forward into the 1990s. Tenet's Elizabeth Debicki replaces Emma Corrin as Diana, while Dominic West will provide a burlier Prince Charles than Josh O'Connor's version. And West's 13-year-old son, Senan West, is keeping it in the family as a young Wills.
In place of Emerald Fennell, Olivia Williams will be the new Camilla Parker Bowles, the famous 'third person' in Charles and Diana's marriage.
Who will play the Queen in the next season of The Crown?
Donning the ermine in place of Olivia Colman as Queen Elizabeth is Imelda Staunton, while Jonathan Pryce replaces Tobias Menzies as Prince Philip.
British acting royalty Lesley Manville (
Phantom Thread
,
Another Year
) will bring her usual A-game to struggling royal tearaway Prince Margaret, a role hitherto occupied by Helena Bonham Carter and Vanessa Kirby.
On the commoners front, Johnny Lee Miller comes aboard as John Major, a piece of casting that can best be described as 'unexpected'.
Diana's affair with Dodi Fayed comes into focus in the season and Khalid Abdalla (The Kite Runner) is playing the Egyptian playboy. His dad, Harrods owner Mohamed Al-Fayed, is played by Salim Daw. Diana and Dodi's relationship, of course, culminated in that tragic car crash in Paris. Its exact nature, though, remains something of a mystery and it will be intriguing to watch how The Crown defines it.

Pakistani actor Humayun Saeed is playing Dr Hasnat Khan, Princess Diana's other romantic interest.
Where was The Crown filmed?
A lot of the old favourites are back, with London's Lancaster House standing in for the gilded corridors and chambers of Buckingham Palace and Suffolk's Somerleyton Hall once again a surrogate for the Queen's beloved East Anglia estate, Sandringham. Ardverikie Castle, previously best known as home to TV's Monarch of the Glen, stands in for Balmoral.

The Windsor Castle scenes, including the 1992 fire, a certain dramatic high point of season 5, are filmed at Burghley House in Lincolnshire. Charles and Diana's unravelling marriage will likely be recreated at Hertfordshire's Brocket Hall, standing in for Kensington Palace, and Somerley House in Hampshire as Charles's private residence Highgrove.
Expect some respite from the marital tension in the sun-soaked surrounds of San Telmo, Mallorca, where the Waleses spent time on holiday with William and Harry.


Which years will The Crown cover in this season?
Season four ended with Margaret Thatcher's removal from office in November 1990. Season five is rumoured to pick up in 1992 and run until the death of Diana in 1997, although that remains unconfirmed. The presence of Bertie Carvel as Tony Blair, who came to power that year, certainly suggests that it will – as do early on-set pics showing Debicki recreating one of Diana's last public appearances at the English National Ballet in June 1997.
(Side note: this will be Carvel's second appearance in the series. He also played broadcaster Robin Day in season 2.)
What happens in The Crown season 5?
'Power is nothing without authority.' That line from season 4 of The Crown, delivered by HRH to a politically wounded Margaret Thatcher, is basically a leitmotif for the whole show and is likely to continue to be a central concern in season 5. The royal family has constitutional power but it is locked in a constant battle for moral authority, every scandal and rift risking a seeping away of the esteem in which it's held and that's required for its continued existence. Into that pile of gasoline will come the grenade that is Charles and Diana's separation.
At its essence, The Crown is akin to an existential crime movie in the spirit of The Godfather. Queen Elizabeth is a Don Corleone-like figure, holding the centre, keeping the firm afloat and reluctantly whacking anyone who strays too far from the fold. In season 4 Princess Margaret took the Fredo role as the errant family member who needed taking down. No prizes for guessing that season 5 is Diana's turn in the crosshairs.

In season 4, after a brief second honeymoon in Australia, the seeds are sown for her ostracisation and banishment to the fringes of Windsor clan. Her fraying relationship with Prince Charles, who is now openly seeing his mistress Camilla Parker-Bowles, and her new-found desire for independence will give way to open war and seismic media appearances. Diana's official trip to America in the final episode of season 4 feels like a tipping point.

In the political arena, Margaret Thatcher (Gillian Anderson) is gone, replaced by the milder, less stormy John Major as Prime Minister.
Will The Crown explore the events around Diana's infamous 'Panorama' interview?
Yes, while Diana's 1995 sitdown with journalist Martin Bashir on the BBC's Panorama programme continues to make headlines over the ethics – or lack of them – employed to secure the interview. And, in a potentially incendiary move, the topic will be covered in the next series of The Crown.
A source told Press Association the events will be featured 'given the pivotal part it played during the time period the new series covers'.
'It will reflect what we now know about how the interview was obtained and how Diana was treated,' the source added.
Recent headlines revealed that the Princess was coerced into participating in the interview with forged documents and false allegations about an affair between Prince Charles and their ex-nanny, Tiggy Legge-Bourke.
Following the revelation, the BBC has vowed to never again air the controversial 1995 interview.
Will Prince Andrew appear in The Crown's next season?
Yes, the disgraced prince is due to appear in six episodes of the season, which implies that his divorce from Sarah Ferguson will play a major role in the narrative. He's played by James Murray (6 Underground), who replaces season 4's Tom Byrne. Perhaps unsurprisingly, there have been some rumours that the role was proving difficult to cast, with the production resorting to advertise it on casting website Spotlight, although they have been firmly rebutted. 'There is absolutely no struggle to cast any role for season 5,' a representative of the show said in a statement, 'and it is normal practice for productions to advertise in Spotlight.'
Will The Crown return for a sixth season?
Yes, the creator's Peter Morgan has confirmed that the initial plan to end with season 5 was jettisoned in favour of a final sixth run.

'As we started to discuss the storylines for series 5, it soon became clear that in order to do justice to the richness and complexity of the story we should go back to the original plan and do six seasons,' says Morgan. 'To be clear, series 6 will not bring us any closer to the present day – it will simply enable us to cover the same period in greater detail.'
Don't expect Meghan Markle and Prince Harry to appear, though. The final season seems likely to end in the early noughties.
Gillian Anderson on playing Margaret Thatcher.