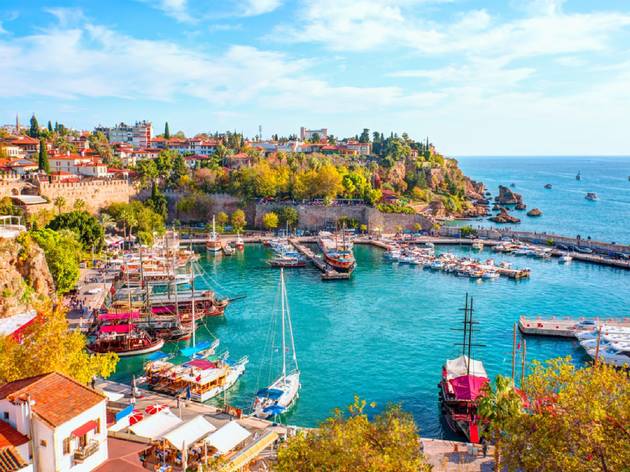 Turkey has officially reopened its borders to travellers
The country joins Italy, Greece and Spain in welcoming back international visitors
Posted: Tuesday June 23 2020, 2:46pm
It's been a pretty positive month for sunseekers. Just when you thought the closest you'd get to the Mediterranean this summer is that years-old paddling pool stashed in a cupboard, Italy, Portugal, Cyprus, Greece and Spain have all reopened their borders to travellers. And now Turkey, too, has started welcoming international visitors again.
The country had already given limited domestic air travel the green light last month, and now the Turkish government has started reopening international flight routes on a country-by-country basis. Over the last week, it has resumed flights to and from nations including the UK, the USA, Germany, the Netherlands, Bahrain, Bulgaria, Qatar, Greece, Austria, Croatia and Singapore.
Even if direct flights haven't resumed from all countries, air passengers of all nationalities will be allowed in as long as they meet standard Turkish immigration rules. Earlier this month, transport minister Adil Karaismailoğlu said the country was in talks with 92 nations about resuming connections.
For UK passengers, the Financial Times has reported that the Turkish and British governments are considering setting up an 'air bridge' to allow quarantine-free travel between the two countries from July 15. Currently, anyone retuning to the UK from Turkey would be subject to a 14-day isolation period.
For the moment, all new arrivals in Turkey are being examined for symptoms and asked for contact and accommodation details when they land. Anyone showing symptoms will be asked to take a test and may be quarantined if positive.
In an interview with broadcaster NTV, Turkish tourism minister Mehmet Nuri Ersoy last month set out new health guidelines for all hotels and resort facilities across the country. Face masks and temperature checks must be provided at entrances, while those epic breakfast buffets you get in many all-inclusive hotels will be suspended. And anyone who wants to take part in a group tour will have to act fast: numbers will be strictly capped.
Face masks are also required in public in all 81 Turkish provinces including Istanbul. In the majority of provinces this means all public places, including streets, shops, restaurants and public transport. Anyone caught breaking that rule (including clueless tourists) can be fined 900 lira (£105, $131, A$189).
But even if the experience might feel a little different, nothing will change the beauty of Turkey's pristine beaches and lofty walking trails, nor its lip-smacking cuisine. Sounds a bit better than that paddling pool, eh?
Remember, many countries are still warning against all non-essential travel and some are quarantining all overseas arrivals, including their own returning citizens. Check all the relevant restrictions before you think about travelling.
When will you be able to travel again? Here's what we know so far.
Where can you go on holiday right now? These are all the countries that have already reopened their borders.
Share the story