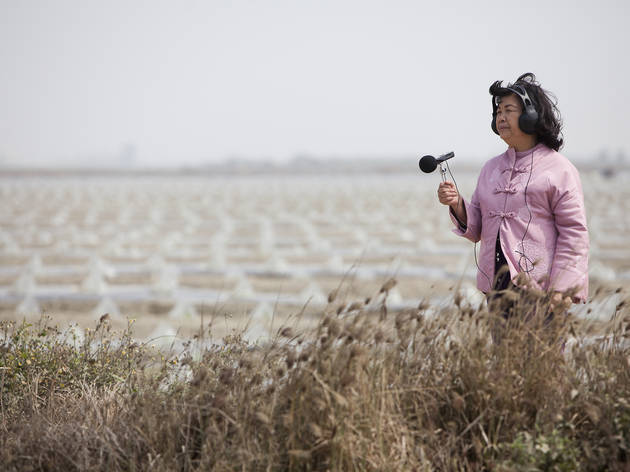 Lend an ear to "Soundings: A Contemporary Score"
The Museum of Modern Art mounts a groundbreaking exhibition of provocative sound art
"There is no noise, only sound," John Cage famously declared. (Noise has a suspect etymology, possibly related to nausea, injury and death.) In Noise: The Political Economy of Music, Jacques Attali argues that music arose as culture's sublimation of nature's unnerving noise, "harmony on the border of violence." Cage, Yoko Ono and others have also explored the notion of "silent" music, though deep, anechoic silence apparently brings on vertigo and hallucinations in fairly short order.

"Soundings: A Contemporary Score" at the Museum of Modern Art examines the work of 16 artists who use sound as a form of expression. Americans Camille Norment and Christine Sun Kim push the idea of silent music beyond what Cage and Ono have imagined. Norment's Triplight (the title riffs on "trip the light fantastic" from "The Sidewalks of New York") is a Shure microphone on a stand. Within it, a light quivers, casting riblike shadows on the surrounding walls. Triplight is uncanny, setting us inside the bones and mucilaginous cavities from which voices emerge, while also reducing Ella, Elvis and all who once sang into a Shure to mechanical wraiths.
All. Day. by Sun Kim, who was born deaf, seems to capture in charcoal, ink and pastel on paper a grimy, bodily trace of an American Sign Language gesture, juxtaposing it with a musical rest symbol. In the hearing world, that glyph denotes a pause or silence. What might it mean for the artist? And can those of us who are ASL-illiterate hear her idiom?
Silence and noise (in a caustic twist on Attali's definition) permeate Study for Strings by Scottish artist Susan Philipsz. Music lovers here find themselves on less unfamiliar ground: a dark gray chamber with eight speaker cones hanging like ghostly oculi on the far wall. They relay solo viola and cello parts from a work for small orchestra by Pavel Haas, who wrote it as a prisoner at the Terezín concentration camp before he and his fellow musicians were killed at Auschwitz. Musical phrases hang unsettled in the air, seeming to listen forlornly for response. The installation summons the hush of death, stalked by a soundless cacophony: the babble of deniers destined to grow ever louder as witnesses to the Shoah die out.
Mass Black Implosion by Australian Marco Fusinato and Microtonal Wall by American Tristan Perich both play with ideas of sonic singularity and continua. Fusinato's drawing series is a gloss on Shaar ("The Door") by Iannis Xenakis, connecting one note in Xenakis's score to every other note on the page. Is music morphing in its brute force into noise, or is it being sucked into a black hole of silence? Perich's 1,500 speakers, mounted on a 25-foot expanse of aluminum, seem at a distance to give off undifferentiated white noise; heard at close range, each emits a specific frequency, and as one travels from one end of Microtonal Wall to the other, the seemingly uniform cloud of sound shifts in pitch and texture.
Jolts and provocations abound in "Soundings." With its tank and screen displaying austerely gorgeous water rings let loose by sound, German Carsten Nicolai's Wellenwanne Ifo brings to mind the Wagner bicentennial and the Ring cycle, which begins in the depths of the Rhine with an almost inaudible primal throb. Ultrafield by Norway's Jana Winderen amplifies and slows down animal communications (shrimp and cod calls, bat echolocation cries), challenging the nature/culture divide and allowing us to eavesdrop on languages beyond human grasp. New York icons, recordings from Chernobyl and industrial China, and decontextualized sound technologies form the stuff of the show's remaining works.
"Soundings" offers a wide range of related programs: concerts by Norment and Stephen Vitiello (Aug 8) and the Meehan/Perkins Duo (Aug 15); "MoMA Studio," an interactive space; screenings of films by Luke Fowler, Alfredo Jaar and others; lectures; and an online course beginning in October, "Catalysts: Artists Creating with Sound, Video, and Time."
"Soundings: A Contemporary Score" runs from Sat 10 through Nov 3 at the Museum of Modern Art.
See more in Opera and Classical Music