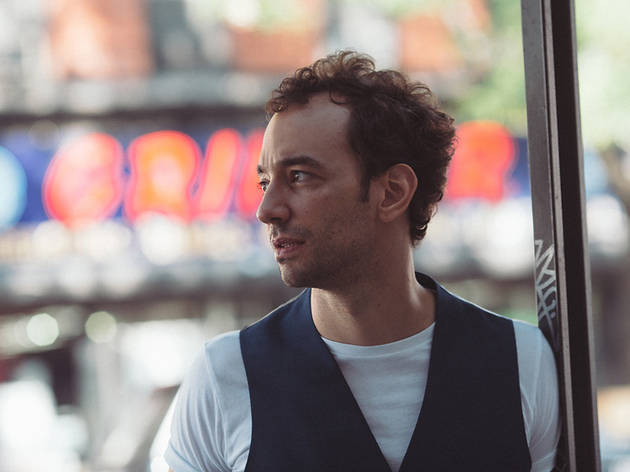 Albert Hammond Jr. talks the status of the Strokes and his killer new solo LP
Strokes six-stringer Albert Hammond Jr. is back with a new solo record and a steadier, sunnier attitude
Albert Hammond Jr. has a black eye. Not surprising, really: The man who rocketed to superstardom as the rhythm guitarist for the Strokes, a famously fractious rock band that once got into a fistfight on the street with a group of unruly teens while being interviewed for an NME piece, was just beat up. What is surprising is the reason for his new facial embellishment: "Boxing," Hammond tells me across the table at Croissanteria, a tiny Alphabet City café right close to where the Strokes got their start. "Nothing weird," he adds, pointing to his right eye socket.

His latest workout routine is just one of the many changes in his life since the Strokes' heyday. This riff engine in a group synonymous with downtown cool—he just released his third solo LP, Momentary Masters, and is in the midst of a tour that hits Bowery Ballroom for a two-night run this week—has gone sober and booked it for greener pastures upstate, leaving his apartment on Broome Street and Bowery and finding solace in Eldred, about 90 miles north of the city, with his wife, Justyna. We caught up with him about fronting his own band, the philosophy of Carl Sagan and what—if anything—the Strokes are up to these days.

You've been playing in bands for 15 years now. Has the changing perception of rock affected the way you work?
No, but the perception of the Strokes affects my solo stuff in that people think we're a lot more successful than we are. I think a lot of times people think I have a private jet and I'm living on an island. I'm doing this solo-record stuff because I'm bored. I don't want to give you the wrong impression. We live well and I thought we were successful. In doing what I'm doing, it's also to keep on having a career in playing music. Sometimes people are like, Oh, you like playing the more intimate places? That's just the level I'm at. I'd love to play the Garden—that's not where I'm at. They make it seem like it's a choice. I don't even know what the fucking question was.

No, no. Good answer. Rock has always had ties to youthful energy. Do you feel like it's hard to age in the genre?
I feel more youthful now than I did in my mid-twenties. I was older and more jaded then. It's what you have to say. I've hung out with people who were older who had interesting things to say and made me feel alive. And I've hung out with younger people and been bored to tears. Maybe you can't be a certain person as you get older. I don't think there are any rules to it. The Who said, "I hope I die before I get old." It's a beautiful concept. But I imagine they'd much rather be alive. Woody Allen said a good thing. They were like, Would you rather make your best movie ever or live five more years? He's like, Five more years. The bands I liked as they got older, it just depended on their music. The Beatles' solo work or Lou Reed—they're awesome.

Speaking of solo work, is it hard to move between being a leader and being a player in a group?
Maybe before it was harder because you're learning how to do certain things, but I feel more comfortable with it now. If anything, I maybe feel more unburdened. Sometimes I can feel closed off in the Strokes. It's just my own perception of myself. I don't know why, maybe I'm more intimidated. It's like a family. You hang out with certain friends and a certain friend comes in and you become a certain person and you can feel it. I know why I always get asked that, but when I fell in love with music and I wanted to do music, I always saw myself as [the leader]. I fell in love with a guitar player who sang. Buddy Holly was the first guy I fell in love with.

When did songs start coming together for the new album?
It's constant, I don't sit down to write a record. After I demo'd songs, I felt like I could bring raw stuff to the band. I was excited to see what that would be like. In the middle of the record I just started bringing in really rough stuff and hashing it out. I did a lot of stuff at home on piano with rhythm and melody. I wanted to always put those on guitar. Instead of trying to do it myself and then bringing it to them, I'd just bring it to them and explain it. They definitely gave me more options. It was the first time I recorded a record with a band.

The new album has Carl Sagan-referencing title, and in a song, you also quote Joseph Campbell, who I'm embarrassed to admit I don't know much about.
You don't have to embarrassed; I think that's awesome. There's so much stuff that I don't know, even about the people who I like. Never be embarrassed about not knowing something. He did The Hero with a Thousand Faces. Basically, Star Wars is based on his mythology. I feel like songs have so many different meanings. You can come up with a meaning afterwards. But I'm not a fan of that. So I like giving references. Carl Sagan was in my life during this whole time. Whenever I felt anxious or weird, I would listen to that. And then the title did end up coming from that. When I felt such peace after listening to that three-minute YouTube clip—I even have it on my phone, it's always there.

Why did you find the Sagan clip helpful?
It was like a meditation, like a mantra. I'd listen to it and at the end I'd be like, Why am I not anxious anymore? I'm so relaxed. I like the idea: We create our own meaning. You're not what you do. You have intrinsic worth.

That's pretty heavy.
Yeah, but again, I want people to put [the record] on and it's just fun. You can just enjoy it driving in the car and not think of everything. It has things to say without being too heady and it's also musically fun. When it comes to art, I always like my gut reaction. When I see a painting, or a phrase, or a photo or hear a song, it's really just my gut reaction. That's what turns me on to something. Then I can dissect it later if I want to. That's what gives me the goose bumps. Everyone's probably had it when you listen to a song when you're 15 and it feels like it changed your life. You thought differently. It might not even be a deep song.

Do you still feel that, though, that buzz from music?
Yeah. You're always looking for it 'cause it's that amazing feeling. The last one I remember having that was really strong was when I went to see Twin Shadow open up for a band. They played their first song and I was like, What's this? It just really intrigued me.

How has sobriety changed your life?
I remember a therapist saying the key is learning to have fun again. I realized you have to gain curiosity in new things. You can gain your innocence back just by being curious about things. To know that side of you, to nurture it, it's cool. And there's something about your twenties that's like: This will last forever. But I feel happier and better now. I almost wish I was how I am now, then. What a mess! How the hell did I live like that?

New York has also changed so much since you started too.
New York's changed a lot—the world's changed a lot. I don't use New York like I used too. I don't really go out at night. I don't have any cravings to repeat the same thing over and over again. When I tried to, years ago, and I'd got out, it'd just be the same thing over and over and over again. If you weren't out of your head, you just got confused about why you were there. And some nights were fun, and they were fun no matter what you were on. And most nights weren't fun.

Some people say it'll be hard for another good band to come out of New York because they won't be able to afford the rent.
The reason why: It's much easier to be negative. It's so much harder to face every day and be like, Fuck it, I'm going to find something in there. So no, maybe another band isn't going to come, but maybe that's not the point. Or maybe something comes to here, or someone takes that feeling and says, I'm going to build a venue that attracts this kind of people and suddenly 10 bands that aren't from New York make it here.

What's going on with the Strokes at the moment? Are you guys working on anything?
No. No idea yet. We'll have a band meeting soon. For now we just have those two shows. I haven't spoken to anyone actually since Europe.

I saw that Julian just canceled his tour with the Voidz.
Oh did he? There you go. Come to my show then.

Albert Hammond Jr. plays Bowery Ballroom Mon 21 and Tue 22 at 9pm.
See more Albert Hammond Jr.
The Strokes guitarist Albert Hammond Jr., back with a new solo LP, visits his old downtown Manhattan haunts
See Albert Hammond Jr. in NYC
Stepping out from iconic crew The Strokes, Albert Hammond Jr. spends two solo nights at the Bowery airing his breezy, subtly edgy guitar pop, as heard on his impressive latest LP, Momentary Masters.