Animal Collective brings deep-space echoes to Williamsburg
Coming to NYC for a big show, modern-psych mainstay Animal Collective talks about its new LP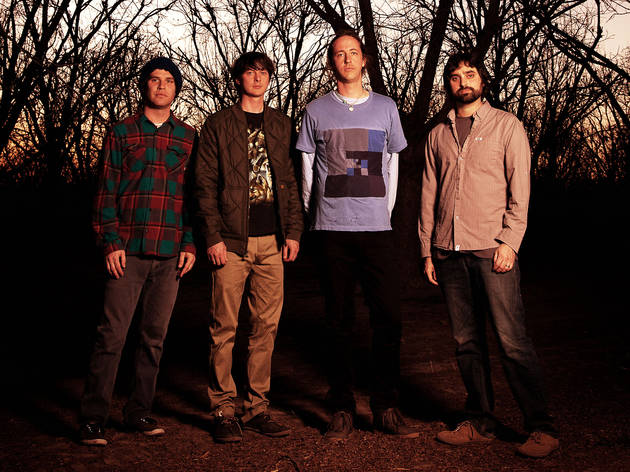 Animal Collective's David Portner, better known as Avey Tare, has always been fascinated by the idea of an alien band. If you've ever experienced the glitchy beatscapes, oddly stretched-out melodies and synthesized digital mayhem of the group's epic live shows, then you have a taste for what he's talking about. "We've probably thrown that around since we started," Portner says, citing his early sound experiments with bandmates Noah Lennox (Panda Bear), Brian Weitz (Geologist) and Josh Dibb (Deakin). "I think for a lot of our records, we've wanted to make things sound more processed—still keeping the human aspect in touch with the listener, but maybe make it a little more robotic or alien."
They've come a long way from their cushy Baltimore County roots; as quite possibly the most unconventional troupe of sonic travelers in indie rock, the restless Animalistes have carved out a quirky, quantum-entangled niche for themselves. Centipede Hz, their ninth full-length, was released in September to a chorus of critical head scratches, mostly for the way it upped the aural-density quotient over its predecessor (2009's acclaimed Merriweather Post Pavilion). For the band's ardent fans, many of whom heard the bulk of the new material being worked out on tour last year, the album is a triumphant slab of ecstatic tech-psychedelia that welcomes the alienated with loving robotic arms.
"We definitely talked a lot about classic '60s psychedelic records that we liked," Portner recalls with a smile. "That may have fueled a little bit of our inspiration when we all got together to write. I mean, we definitely didn't want to make one, but I think we've come up somehow with our own sound, and it's just in the nature of the way we all play together. It's really a way of blending sounds together—our own brand of psychedelia that we've grown more comfortable with over the years."
These days, that comfort level is no easy thing to maintain. Now approaching their midthirties and living in different cities, some with kids, they've pursued individual side projects; Dibb also took a three-year personal hiatus. But as Portner describes it, making Centipede Hz—recorded with producer Ben Allen (known primarily for his work with Diddy, Cee-Lo Green and Gnarls Barkley) at the famed Sonic Ranch near El Paso—did a lot to reconnect old synapses.
"One thing we've always talked about doing is trying to re-create what we do live," Portner says, "and I feel like we did it much better this time." Relying heavily on samplers and sequencers, Portner and Weitz crafted a layered pastiche of radio air checks as a textural foundation, which gives songs like "Moonjock" its swirling, all-enveloping sound; Portner's vocals conjure up shades of Electric Light Orchestra, rocketing out of the '70s into a hard-edged, electropunk future. His lyrics often strike an uneasy balance between the artificial and the organic, calling out the depersonalization of the hypermodern world: "Sounds like machines talking to me on the phone / I say but they don't quite get me," he laments on "Mercury Man." If this is how an alien rock band might transmit, the players commit to the task with a palpable dose of heart and soul.
And this is what sets Animal Collective apart from most other experimental acts: The band has found a way to take avant-garde leaps into the electronic void while making accessible, almost earthbound, indie pop. Portner and his bandmates have also demonstrated that they understand the power of multimedia, especially when it comes to keeping an audience engaged—just poll the privileged throng that caught Transverse Temporal Gyrus, the band's 2010 collaboration with visual artist Danny Perez at the Guggenheim.
"I think we're blessed in one way, in the fact that people care," Portner observes. "In a certain sense, we feel confident that what we do is gonna be respected or at least taken for what it's worth as an Animal Collective record, and people are interested in hearing what it is. But you can't really affect what people are gonna think. They're gonna have their own opinions based on our last album, and we can't really do much about that. But I think we might be selling ourselves short if we let it pressure us too much. For us, [the goal] was just to try and do something that we felt strongly about and could stand behind. That's usually all we're trying to do."
Animal Collective plays Williamsburg Park Fri 5.
Follow Bill Murphy on Twitter: @RoninScribe