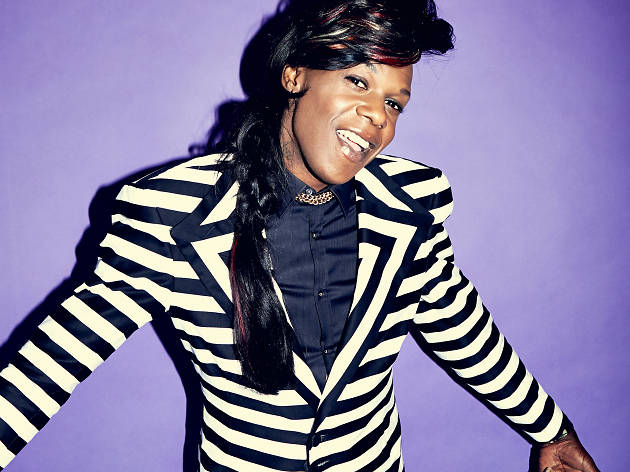 Big Freedia interview: 'It's about sexuality'
The Queen of Bounce takes the stage in Brooklyn to deliver this weekend's highest-energy dance party
Call her New Orleans' preeminent cultural emissary. Over the past few years, Big Freedia has transformed bounce music from a local flavor into a national phenomenon. If you don't know the music, you're certainly familiar with its dance element (twerking). Bounce dates back to the early '90s, but due to its trigger-happy use of samples, copyright laws have prevented the genre from gaining mainstream momentum. With this year's explosive debut album, Just Be Free, Freedia overcame this hurdle by studio-recording all the tracks. But make no mistake: The album still retains all the raw spastic power that previous production measures offered. With a reality show on Fuse TV in its second season and a Guinness World Record (she achieved "Most People Twerking Simultaneously" last year in Herald Square), Big Freedia is set to continue her meteoric rise. Catch her at Glasslands this Saturday for what's sure to be one of this weekend's best parties.

How would you describe bounce?
Bounce is a primarily call-and-response style of hip-hop over a Trigger Man beat. It's a New Orleans–created hip-hop style that developed in the late '80s, early '90s.

How has your music been received outside of New Orleans?
The music has been very well received. I got fans in Philly and New York, Houston and Portland.

Do you have any qualms over the media oversexualizing bounce music?
Not really. The music is sexual. It's about sexuality, both lyrically and sonically. At the heart of the genre is what's at the heart of all art: cultural expression.

You've criticized shoddy attempts at twerking (i.e., Miley Cyrus), but also seem positive about the fame it's given the culture.
I think when people don't attribute or credit the culture, it's appropriation. It's celebration if they credit. You decide.

You've spoken about taking over a label or starting your own. Is that still in your plans?
Oh yeah, we got so many things in the works. We're rolling things out as we can.

Since bounce is so sample-based, have you run into many problems with legal litigation?
Sure, but we work it out. For my future music, I'm trying to work with some new producers so we don't run into so many of those type issues.

What artists are you interested in working with? Who have you been listening to outside of bounce?
I'd love to work with Snoop Dogg, Skrillex, Lil Wayne, Kendrick Lamar.… There are so many! Outside of Bounce, I listen to Beyoncé, Sia, Rihanna.…

Have you been involved with others in the developing mainstream community of queer hip-hop artists?
Well, I haven't spoken to any of them personally, but I love that it's happening. Queerness figures into my work, of course. I'm an artist who happens to be gay. It's just part of who I am.

Your reality show, Queen of Bounce, just got renewed for two more seasons. What pressures does that present?
Oh, it's very hard sometimes. You lose your privacy. But it's also an amazing opportunity to show my fans what the day-to-day of my life is really like.

Big Freedia plays at Glasslands Sat Oct 4.