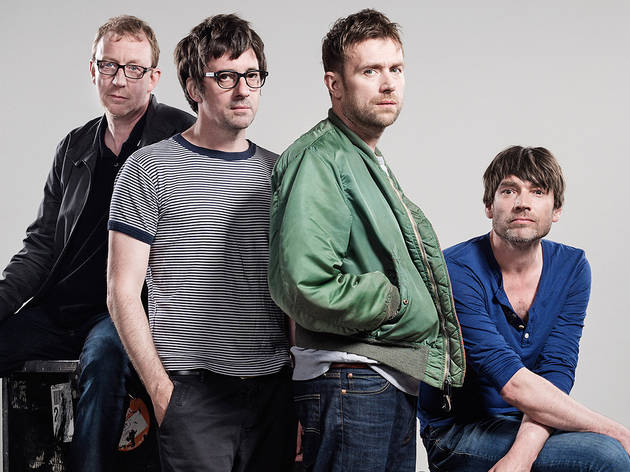 Blur talk early drunken shows, reuniting and gunning for the States
After breaking (and growing) up, nineties Britpop phenoms Blur are ready to take over America—for the first time ever
Halfway through a question about the '90s revival and the surge of renewed interest in Blur that's come with it, Damon Albarn cuts me off. "Is this the 'what's it like to be old' question?" he snaps, outraged, but he's putting me on, cackling with the satisfaction of someone who spent his entire adult life in the sights of the gossipy British music press, taking the piss out of journalists. "It's okay!" he assures me. "It's great. I'm sitting by the Thames, outside the National Theatre [in London], and I've been working all day with my orchestra, getting ready for wonder.land," which is his Alice in Wonderland adaptation that opens at the National next month. "I'm pretty lucky, to be honest with you." As unimaginable as it once seemed, the former enfants terribles of the Britpop scene they invented—who, for a period of time, were as famous for their internal feuds as for their long-running beef with Oasis—have not only made it to middle age but are thriving there.
On Friday, October 23, they'll headline Madison Square Garden for the first time behind The Magic Whip, their first LP in 12 years. And that gig in midtown will be a far cry from the ones they used to play here. Take their debut concert in NYC at the Marquee in 1991: "We were definitely drunk," Albarn remembers. "I think I climbed onto the ceiling, so I was Spider-Man. I climbed over the audience and dropped onto the table of Charles Koppelman, who was the CEO of our record label. And I didn't make a good impression." Graham Coxon is a bit vaguer about the revelry that night: "We were really excited—perhaps a little overexcited. And young."
Aside from a surprise show earlier this year at Music Hall of Williamsburg, the last time the full group played in our fair city was at Roseland Ballroom in 1999, right after "Song 2"—yes, the "Woo-hoo!" one—brought the group its first real taste of American success after years of playing to Anglophiles drawn to the indelibly British blend of danceable rhythms and taut, Kinks-y pop hooks.
Despite the mimetic popularity of "Song 2," Blur never really found a solid footing here, which seems to be one of the few frustrations the group still holds onto from its early days. "I don't know if we ever broke through in the States," says Coxon. "During that time, we were in our own kind of quasi-Britain. And Americans were like, 'What the hell? This is crap.' No one wanted to hear these ditties about people sitting on trains in England."
The road the group has taken from relative obscurity in the States to finally headlining arenas hasn't exactly been smooth. After a series of near-splits due to differences between Albarn (the frontman) and guitarist Coxon (regarded by many fans as the band's creative engine), Coxon finally left the group in 2002 after his drinking got in the way of recording sessions for Think Tank. "There were too many late nights," Coxon tells me. "We were too tired; we felt overworked. We were feeling the pressure. We were young, and that's what you do: You lash out at the people who are closest," he says of the band, which formed when he and childhood pal Albarn met Alex James and Dave Rowntree during their first year at London art school Goldsmiths College. "If Alex [Blur's bassist] wasn't around, I'd have destroyed a lot more TVs or telephones," Coxon confides, before clarifying: "But I still did end up throwing a lot of phones across the room."
The constant hype in the British music press didn't help things either. "It was thrilling, and then it became sort of ordinary and then irritating," admits Albarn of Blur's It-band status. "I never really felt comfortable being in videos and all that. I was absolute fucking shit at it, always thinking I looked super, super awkward." Coxon agrees: "I stopped going to music biz parties [because of] the bullshit going on in England in the music industry." So, fed up with the spotlight and tensions within the band, the outfit disbanded, with Albarn going on to Gorillaz, Coxon to focusing on being a parent, James to cheese making (really) and drummer Rowntree to solicitation and political activism.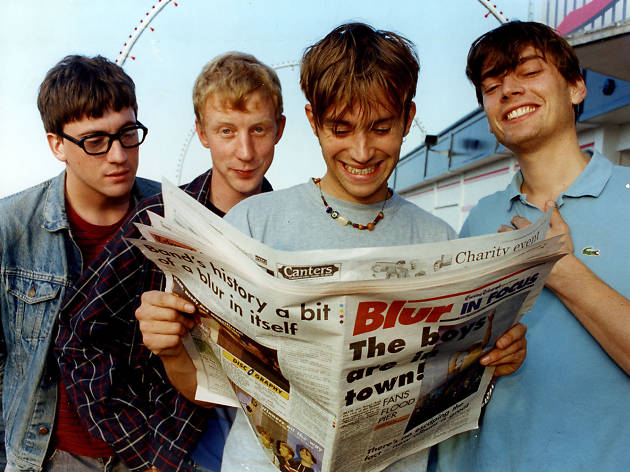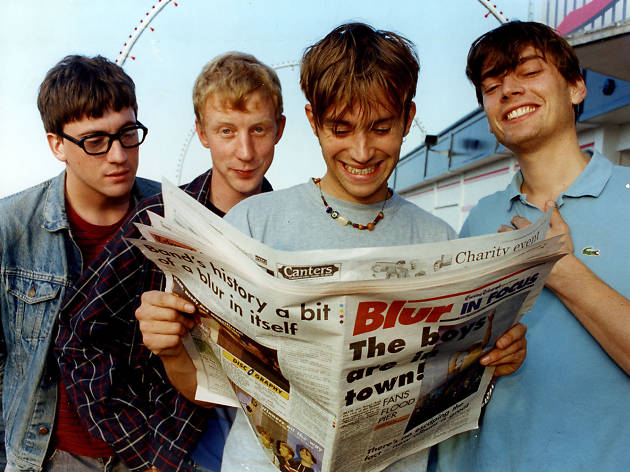 Photograph: Local World/REX Shutterstock
Cut to 2009, when, like quarreling lovers who just can't help but get back together, the group reunited to play a handful of British shows with no plans of recording—at least at the time. Years later, in 2013, the band found itself stuck in Hong Kong after a canceled festival gig and decided to kill some time by booking a studio. While Albarn was busy promoting his debut solo album, Everyday Robots, Coxon, James and Rowntree continued to work on the material from the studio jam session that eventually became The Magic Whip before showing it to Albarn, who then added his own parts. As dysfunctional as the nearly two-year process might seem on the surface, this idiosyncratic approach not only worked, but it may have been the only way the record could have come about. "It was made by accident," says Albarn. "It wouldn't have been as good otherwise. I would've been too self-conscious about making another Blur record." Coxon agrees: "I don't think we've got the patience. If we put aside three months in the studio, after a week we'd be bored."
This fractured, occasionally sneaky creative process has the kind of easygoing energy and sense of low-stakes experimentation of a bunch of older musicians jamming, but apart from the eased-back tempos, The Magic Whip is, in many ways, the closest the band's come to dancy LP The Great Escape, released 20 years ago. Musically, says Albarn, "you should get to know what you're doing by the time you're approaching 50, and that can really get in the way when it comes to making a good alt-rock record. In a way, we retain that original sort of genius—if we don't think about it too much."
The unconventional arrangement, though, works. "It's a bit like a couple saying, 'We should go out to dinner this week,'" says Coxon. "'You go out for a meal Wednesday, and I'll go out for a meal Thursday.'" Coxon is quick to point out that there's not still bad blood—at least not like there was in the old days. "When we do come together, it's always kind of a celebration," he adds. This rejuvenated, celebratory energy that the band has found seems to be contagious, since it's playing a venue nearly seven times the size as the one it headlined during its peak years.
This time around, a happy, wiser Blur seems to be upending rock's rules for how bands are supposed to act when they age. It may be better to burn out than to fade away, but perhaps it's best if somehow you can avoid doing either. Cheers, lads.
Blur headlines Madison Square Garden Fri 23.
Watch Blur play with Jimmy Fallon