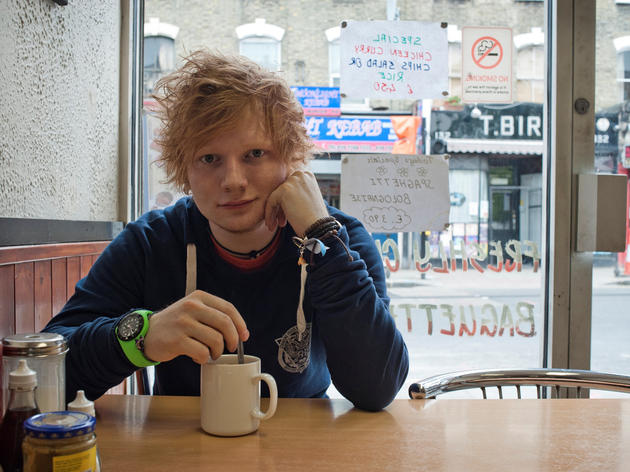 British rising star Ed Sheeran gets the royal treatment
The plucky English soul-pop upstart talks about playing for the Queen and writing with Taylor Swift
In two short years, 21-year-old British pop sensation Ed Sheeran has gone from couch-surfing to playing for the Queen of England, performing at the Olympics closing ceremony and writing songs with Taylor Swift. We caught up with Sheeran by telephone on a tour stop in Ohio to uncover the secrets of his success.
How has the response been in America so far?
It's been cool. Every place has been mental…lots and lots of singing, lots of screaming.
Do you pay close attention to what makes girls scream, like Elvis did with his wiggly leg?
[Laughs] I haven't got a hip wiggle down yet, but I'll try it. If I knew what the key to this success was, I'd be doing a lot more of it. [Laughs]
You played the Queen's Jubilee celebration in June.
Yeah, it was a massive honor to play it. I got introduced [to the Queen] by Kylie [Minogue], which was very random. You're not meant to put your hand out first; she has to put hers out to shake yours.
Is Elton John your mentor now?
[Laughs] I'd say so, yeah—I ring him up for advice every now and then and he's always been very supportive of me. He's a cool guy.

Do you ever double-take yourself, casually calling up Elton John?
Ha! Yeah, of course, I have a pinch-me moment pretty much every single day, but if I think about it too much it'll freak me out, so I just keep rolling with it.
Tell us about your duet with Taylor Swift. Who contacted whom?
We had a mutual respect for each other; I didn't realize she was a fan of my music until her manager came to one of my gigs in Nashville—she said, "D'you wanna write songs?" And I said, "Yeah!"
And then you wrote a song together on a trampoline. How does that work?
We took breaks to bounce. [Laughs] The song only took about 20 minutes to write. We just had fun with it, and baked an apple pie afterwards.
A YouTube commenter writes, "IMAGINE IF THEY WENT OUT AND BROKE UP OMG EXPLOSION OF AMAZING SONGS."
Ha! Well, I can't see that happening anytime soon. [Chuckles]
You mix up pop, hip-hop and singer-songwriter styles—you seem to have a healthy disregard for genres…
When I was growing up, people were just into one set thing—so when I was very young I was into Blink-182 and Green Day, then I got into Damien Rice and just listened to him and Bob Dylan and Van Morrison. Since YouTube has come about, people go off songs, so genre barriers have been broken through that. There's a lot more freedom for people to do what they want.
You wrote a song for One Direction…
The songs that I gave them were songs I wrote when I was 17, and they had just been sitting on my hard drive for ages, wanting to be recorded. Each song I write—without sounding too weird, each song is like a baby, and you have to find the right home for it. I like confusing people. So I can do my record, then I can do an underground EP with Yelawolf, and then a song for One Direction and a thing with Taylor Swift. And you kind of keep people on their toes—they can't place you in any boxes.
How did that Yelawolf collab happen? Are you a fan of his?
Yeah, I think Yelawolf's incredible. The way that he can put lyrics together and he can put a certain twang on it, or he'll change his voice in different ways so it's either low and really Southern or it can get high and really aggressive—I really like how he can just ebb and flow between styles and genres.
When did you fall in love with hip-hop?
I got Eminem's album The Slim Shady LP when I was nine. That was the first time I fell in love with hip-hop. [I loved] the stories, the way that he can make you laugh within half a sentence, the way the words are put together—just the whole album from back to finish grips you. It's a story about where he was at, at that particular time, and I really like that.
What was the first musical experience to really move you?
Seeing Damien Rice live when I was 11 in a pub in Dublin. That was just mind-blowing—it was the first time I'd ever seen a live act in a venue that small just hold the audience in the palm of his hand. I wanted to do exactly the same thing.
In 2010 you bought a plane ticket to L.A. with one measly poetry gig lined up. Are you a risk-taker?
Yeah. I think it's quite important to take risks. 'Cause the only thing that can go wrong is if the risk fails, but you've got a lot to gain from it going right. Like dropping out of school and moving up to London, the only thing that could've gone wrong is if nothing happened for me and I had to go back to school. But there were a lot of things that could've gone right, i.e., exactly what's happening now.
Ed Sheeran plays Radio City Jan 30
Watch exclusive video of Ed Sheeran Live at TONY
Follow Sophie Harris on Twitter: @SophieMeve
See more in Music