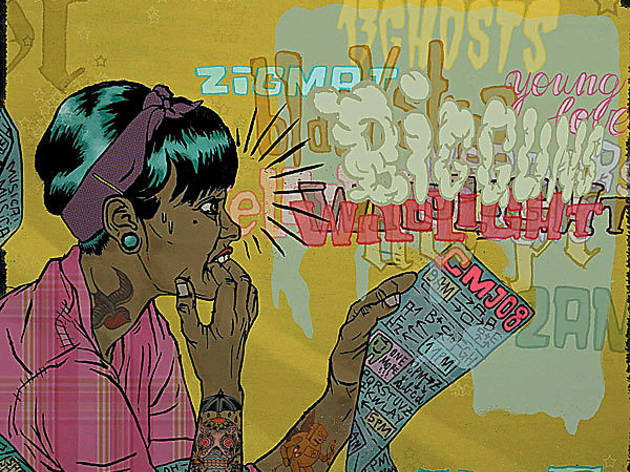 CMJ for dummies
What does this massive citywide fall fest mean to you, the average music fan? Here's everything you need to know.
Even for those in the business of making sense of the local music scene, it's difficult to get a handle on CMJ. TONY gives you the lowdown, with help from Bobby Haber, the former Brandeis University college-radio music director who went on to found CMJ (College Music Journal) magazine and the annual Music Marathon.

RECOMMENDED: Our full guide to the CMJ Music Marathon
What the hell is CMJ?
Before there was alt rock, there was so-called college (i.e., -radio) rock, a scene that nurtured R.E.M. and countless other future stars of the postpunk, pregrunge era. The initial intent of both CMJ and the NYC fest was to clue the music industry in to the burgeoning impact of college radio. "It began purely as a business convention and accidentally turned into a very large music festival for fans," says Haber.
Translation: Hundreds of bands and thousands of hangers-on descend upon local venues over a period of five days. Panels and a film fest add to the general mayhem.
Does college radio still matter?
It may not have the impact that it once did, but Haber makes an important point: "The same person who's a key blogger is doing the night shift from one to four in the morning on the local college radio station."
Translation: Whether they're broadcasting or blogging, amateur music nerds are still the foot soldiers of the hype wars.
Why should I, the average NYC showgoer, care?
"The Marathon presents what we consider to be the world's best music," Haber says. That's an overstatement, but CMJ's reputation as a buzz magnet always results in some strikingly solid bills, with five or more headliner-caliber acts in a row.
Translation: Sure, there will be great shows, but only the truly cunning (and/or rich) will make it into the marquee events.
How do I get into the shows?
You can buy a supposedly all-access badge, wait in line for hours and still get turned away. Haber looks at it this way: "As much as people want to see the big acts, go under the hood a little bit and look at the clubs that you really can get into."
Translation: If you think that a show will be mobbed, it probably will be; it's best to map out a few alternatives.
Do I need one of those pricey badges?
Few shows are badge-only. Each club determines its admissions ratio of badge holders and walk-up or advance-ticket customers. "We go to the clubs, try to assess the previous year's failures and come up with a matrix which makes sense for them," says Haber.
Translation: It's your money.
Should I bother if I'm in a band? Isn't CMJ just an "industry" dinosaur?
CMJ's format has actually proved uniquely adaptable to the changing times. "People used to come to New York to get signed," Haber observes. "But since the nature of the music business has changed so drastically, these days most acts are trying to connect with bloggers."
Translation: If you're an indie artist aiming for Pitchfork or Brooklyn Vegan coverage, CMJ ain't a bad place to be.
What's in it for the venues?
"I can't speak for [the clubs], but we do believe that bigger bands will tend to be much more flexible with regard to the guarantees they ask for," Haber asserts. Then he adds, "The CMJ crowd just seems to consume more libations."
Translation: As usual, it's all about the booze.
And what about the panels?
We didn't need Haber to answer this one. Basically, you can't get into the former without a badge (see above). See cmj.com/marathon for more info.
What's the bottom line?
We'll field this one as well. If you don't mind the crowd crush, then by all means, check out anything that sounds appealing, badge be damned. But if it all seems like a big headache—and believe us, we sympathize—take note of what bands appeal to you and give it a few weeks. This being New York, they'll all be back before you know it.