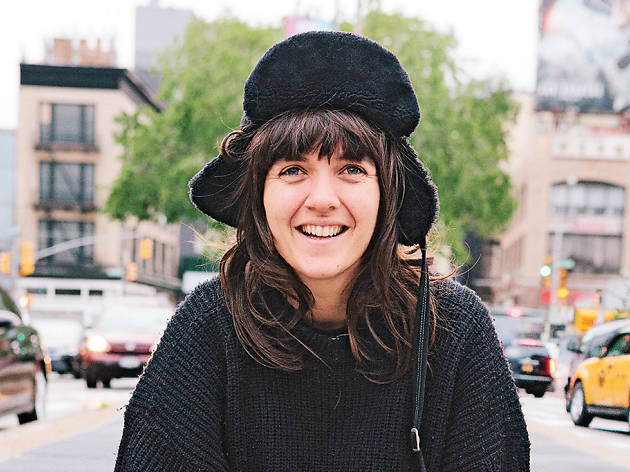 Courtney Barnett on blowing up, endlessly touring and chowing down at Roberta's
Listen up! The adored, fast-rising Australian singer Courtney Barnett is about to storm New York in a big way.
In the midst of a sold-out run of gigs at Bowery Ballroom, Courtney Barnett strolls onstage wearing a flannel shirt ("my flannie"), Blundstone boots and a smile that's part amused, part bemused. "Hi," she says cheerfully, and the crowd goes nuts. The hysteria's not surprising: Over the past few months, the Australian singer-songwriter has released her critically drooled-over debut album, Sometimes I Sit and Think, and Sometimes I Just Sit, toured the world and made numerous appearances on shows like The Ellen DeGeneres Show (the other guest was Michelle Obama). Her next concerts in NYC include headlining at midtown megalith Terminal 5, then supporting Blur at Madison Square Garden. Not bad for a girl who just 20 months ago was playing in scrappy DIY venues.

Barnett's appeal is obvious to anyone who's seen her play live: The tender, raw, simple poetics of her recorded songs ignite into something truly explosive and very, very loud when she's onstage. Flanked by her "best friends" from home, Bones Sloane and Dave Mudie, Barnett, 27, leads a trio whose red-blooded noise and ecstatic messiness channel Nirvana in its best moments. She mauls the songs. But while the passion and urgency of '90s grunge is all there, Barnett also cracks gags and joke-plays the riff to "Stairway to Heaven." The day after the gig, we catch up with the white-hot guitar slinger while strolling around the Bowery.

What did you end up doing with your day off?
I ended up going to get pizza with the boys. We've had lunch or brunch at Roberta's every day. Then I put myself on a train—which I was really proud of—and went across the bridge to the Met. It was pretty chill. We didn't really have time to do the New York tour.

Does it surprise you to see people sing along? People were singing along with such gusto at the Bowery.
Yeah, it's great seeing people sing back either such personal stories or quite mundane stories. I think it's funny enough that I sing about them and people listen, let alone sing them back. It's cool. It means people have some sort of connection to the stories.

You're touring a lot. Is it daunting? Exciting?
It's both. Touring has two sides—good and bad—but for the most part, it's a really amazing thing to be able to do. That kind of outweighs the bad points. We tour a lot, so I learn to pace myself and give myself time to read my books and write stuff every day. It's kind to hard to find time to yourself when you're surrounded by people everywhere you go.

You write everyday? It's amazing you find the time.
Writing a journal or any creative thing that you love doing—and I love doing it—is a lot sometimes. There are those moments of nothingness and you have to force yourself to figure out what's going on. I think it's really important to just keep up with it, exercise your brain and keep your mind active. I just go crazy if I'm not working.

Do you have a bazillion notebooks filled with ideas you won't ever use?
Totally! I've got a box full of them at home. I just picked up some from my parents' house the other week, so they're all in one spot. I feel like there's 90 percent shit that you just put away, and then you use the other 10 percent of it. But you have to get it out on the paper first to make room for the good stuff.

One of my favorite lines on the album is, "I used to hate myself, but now I think I'm all right."
I think it's important to fairly share both sides of the argument. That's complete honestly, saying you feel like shit sometimes, but other times you feel okay.

What were your very first shows like?
Some of my first gigs were before I moved to Melbourne. I was like 18 and shy and nervous and worried what the world would think of me.

Did you gain confidence the more you did it?
Yeah, like with anything, I think. It's not only about performing. It's kind of what you learn about yourself and other people while you play music.

People throw around the term grunge when speaking about your music. When did you first hear it?
I had a slightly older brother, and he showed it to me. It's funny people draw the comparison, because I've never tried to emulate that at all. Like, if I think back to performances from even a couple of years ago, they probably weren't even that physical or whatever you see that you recognize [from grunge]. I think it just naturally came. I started to feel this anger and frustration, and I was living it out that way.

Speaking of frustration, how are things in Australia politically at the moment?
It's pretty bad. There are obviously parts of our country that are really great and I feel lucky to live there, but our government—nothing really springs to mind that I can use as an example—feels like a joke sometimes. It feels like someone's playing a joke on us. You kind of live in your own bubble of your friends in your like-minded community and then when you see the reality...It's just fucked-up people that really don't care. I think some of that comes out in my record: the anger and frustration.
See the show!
Fast-rising Melbourne singer-songwriter and guitarist Courtney Barnett crafts shambling garage-pop with a healthy dose of '60s-era folk. Her debut LP, Sometimes I Sit and Think, and Sometimes I Just Sit, is loaded with scarily accurate portraits of twentysomething ennui.