DIY isn't dead: How the scene continues to thrive after 285 Kent
Williamsburg hot spot 285 Kent Ave may have bitten the dust, but don't worry—the scene ain't calling it quits anytime soon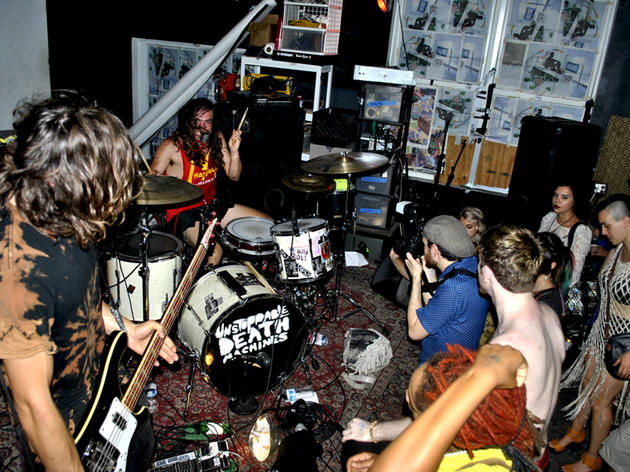 It's January 19, and a shirtless Damian Abraham pushes his way through a cramped crowd at 285 Kent Ave, proclaiming, "In a list of amazing fucking venues that we've gotten to play, this is by far the fucking coolest." His band, the high-minded hardcore act Fucked Up, kicks into another scorcher. Guitars blare. Kids mosh and crowd-surf. Beers are thrown into the air. It's sweaty. It's gross. It's awesome. A triumphant swan song for a venue that has had its share of wild nights.
A lot of fuss has been made about the closing night of that graffiti-strewn space near the Williamsburg waterfront, founded in 2010 by tireless DIY promoter Todd Patrick. (With a lease ending in August, Patrick and his partners opted not to throw down the estimated $100,000 in construction costs to legitimize the venue.) Some proclaimed the shuttering a watershed moment for both the neighborhood and NYC's DIY venues, industrial rooms repurposed as self-sustaining, independent show spaces. But that seems hyperbolic. "285 Kent isn't necessarily an indicator that the scene is dying," counters Patrick McNamara, cofounder of the concert-listings site Oh My Rockness (ohmyrockness.com). "It's an indicator of something happening where they had to close. But there's always gonna be another one. You know, one closes and then three open."
Trans-Pecos, for instance, debuted last December in Ridgewood, Queens, in the building that once housed mainstay Silent Barn. (Having been ransacked and financially devastated, Silent Barn moved out, raised funds and relocated to Bushwick) Pecos, another Todd P venture, brings acts from disparate genres (avant-garde violinists, experimental knob-tweakers) to NYC's occasionally guitarcentric DIY scene. And more can be expected from the promoter, as plans are under way to reopen Todd P's buzzy venue Market Hotel, which shut down after cops raided a 2010 Smith Westerns show.
Death by Audio
Photograph: Taso Hountas
Step into any packed DIY room on a Saturday night and you'll see there's clearly a demand for these spots, which often cater to all-ages crowds and tolerate high jinks that bigger, legit venues wouldn't stomach. But NYC's rising rents make it difficult for these spaces to stay afloat. Edan Wilber, who runs and books Death by Audio, just around the corner from the defunct 285 Kent Ave, is worried. "We're in these industrial zones in Williamsburg and Bushwick," he says, referencing adventurous-concertgoing stapleslike Shea Stadium and Secret Project Robot. "But now you're talking about moving out into Bed-Stuy, East New York and Queens, which are often residential. There already is this really rich culture there, and anything you do is going to erode that."
Zachary Cole Smith, the frontman of DIIV, who also played 285 Kent's last night, is more optimistic. "285 Kent is really just a space, and the true institution behind it is the people," he says. "It relocated. And it will always relocate." Where it will go is anyone's guess, but, as Wilber puts it, "There's always going to be kids here, always going to be art. Hopefully we can keep doing this for a long time."
So are you ready to get sweaty at one of these thriving DIY venues? Lucky for you, they're all dotted around the L train line through north Williamsburg:
Death by Audio
is at Bedford Av,
Shea Stadium
is at Montrose Av,
Silent Barn
is near Morgan Av,
Secret Project Robot
is at Jefferson St, and
Trans Pecos
is at Halsey St.