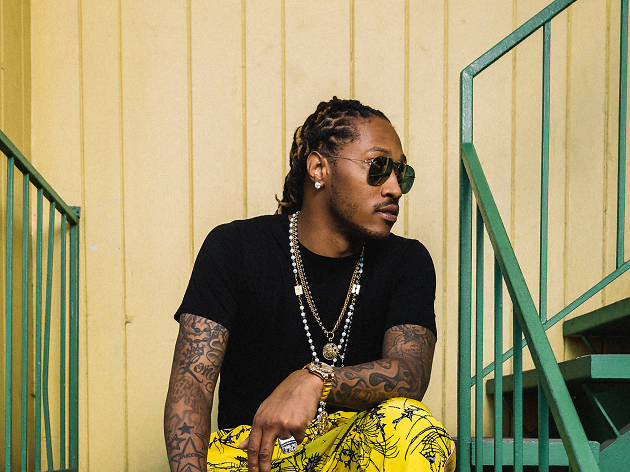 Future on family, drugs and becoming the next Jimi Hendrix
Red-hot Atlanta rapper Future lets us into his complicated, record-shattering world before he takes on Brooklyn
Future walks into his photo shoot with the weight of the future on his shoulders—literally. His toddler son, Future Jr., is slung over his back, while his older son, Prince, is carried in his other arm. There are two nannies in the entourage; one is a gray-haired woman with a fearsome tattoo on her arm. Future's arms are also heavily decorated. At six feet two, the man born Nayvadius DeMun Wilburn is physically overpowering, strolling around the L.A. studio like a lion taking charge of his pride.
Future's career is as mammoth as his frame. This month, the Atlanta native headlines Brooklyn's Barclays Center, a venue homegrown rappers would kill to conquer, one that's previously hosted the likes of Justin Timberlake and the Rolling Stones. When he released not one but two records a week apart earlier this year (his fifth and sixth LPs, Future and HNDRXX), the trap king became the first artist to debut two albums in consecutive weeks at No. 1. Today marks another milestone. His rags-to-riches tale "Mask Off" just went platinum. And a little shy of a year ago—a lifetime in this rapper's career trajectory—he became one half of the highest-grossing hip-hop tour of all time with Summer Sixteen, his coheadlining tour with Drake. "It's a true blessing to be in this position," he tells me. Must be.
During the shoot, as he lays out a variety of medallions on gold chains, Prince and Future Jr. peer over his shoulder, touching the jewels. Clearly, the MC enjoys their company, even as he works. "They get a chance to experience what I do," he says. "I love having them around to inspire them in different ways. It's the icing on the cake. It makes me wanna do what I do." Right now, they're dancing circles around Future while he poses and his self-titled album plays on speakers. "They wanna grab a mic, or ask, 'Can I get onstage?' " he smiles. "They wanna listen to my music, sing along." When his song "Scrape" comes on, they giggle sweetly and create their own choreography. The chorus booms: "Bakin' is all you heard, whippin' cocaine up is all you heard."
About the drugs: Since his 2011 mixtape Dirty Sprite, Future's back catalog reads like a prescription order for a cartel. His 2014 anthem "Codeine Crazy" is an ode to lean, the notorious mix of codeine cough syrup and soda. And his latest LPs make constant references to molly and Percocet, particularly in "Mask Off," in which he seems to use the substances as a recipe to numb certain memories. Future grew up in Kirkwood, Atlanta, an area hit hard by the crack epidemic. After his father abandoned him, he was raised by his mother, aunts and uncles, and the corner was always there.
So does he worry about his kids understanding the drug references? "That's super touchy. It's scary," he says, irked. "It's something I have to prepare them for. Drugs are like a myth for them. The music they can connect to. I'm separating it at all times." Future didn't have the luxury of that partition growing up. Now 33, it pains him to look back. "My mom wasn't big with drugs, but it was a part of my life from the time I was born." On the subject of disciplining his kids, he says he uses reverse psychology. "They live through my experiences. I'm going through things they don't have to go through. I tell them, I got enough tattoos for all of us, that's why you don't get tattoos. I got earrings, so you don't get an earring. You want to be different from me? Don't have dreads. [I want to] give them their own identity."
"I wanna be one of those special guys. Jimi Hendrix wasn't afraid of who he was. That's the part I emulate."
Photograph: Rachael Wright
Forging his own path is something Future's aced. Back in Atlanta, his cousin Rico Wade was part of the crew Organized Noize (Outkast, Goodie Mob). When Rico introduced his cousin to studio life, it took Future off the streets. After getting noticed on the local scene with a slew of chopped and screwed mixtapes, he released his debut LP, the "Tony Montana"–sporting Pluto. Then came his mainstream sophomore effort, 2014's Honest, which proved a commercial flop. Despite that blow, he upped his output over the following two years, churning out a handful of mixtapes and two LPs at breakneck speed. And suddenly, his slo-mo, repetitive, psychedelic-tinged brand of rap caught on, paving the way for Atlanta acts such as Migos and Rae Sremmurd, which are redefining popular hip-hop.
Initially nicknamed "The Future" as the up-and-coming star of his rap clan Dungeon Family, he's had many alter egos: the Wizard, Super Future, Fire Marshall Future and, these days, Future Hendrix. Jimi Hendrix and Future may be poles apart sonically, but there's something pioneering about both. "It was rare to hear a black dude then that was a rock & roll star at the peak of his game," Future says about Hendrix. "It was special. I wanna be one of those special guys. Jimi Hendrix wasn't afraid of who he was. That's the part I emulate." Bravado aside, Future did reinvent the use of vocal techniques via Auto-Tune. His tones are mimicked in the underground and have broken into the mainstream. Remember that Beats 1 ad in which Taylor Swift face plants on a treadmill? She was rapping along to his hit "Jumpman."
I ask when his obsession with Auto-Tune began, and he responds, "It never was an obsession until people got obsessed with it." He's prolifically productive, slinging his own music while also collaborating with the likes of Ariana Grande, Snoop Dogg and Pusha T. "Successes are about outdoing yourself time after time. After you've received successes, how successful can you get?" he asks.
Building a lucrative company is also about having allies. "I feel like me and Drake do good business. We better each other. When we can come together and make money, it's not a big headache." He has nothing but stellar things to say about the huge artists who make guest appearances on HNDRXX, including the Weeknd ("breathtaking, he's like destiny") and Rihanna. "I got so much love for Ri," he says in a tone reserved for old buddies. "She's a great person. I appreciate everything she does for me. She's legendary." And then there's Kendrick Lamar, whom Future was just in the studio with. "I love Kendrick. That's my homie." But for all his big-name mutual admirers, when Future's having a bad day or needs some honest advice, he calls his family. "Your family is free of charge," he says. "It's no psychiatrist or therapist who's getting paid for listening to you talk."
Watch the video for "Mask Off":
Having listened to the likes of "Lookin Exotic" ("I wanna take you out to Paris and buy you better clothes") and "I'm So Groovy" ("I just fucked her face, I don't know her name"), I'm hoping he can be honest with me and respond to the criticisms of misogyny he's received. "I don't mean no disrespect," he insists. "I love women. I'm generous enough to say that I think they should listen to my music and give me a chance, listen with an open ear. Anyone who feels disrespected by it, I wanna be able to say I'm sorry. It's just a position I am in as a spokesperson for myself." I inquire if Future—as a spokesperson for himself and a friend of political firebrands Lamar and Chance the Rapper ("he's the homie," says Future), who just donated $1 million to the public school system in his hometown of Chicago—wants to take more altruistic stands. "I don't get into the politics side of it," he says flatly. "I don't speak on certain situations."
And just like that, the interview is shut down prematurely—not because of any political talk but because Prince, who injured himself earlier in the day, needs the attention of his dad. See, this afternoon, while shooting outside, Future and his entourage meandered up Beechwood Avenue to a different location. An Escalade followed behind for security. The excitement was too much for Prince, who banged his head on the side of the Escalade. As he cries and Future holds him in his big arms, Future Jr. scales some stairs, up to no good. "Future," yells Future. "Come down before you fall." But the rapper should know better: You can't keep Future down.
Future performs at Barclays Center Fri 19 at 7pm. $80.50–$594
See the show!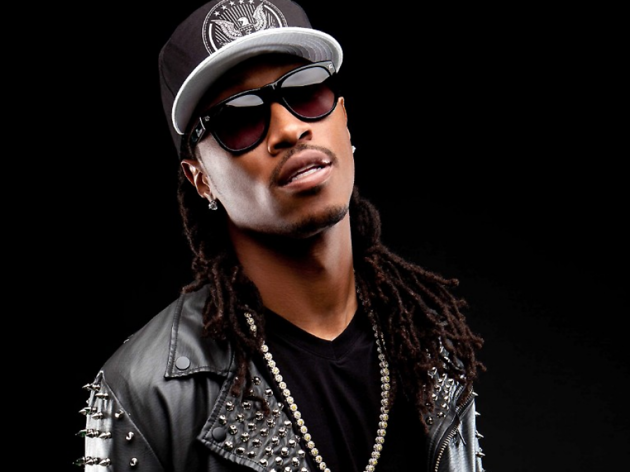 Future is sure to be in a celebratory mood at this gig, which features 2016 XXL Freshman Kodak Black and Georgia trap trio Migos of "Versace" fame.
Looking for new music?
Every month, our music and nightlife critics cherry pick the best new songs recently released—listen to them here