Haim interview: 'There's nothing like writing with your sisters'
As the L.A. sister act hits town to support its stellar 2013 debut, we chat with the eldest Haim, Este, about sisterhood, touring and telepathy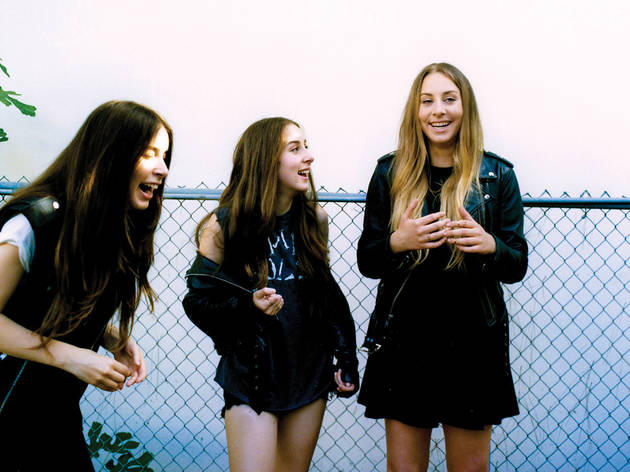 Days Are Gone
, was released in the fall, but as the L.A. band's growing cult knows well, its story doesn't begin there. This trio of sisters all learned drums as toddlers, and played covers for 15 years as family five-piece Rockinhaim. Then Este got a degree in ethnomusicology at UCLA, and Danielle toured with Jenny Lewis and Julian Casablancas as a guitarist and drummer—but the latter sibling missed her sisters, and the band got back together.
These days, Mom and Dad are roadies, and Haim has gone from paying friends to come to their shows to starring at Glastonbury and
Coachella
.
Days Are Gone
, which the band took a year to record after five of gigging as Haim, debuted in the U.K. at No. 1—above
Justin Timberlake
. The album is a skillful and unabashed amalgamation of '80s Top 40 influences, a shrewd revival of an uncool sonic lexicon. Danielle's dusky alto, percussive breathing and curled-lip style conjure Michael Jackson. And various throwback touchstones (catchy synths, finger snaps, dramatic silences, bubblegum beats) recall other period stars, from Madonna and Pat Benatar to Rick Springfield and Wilson Phillips. At its best, though,
Days Are Gone
feels genre-less: "Let Me Go" opens with an a cappella spark and builds to a bonfire of percussion and funky shredding that sounds like no one but Haim.
At their famously exuberant performances, the band further exposes its percussive roots, as all three sisters whale with drumsticks and Danielle's staccato vocals double as part of the rhythm section.
Above all, Haim showcases a fearless joie de vivre. "And if it gets rough, it's time to get rough," sings Danielle on "Falling." "Never look back and never give up." The sisters play feel-good music free of irony or pretense—pop without the sugar high, mainstream fare that appeals to indie-rockers and pretty much everyone else. Accordingly, their live shows are dance parties—at
Terminal 5
, expect a 3,000-person sing-along.
Time Out New York: There are scenes in the "Forever" video—dancing in the salon, cruising on bikes—that feel plucked from childhood.
Este Haim: A lot of that video consists of our personal home videos, so there definitely is a strong nostalgic childhood vibe there.

How exactly did Rockinhaim become Haim?
Our parents taught us how to play instruments when we were basically toddlers, which has definitely contributed to the musicians we are now. We only played covers in Rockinhaim but definitely learned a lot from doing it for all those years. We eventually wanted to write and perform our songs, which is when we started Haim.
Haim and sisterhood—how are they related?
They are one and the same.

What are the differences between working with other bands and working with your sisters? With Haim, do you want to collaborate with other artists or keep it in the family?
We're always open to collaborating with other artists, but there's nothing like writing with your sisters. We share the same blood, which means we're telepathic.
What are the best and worst parts of touring?
Best part: traveling and exploring the world. Worst part: doing laundry.
Finish this sentence: "I hate it when my sister…"
Steals my favorite clothes.
"I love it when my sister…"
Makes me laugh. Which is every day.
Haim plays Terminal 5 Sat May 10 and Sun May 11.
Watch the video for "Falling"