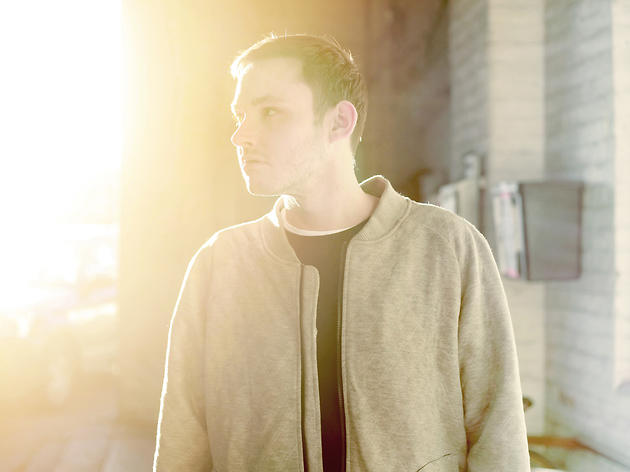 Hudson Mohawke talks Kanye, the paparazzi and his new solo record
Kanye-cosigned producer Hudson Mohawke is about to make a splash stateside with a star-packed summer album and a big NYC gig
Call him a Kanye West protégé if you want, but Scottish producer Hudson Mohawke (born Ross Birchard) has been killing it for a while. At 15, he was an award-winning battle DJ; at 22, he signed with the prestigious electro-leaning U.K. label Warp; and at 26, TNGHT, his trap-house project with producer Lunice, blew the eff up. (Trap-house, you ask? Think bassy electro with menacing, 808-style beats.) TNGHT, which matched energetic dance music with a booming Southern-rap influence, landed at just the right time, 2012, when mainstream bros and the festival promoters who love them were just starting to get wind of this stuff called EDM. Along the way, HudMo caught the ear of Mr. West, who mined his producing talents on both Cruel Summer and Yeezus and signed Birchard as a producer for his GOOD Music label.
The 29-year-old has put TNGHT on the back burner and kept the big-name gigs at bay long enough to release Lanterns, a full-length packed with pop hooks, speaker-jarring bass, synthesizer fantasias and vocal turns from Miguel, Antony and Jhené Aiko. It's diverse (and challenging) as hell yet catchy enough to pump at a BBQ. In other words, it ain't just trap music. As he prepped to headline Irving Plaza, we talked to HM about shifting from party-starting, sought-after DJ and one of the cool producers you need to know in 2015 to full-fledged performer.

What are you cooking up for the tour?
I'm still going to deejay, but as far as festivals and headlining shows, I'm changing it to more of a band setup, so we're in the process of translating the whole thing. It's me, a keyboardist and a drummer. I was getting bored of doing live sets that were just a laptop.
Do you get self-conscious standing behind a computer?
Yeah. It's not very engaging performance-wise. If you're deejaying, people are there to dance, but if you're doing a show, it needs more of a visual aspect.

Are there any live sets that have blown you away recently?
I really like Clark's. He has this bizarrely built triangle thing that he's inside of. And the Boys Noize one from a couple years ago, where he played inside a giant skull with glowing red eyes. It was almost like Spinal Tap.

You've been to NYC a lot over the past few years. Have any favorite spots?
Clubwise I really like Output. Last time I was in New York, I went to.… What's that place called? The Thing?

The thrift store in Greenpoint?
Yeah. I bought a bunch of stuff—I spent a whole afternoon there. I've thought a lot about moving over, and I think probably at some point I will. It's funny because if you're in New York, everyone wants to move to London. If you're in London, everyone's like, "Fuck London, I want to move to New York."

Do you have any issues with the paparazzi in London now?
From time to time in random places, like grocery stores. It's never anywhere cool—it's me buying a sandwich.

How do you feel about playing big festivals?
It depends so much on the festival. Certain festivals, particularly the really large ones, nobody knows what's going on, and that's pretty frustrating. Having said that, it's super fun playing to a big crowd. But there's not many better things than playing to a really packed club with a good sound system.

The preconception with big festivals is that people are just there to get fucked up, no matter what's playing.
With the EDM stuff, you can just stand and watch 10 DJs one after another, and I couldn't tell you the difference between any of them. There's so fucking many of them, I couldn't tell you one from the next person, if I was to listen to one of their sets. But I guess there's so much money in that scene that it can support an endless amount of DJs playing the same shit.

Why did you decide to come out with this solo record now?
I meant to put it out a while ago, but we were doing the TNGHT project and I was doing a lot of collaborative work. TNGHT was a lot of fun, but we got to the stage where we didn't really like the direction the genre was taking. When that record first came out, the quote-unquote trap thing hadn't really blown up yet. And that's what I think was part of the success of it, because you could have Thom Yorke or Richie Hawtin or Calvin Harris playing it. We were increasingly getting put on these lineups with people playing the exact same stuff, and it was becoming a bit boring. So there will still be more TNGHT music. It just won't probably be for a while.

Were acts copying you guys?
I don't like saying that, but I do think there was an element of that.

What have you learned by working with Kanye?
I've learned a lot, just observing how an A-list record is put together, because it's so different from my previous working process, which was just me and a computer.

Who are the people who had a big impact on the record?
Rick Rubin, Mark Ronson…

In terms of being in the studio?
Yep. Benji B, Zane Lowe. Do people know Zane Lowe in the States?
Sort of.
He's one of the main tastemaker radio people in the U.K. I think it's important to get fresh ears on a project. Because once you've heard your own song like 500 times, there are little things you might not pick up on.

When you were starting out, what did your parents think of you being a DJ and producer?
My mom's a teacher, so there was quite a lot of "When are you going to get a real job?" Thankfully, at the moment at least, it's worked out for me, but there was certainly a lot of that around 19 or 20, because I'd gone to college, but at that point, I was just working in a bar and making music. But they're very supportive now.

Was there a moment when they realized, "This is his job"?
After explaining to them how influential a label Warp is, that's when they were like, Maybe there's something going on here. Maybe he can make something out of himself.
Hudson Mohawke hits Irving Plaza May 28.