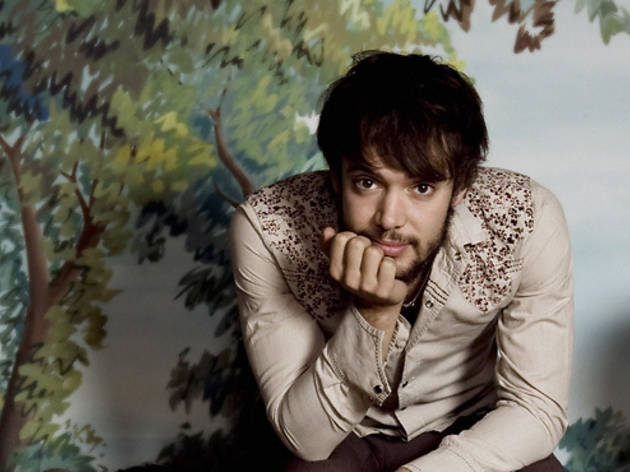 Interview - Ben Lovett of Communion
The Mumford & Sons member talks about touring the States on behalf of his new label.
You'll know Ben Lovett as the keys player with Billboard-bothering British folk-rockers Mumford & Sons. But he's also the cofounder of hip new record label Communion, which began as a live-music showcase in 2006 and has since featured the likes of Gotye and Michael Kiwanuka. Communion's Austin to Boston tour, with Ben Howard, the Staves and Nathaniel Rateliff, kicked off at SXSW and hits New York this week. We caught up with Lovett by telephone at a pit stop in Fort Worth.

Besides playing with Mumford & Sons at SXSW, you presented two Communion showcases. Is it nice to be offstage for a change?
Yeah, I think so. I get such a rush out of seeing other people doing well. If I can have a hand in those people realizing their ambitions or their dreams, it's very rewarding. Communion has done different things with different major labels, and we do a couple of things purely independently. But ultimately it's about giving the artists the ability to do anything.

What are the defining characteristics of a Communion signee?
It's really songs that, if you looked back on in 50 years' time, would still stand on their own two feet. We steer clear of things that are really cool or trendy right now; we're more into just quality songwriting. Communion started as a club night in London back in 2006… It was a little bit in the embers of the Bosun's Locker club night, on the Kings Road [which launched Laura Marling, Noah and the Whale, and Marcus Mumford]. Once that had shut down, a lot of the crowd came over to Communion at the Notting Hill Arts Club. We put on six bands a month for six years, so we've had over 500 club nights.

What was your mission statement?
We were fed up of playing shows where you ultimately had to pay to play. You'd turn up and the promoter would be like, "Why haven't you brought 30 people?" You'd be hassling friends and family to get people to the gig. There's no platform for an unsigned music scene in the main cities—it's all hyped acts or showcases behind closed doors. I read about artists that are doing it "the old-fashioned way" and touring, as if that's a unique thing to do—well, that should just be the way it is.

On a very basic level, what do you actually do at Communion? Are you scouting the talent, making the tea…?
[Laughs] On the current tour, I'm a driver and merch guy. Which is fun. Are you really riding around in campers? I'm looking at them outside: six 1960s VW camper vans. On the highway going through the Midwest, there are all these little camper vans in convoy…it's amazing. We're capturing the whole thing and making a feature-length movie about it. Everything that's happening is just so fresh and it's very green, and people are actually seeing America and experiencing it for the first time, which is great.
Sounds like an absurdly fun time.
We were struggling to find food yesterday when we were traveling from Austin to Fort Worth, and the only place we could find was a Whataburger—but we didn't realize it was a drive-through. So the 24 people on the tour formed a physical car out of people, with one of the drivers, Gill Landry from Old Crow Medicine Show, steering this ridiculous car. Everyone just thought it was a good idea at the same time, we didn't even discuss it. [Laughs] Just, "Oh, let's be a car then!"
You were here last year to start the Public Assembly series.
Yeah, and it's still going. I was very hands-on in that particular launch, 'cause I know that we've got our work cut out for us in New York. So I was living in New York for three months, and I loved that. I'm definitely moving there at some point—it's my favorite city in the world.
What do you love about New York?
Walkability. I love the clarity of the light. I don't think any other city in the world…the sun doesn't shine the same way anywhere as it does in New York. And then I guess everyone's very good at hanging out. Not in a crazy way, but you're just constantly interacting and learning.
The Communion tour hits the Mercury Lounge Thu 29; Communion's monthly NYC showcase is at Public Assembly Sun 1.
Follow Sophie Harris on Twitter: @sophiemeve