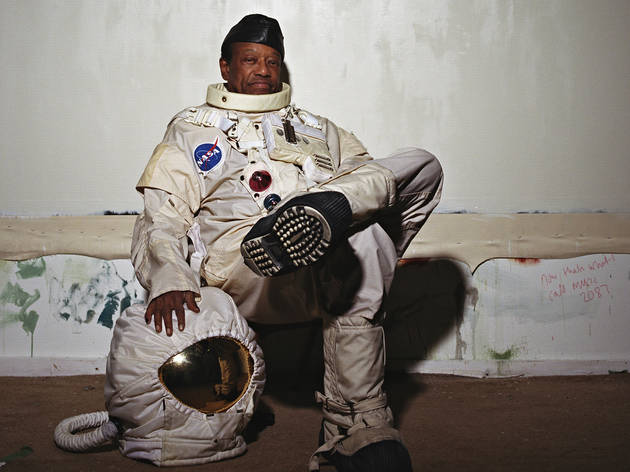 Interview: Bobby Womack
The iconic soul survivor returns to the spotlight with a new LP.
All his life, Bobby Womack has been a fighter. A protégé of Sam Cooke, he courted derision in early 1965 when he married Cooke's widow, but muddled through the lean years with session work. He suffered the tragic loss of two sons (one in an accident, the other a suicide) and his own painful descent into drug addiction, but dug his way out and got whole again. Even in the early '70s, when he was on top of the world and gearing up to record one of his signature hits, the process was no picnic—at least, not at the start.
"I used to always fight with United Artists back then," Womack says, recalling his former record label, "because they would never let me be on a movie score. They would go outside to Quincy Jones and other people. When they finally gave me a shot, they told me I had two weeks to turn in all the songs. They only let me see it once, but the movie was about street life in the ghetto. I was born into that. Shit, I could write that with my eyes closed. And the lyrics just came to me very easily—plus I used to go with Pam Grier at the time, so that made it even easier. Oh, man."
Womack laughs at the memory, but 40 years later, the title track from Across 110th Street—which, aptly, also served as the backing track for Grier's entrance in Quentin Tarantino's Jackie Brown—echoes with gritty, soul-stirring honesty. Throughout his career, Womack has imbued his music with a very personal stake, communicating the unshakable sensation of someone literally singing for his life. It's still in his voice today—raw, raspy and resonant—and it's the driving force behind The Bravest Man in the Universe, his first album of original material in nearly two decades.
For anyone else, 68 could seem an odd age for a comeback, but Womack has been far from idle. Inducted into the Rock and Roll Hall of Fame in 2009, he was invited by Damon Albarn, a longtime fan, to join Gorillaz on tour the following year. "Stylo," featuring Womack and Mos Def, was the highest-charting single from the group's Plastic Beach album.
"Damon just kept saying, 'Man, we gotta cut together,' " Womack says, explaining how Albarn came to coproduce The Bravest Man. "He was getting off on the reaction from the audience and me onstage, and he said, 'Man, you still got it. You need to pick up your guitar again.' And I was interested, because with this guy, you feel free enough to say anything, like you been knowing him a hundred years. He's real easygoing. Whatever comes out in the studio, he puts it on tape. I'm not used to that, but believe it or not, I started to jump on it. Inside of three or four weeks in London, we had all our tracks done."
Coproduced with XL Recordings label head Richard Russell, The Bravest Man is less retro-soul revival than soultronic reboot. The title track, a long-lost collaboration with songwriter Harold Payne that was originally recorded with Isaac Hayes and the Memphis Horns, kicks things off with dub-style minimalism, accentuating Womack's reverb-dipped vocal with stark beats, rippling synths and ghostly acoustic guitar. "Please Forgive My Heart" features Womack improvising a poignant, poetic confessional over a hypersyncopated Dirty South beat, while "Dayglo Reflection," a piano-driven duet with Lana Del Rey that samples a Sam Cooke interview, grooves along at a leisurely but unmistakably programmed pace.
It's a risky move for Womack, but as he maintains, he never got anywhere without taking chances. And compounding the deeper implications of the album's title, Womack recently met a challenge that tested his courage far beyond the recording studio: Shortly before the album's release, he was diagnosed with colon cancer, forcing him to postpone a series of live dates. Now that he's sporting a clean bill of health after surgery, he's eager to get back in front of his fans.
"You're up today and down tomorrow," he says matter-of-factly. "That's what makes you appreciate life. Whatever happens, it's good when you can keep your mind open and your ears open as you keep going; otherwise you just gotta stop. You can't go no more. And none of that stood in the way of what was best for this album. It was so easy for me to do that, it was scary. That's what soul music is all about. It's real."
The Bravest Man in the Universe is out now.
Follow Bill Murphy on Twitter: @RoninScribe
Buy The Bravest Man in the Universe on iTunes
You might also like
See more in Music