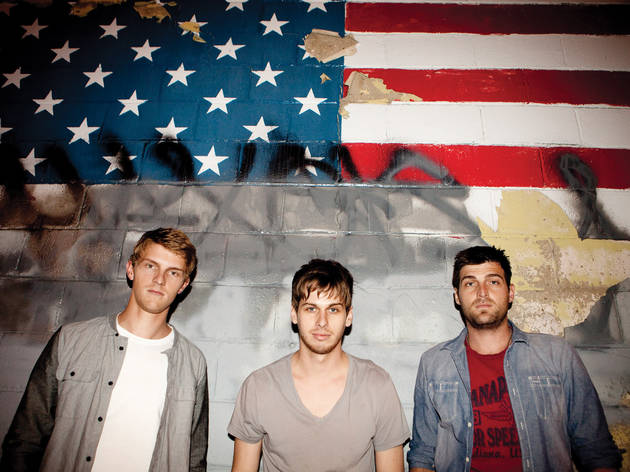 Interview - Foster the People
The Angeleno chart-toppers just want to make you hug your mom.
It's late April in Brixton, South London, and the Los Angeles band Foster the People is due on stage in two hours. Kids are lined up around three sides of the O2 Academy, chatting and texting while the dads roped into chaperoning stare into the middle distance in an effort to appear even one degree cooler than they feel.
Foster the People—Cubbie Fink, Mark Pontius and leader Mark Foster—vaulted into the mainstream thanks to the viral success of "Pumped Up Kicks," from their 2011 album, Torches. Now, in a tiny dressing room smelling strangely of chlorine, Foster is slouched in a desk chair talking Twitter.
"At first I was self-conscious about what to put out there, always trying to come up with clever things," says Foster. "But then one night it hit me: People who are my age and are intellectuals or whatever, they don't need anything, but the kids who follow us are looking for guidance. If I was 13 years old and Kurt Cobain tweeted me some advice or even just said hi, my whole world would be affected by that."
As he warms to his subject, his cadences and phrasing belie a childhood of Sunday mornings spent listening to his dad preach: "Right after the school shooting happened in Ohio, I realized I can actually do something that is tangible and can change the way kids are with each other." Foster challenged kids to go and find the loner in the lunchroom and eat with them. The responses flooded in and encouraged Foster to take it further. "People are always asking me to follow them, so I was like, 'All right, if any of you guys do a charitable act and take a picture of it, we'll follow you.' A lot of people had actually never done a charitable act before. It's a really cool way to use social media."
While Foster seems quite happy to act as a big brother to his 350,000 followers—the band's name is no accident—he takes pains to point out that "we never even should have been on Top 40 radio. Our audience isn't One Direction, Katy Perry, Rihanna fans. I look in alternative radio and we've had three songs in the top five, which is more our crowd. For the band that we actually are, it's good. 'Pumped Up Kicks' kind of dwarfed everything else."
Working out what particular type of band Foster the People is can be surprisingly difficult, thanks to the constant tension between frippery and substance. At first listen, Torches is a collection of light indie pop with obligatory hand claps and the occasional laser beam pyew. Listen more carefully and you'll hear a mille-feuille pastry. "I love countermelodies, I love hooks and melodies that stick in your head," says Foster. "If I could put 20 melodies in a song and they would all work together, I would. Actually, I've got to work on that. Simplify my shit. I've got so much stuff going on you can't even hear what's happening."
The lyrics are no different. Foster writes them after the music is set, so they are, for the most part, semi-improvised phonetic collages chosen for their color, rather than stand-alone poems.
Foster's background as a jingle writer, and the band's willingness to license its songs, prompts the inevitable question about selling out. What troubles him is not the usual complaint about being under the thumb of evil corporate overlords, but rather artists who are disingenuous in order to make a buck. "When I see artists that are trying to put something on, it's such horseshit to me," says Foster. "There's not a lot of artists that are truly being who they are that are really that freaking weird. I'd rather be the anti–rock star."
Or the anti-Gaga, perhaps?
"Yeah—it takes too much energy," confirms Foster. "I feel like my calling is to show people joy; to make them feel like there's something to look forward to. I could go write this really dark novel, but I would rather make something that people who don't speak English can get, that makes them dance around the room and hug their mom. Sometimes the most groundbreaking stuff is simple, innocent and makes people feel like a kid again, you know?"
Foster the People plays Central Park Rumsey Playfield Tue 29 and Wed 30, and SummerStage Mainstage June 11.