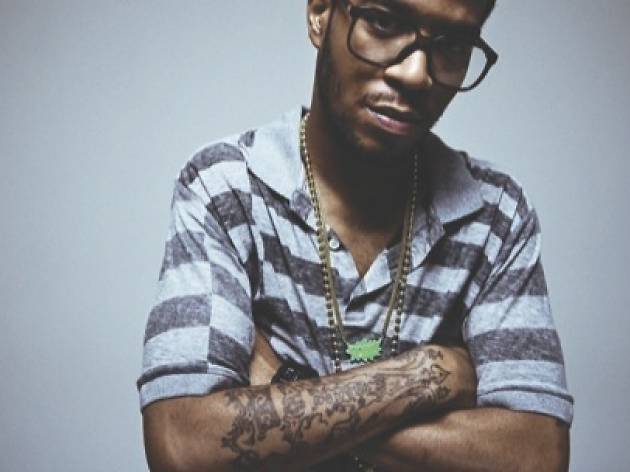 Kid Cudi interview: 'Nothing is normal now'
The fast-rising hip-hop star enjoys the ride
"My life is like a speeding bullet that just hasn't hit the target yet," says Cleveland rapper Kid Cudi (real name Scott Mescudi). If this sounds like exaggeration, bear in mind that at this moment, Cudi is sitting on a white leather sofa in a white padded room that looks like a set from 2001: A Space Odyssey, at the top of Universal Plaza in Manhattan. Coming from a 25-year-old who's just guested on Jay-Z's The Blueprint 3, who's cowritten with Kanye West (on 808s & Heartbreak) and who even has his own TV series in the works, it's something of an understatement—especially since Cudi hasn't even released his own debut album yet.
Man on the Moon, which drops this week after months of buildup, has been hailed by Universal Motown head Sylvia Rhone as "a game changer in hip-hop"—and hearing the record for the first time in a recent listening session, it was hard to think of a more ambitious release this year. (Go to timeoutnewyork.com/thevolume for a track-by-track review and Cudi's movie-style trailer.) A concept album based on Cudi's life, the disc is broken into five movements and narrated by boomy-voiced rapper Common. Hugely cinematic, the album moves from twinkly, ambient beats to disco-electronica (Ratatat and MGMT guest) and the introspective, blue moments that are already Cudi's musical trademark (the most famous being his after-hours anthem "Day 'n' Nite").
"It's the soundtrack to my life," Cudi says. In person, he oscillates between seriousness ("I gave it my all") and silliness. Asked how it feels to hear the finished album, he claims he got very high and sat in a dark room to listen: "I was like, [In falsetto] Aaaaargh, motherfuckers!" The rather ludicrous direction his life has taken is not lost on him. He talks about getting a phone call from his hero, Snoop Dogg, proposing a collaboration: "His manager called when I was in L.A. and then passed the phone to Snoop. And he's like, 'What's up, nephew?' And I'm like, Oh my God!" Cudi laughs, then pulls himself together. "I put on my little London accent, I think: 'Hello?' "
Still, Cudi's dead serious when he likens his music to a revolution. "I'm trying to change the world," he says. "I use myself as a muse, as an example, so other people can just connect with that and be like, Oh shit, he's saying things that I deal with, that I never tell anyone. Like that sense of loneliness, feeling alone. The fact that I lost my father when I was young, growing up in a single-parent household with a couple of older siblings, but I still felt like an only child—all these things."
Cudi's need to entertain himself drew out his creativity. From childhood to his teen years, he wanted to be a cartoonist. "I used to take Sharpies and draw on my pillowcases, and then go to sleep on them and wake up with red marker from the drool all on my face." (The wiggly line-drawing tattoos on his forearms are his own designs.) Cudi wrote his first rap at 15, spitting about school over a Wu-Tang beat. He studied film for a year, before coming to NYC to pursue his music dreams. Tapped by West on the strength of his first (and only) mixtape, A Kid Named Cudi, the rising star spent last summer recording 808s & Heartbreak in Hawaii.
West and Cudi have a lot in common. Both artists are unafraid to bring pop stylings and even emo elements to their songwriting. "There are sad undertones to damn near all of my songs," Cudi says, "even the happy ones." Both rap with a delicious singsong flow, and both are perfectionists when it comes to live performance.
And now, like West, Cudi must deal with celebrity. Already he is recognized all over the world; "Nothing is normal now," he says with a half laugh. Just as West famously got in trouble for shooting his mouth off, Cudi faces the same flak; he recently tweeted that he should've called his album Shut the Fuck Up because that's what haters would be doing when they played it. "That's not cockiness, that's confidence," he says with a shrug. He's still terrible at taking compliments. "I always try to put my head down, because I'm really not used to it. And it's like, Fuck, I feel like such a dick afterward. [Stupid voice] 'Thank you, I really appreciate that.'"
Having grown up longing for the fame he's now encountering, Cudi is doing his best to adjust. "It's like the speeding-bullet thing," he says. "Until I hit that wall, I'm just going for the ride, you know? I haven't hit the wall yet."
Kid Cudi plays the Beach at Governors Island Oct 3.
RELATED
Kid Cudi playback: track by track
Kid Cudi spills the beans on Kanye, fame and "Big uncle Snoop"