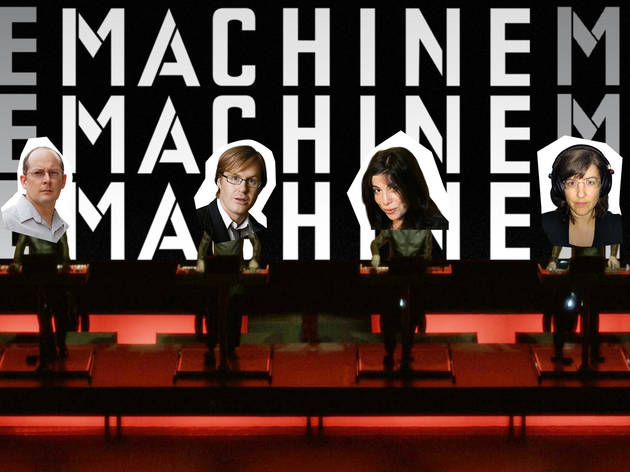 Interviews: Krautwerk
Didn't get tickets for Kraftwerk? Boy, have we got consolation for you.
Who'd have thought that a band like Kraftwerk could break so many hearts? When tickets for the band's eight-night MoMA residency went on sale online, computers crashed, dreams were dashed and the Twitterverse went into overdrive. By way of happy consolation, Joe Garden, features editor for The Onion, offers Krautwerk: a cheeky minifest featuring Kim Gordon and Julie Cafritz, Parts & Labor, comedian Kurt Braunohler and more. Our smartly dressed mannequin investigated and returned this report.
JOE GARDEN
How did you come up with Krautwerk?
I tried to get tickets, sitting in front of a laptop for two hours, and finally I was rejected—like most people. And I think it just really made me angry: There had to be better ways to do this! So I started joking on Facebook that I was going to do my own event, and people started saying that would be so great.
For all the despair around the shows, Kraftwerk is actually kind of funny, right?
Comedically, Kraftwerk is very appealing, because it's four emotionless Germans sitting at analog synthesizers. And there are all kinds of legends about Kraftwerk, like the one that in order to contact them you had to call at a certain time to a studio where the phone wouldn't ring, but they would just pick up at a designated time. The best comedy will never show you that it's just kidding—it'll never wink. Kraftwerk are never gonna say, "Well, we were just goofin' around with you guys—have fun!"
Can we stereotype Kraftwerk fans?
I think you're looking at a demographic of paunchy guys in their forties and fifties, predominantly. Some of them will have their cool rock shirts, maybe from a hardcore show they attended. And a lot of WFMU T-shirts, I think. [Laughs] The great thing about this is we've tried to do a bit better than the Kraftwerk show with gender balancing. We will have probably more ladies onstage than a Kraftwerk show will have in the audience.
KURT BRAUNOHLER
When you were invited to play Krautwerk, how did you react?
Oh, my God, I think I squealed! [Laughs] I just love the idea so much; that I could be a part of it, I was a little overwhelmed.
As a person with German heritage, do you feel a strong identification?
I am very Germanic-looking, you know? My joke that I used to do in stand-up was that I know I look like the IT guy from the Nazis. [Laughs] Really, Kraftwerk were the original IT guys from the Nazis. I think Kraftwerk are deadly serious about the music, but they also know that it's really funny.
Did you try to get tickets for MoMA?
Oh, no, I found out about it afterwards. [Laughs] I said I was doing a Kraftwerk show, and someone was like, At the MoMA?!? And then I looked it up and I was like, Oh no, I missed it!
JULIE CAFRITZ
How did you get involved in Krautwerk?
When I first received Mr. Garden's call to arms, I leapt at the chance to fight fascism—a "Lemme go, Joe" spirit seized me. Only later did I realize that I would not actually be fighting fascism, but rather playing for a bunch of feckless hipsters whose smartphones failed them, and who were now bitterly disappointed that they couldn't pay big money to see one dude from the original lineup play a museum. I must admit that the bloom was a bit off the rose, but the show must go on—Deutschland über alles!

What do you love about Kraftwerk?
I admire precision and innovation. Kraftwerk, like any German luxury machine, was always ahead of its class in both.
Did you try to get MoMA tickets online?
I didn't even bother. I am not the biggest fan of these "we're going to play all our songs off the album in its entirety" shows. Really? Even the ones that suck? So, material from Kraftwerk's whole discography played by a shitload of people…That sounded like way more fun.
ROBIN, WHO BEAT THE SYSTEM
You are the only person we know who actually managed to score tickets to a MoMA show. How does that feel?
Okay. I was more happy about being able to make someone else happy by scoring the tickets, actually. And I totally succeeded on that account. Now, if it were both Ralf and Florian, I'd be way more excited.
Whom do you expect to see at the show?
I expect to see lots of people wearing heavy-framed glasses. Other than that, I think it'll be people with twitchy fingers, because they're the only ones who got tickets.
DAN FRIEL OF PARTS & LABOR
How funny a band is Kraftwerk, in your opinion?
Fucking hilarious.
Which song will you be performing?
I'm in the backing band for most of the night. So far I'm playing "The Model," "Metropolis," "Neon Lights," "Sex Object" and "The Telephone Call."

And what do those songs mean to you?
Education.

NICK SAKES OF XADDAX
What's the appeal of Kraftwerk?
The humor. That sad German humor.

How accurate is the Kraftwerk-themed "Hitler Reacts" YouTube video?
I'm pretty sure Hitler would have had Kraftwerk removed. They were filthy hippies back in their beginning.

Can you explain the hysteria around the MoMA shows?
Rock & roll nostalgia…the usual crap. Gotta witness that bucket list or something stupid like that. Listen to them with the lights off in your room and have a better time.

Is there a typical Kraftwerk fan?
Birdwatchers, fly fishermen, cyclists, trade-magazine buffs and smiling robust factory werkers [sic].
Krautwerk is at Littlefield Tue 10.
Follow Sophie Harris on Twitter: @SophieMeve