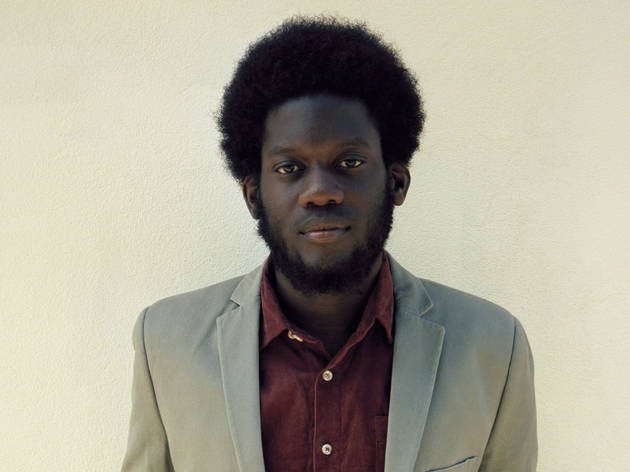 Interview - Michael Kiwanuka
The heat-seeking British singer makes a big splash in Gotham.
It's a scientific fact: Even if you've never heard of Michael Kiwanuka, if you watch the video for "Tell Me a Tale," you'll forward it to at least two friends immediately—that's how sweet his soulful grooves are. No wonder he toured with Adele last year. We spoke to the rising British star in advance of two NYC shows.
Do I hear birds tweeting?
Yeah, I'm by London Zoo in Regent's Park. My mate's around the corner.
Is London still mid–heat wave?
It's cloudy now, rained yesterday evening. I still have my sunglasses on in hope.
You recently blogged that when you were in L.A., you forgot your shades.
Yeah, I forgot my sunglasses in the sunniest place and I was squinting in all the photos. [Laughs]
That's very British, to squint your way through a trip. Can you see yourself becoming a jet-setting star who always travels with a cashmere blanket?
Actually, I think the one thing I might do would be that I'd always have a collection of different cardigans with me everywhere I go. That might be me. I'd launch a cardigan brand, with every hue.
Are you gonna be away for the Olympics?
Yes, thank God! It'll be a lot nicer to watch on TV, away from the mayhem. Imagine what's gonna happen [to the transport system] when half the world is here. We can't even cope when it's just England. It's gonna be pandemonium.
What would your Olympic talent be?
It'd be 100-meter sprint.
Really?
No. I'm trying to give you something cool. I'm active—I like playing football, but I'm not very good. I like running, but I'm not really fast. So I'm just gonna pick one that sounds cool. Maybe the swimming—because as you know, there's not many black swimmers, so I'd be the first black Michael Phelps.
That's quite a notion.
People laugh, but I have a theory that genetically we're not that good at swimming, because in Africa there's loads of landmass, but then in Europe there's loads of sea. There's islands and water. The Vikings! But then every time I say it, at a dinner party or something, everyone cracks up like it's so ridiculous. I can't see what's so weird about it.
Can you put your experience of this year so far into three words?
Wow…what a life! I think it'd be that, because so many doors just opened this year.
How did things change after you scooped the BBC Sound of 2012 prize?
People's awareness just grew by 100 percent because of it—I trended on Twitter! And I think all of that buzz at SXSW was due to the award, too.
You recently made a single with Dan Auerbach.
That was great, man. It's just another moment of the "what a life!" thing. I went in quite nervous, but he's a very nice, humble man. The musicians were amazing—anything he told them to play, they would do within seconds and make it sound like they'd been playing it for, like, centuries. [Laughs]
What's the first thing you'll do when you get here?
I'm not gonna lie, I'll probably try to go to Greenwich Village and go to the guitar shop on Bleecker Street. I saw this acoustic [last time] that was incredible, and I wonder if it's still there. It's like $15,000, though. I don't think I'm gonna get that, but I'll definitely play it again. And then I'll get a slice.
Michael Kiwanuka plays Highline Ballroom June 13 and Celebrate Brooklyn! (at the Prospect Park Bandshell) June 14.
Follow Sophie Harris on Twitter: @SophieMeve