Interview - Pete Swanson
Now based in NYC, a noisy provocateur tries out some new moves.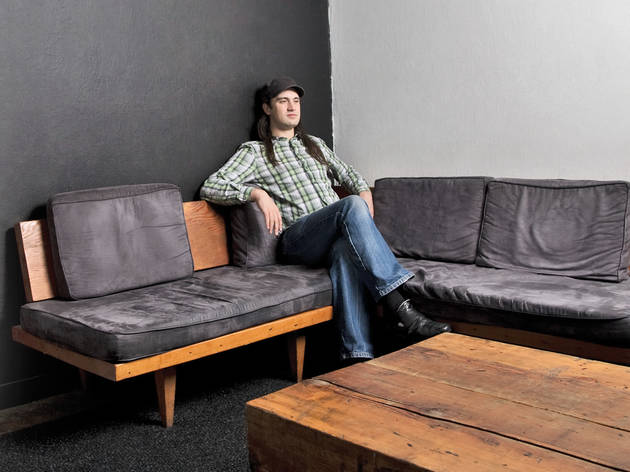 Among topics that have dominated the underground-music press in recent months, the notion that noise artists are defecting en masse to dance music is a resilient one. Seasoned ear impalers like No Fun founder Carlos Giffoni and Prurient main man Dominick Fernow have recently issued projects emphasizing sleek synths, machine-tooled rhythms and unambiguous melodies. In February, influential Web zine Resident Advisor ran a much-hyped roundup of so-called technoise acts, including Giffoni's No Fun Acid, as well as outliers like Unicorn Hard-On and Laser Poodle. And last year, Pete Swanson, formerly half of seminal Portland, Oregon, duo Yellow Swans, dropped jaws by issuing Man with Potential, a compelling LP that finds common ground among blown-out synths, caustic loops and a kick drum's satisfying oomph.
Paradoxically, this conflagration of grit and groove was concocted in an unlikely setting. "I went out to this cabin in the middle of nowhere in Oregon and recorded the album," says Swanson, 33, during a conversation at a Chelsea coffee shop near the health clinic where he works. The LP took shape alongside a project that could be its polar opposite, I Don't Rock at All. "Man with Potential is this extremely fractured, very open record that sort of orbits musique concrète and techno, and has some sound-collage elements and field recordings and stuff like that mixed in. And then I was also working on this really pastoral instrumental guitar album. Basically, the only difference is that one of them was with a guitar that was supposed to sound like a guitar, and one of them was mostly synthesizer, or guitar processed so that it sounded like a synthesizer, using tape loops or whatever."
Marshalling contradictory impulses and fusing disparate elements are nothing new for Swanson, who spent eight years with musical partner Gabriel Mindel Saloman in Yellow Swans, an outrageously prolific duo that toured almost constantly at its peak. When the band ended in 2008, Swanson continued to experiment, documenting breakthroughs with a flood of self-produced cassettes before Man with Potential and I Don't Rock at All appeared.
And for a time, Swanson considered abandoning music altogether in favor of working with the mentally ill, a field in which he had been employed for more than a decade. "I initially got into it because I was a young person coming from punk rock with no education, and I hated the idea of selling people garbage—I wanted to contribute something to the general public," says Swanson "I was working with people who were chronically homeless, mentally ill, people with addiction issues. It's fascinating, and I've met a lot of really wonderful people. I've seen some people really come out of facing a lot of extremely difficult stuff, and get to a point where they're more stable and able to live somewhat comfortably."
Setting music aside, Swanson applied to psychiatric nursing programs. Accepted by Columbia University, he moved to New York City last June, and has since balanced a grueling academic load with mandatory clinical work. The potential perks, he admits, extend beyond idealism. "Apparently the ability to prescribe medication leads to fairly decent pay, which, having survived off of doing experimental music and being at the bottom rung of a lot of mental-health-care programs, would be very nice," he says, laughing.
Still, music wouldn't let him go—small wonder, given the links he sees between the sounds he makes, which he characterizes as a form of psychedelia, and his health profession. "I wrote this entrance essay for the program, where I was drawing these connections between this experience that I had in a schizophrenic-hallucination simulator, this virtual-reality thing, and the music that I make," he explains. "I think that there are parallels—it's navigating this overwhelming mass of information. I'm steering the ship, as a musician, trying to keep things from getting too incomprehensible." His current beat-oriented projects, he notes, feature the same tools and sounds he has always favored; live, he plans to push it harder still.
Currently based in Brooklyn, Swanson expects Oregon will call him home at some point. But for now, there's music to be made with friends now at hand. He's rebooted duos with Brian Sullivan (Beer Damage), Tom Carter (Sarin Smoke) and Robert Mayson (Maggoted). A project with Antipop Consortium rapper Beans is on the drawing board. And in March, Swanson made his unlikely debut as a contemporary-classical composer, creating a piece for the piano-and-percussion quartet Yarn/Wire.
However prolific he has been on his own, collaboration feeds the chaos on which his art thrives. "Essentially, my work is made up of all these imperfect loops that are forced to exist in this processing environment where all this error occurs," he says. "And having human players, there is so much more room for error." In the best sense, of course.
Pete Swanson plays 285 Kent Ave Fri 11.
Follow Steve Smith on Twitter: @nightafternight
Buy Man with Potential on iTunes