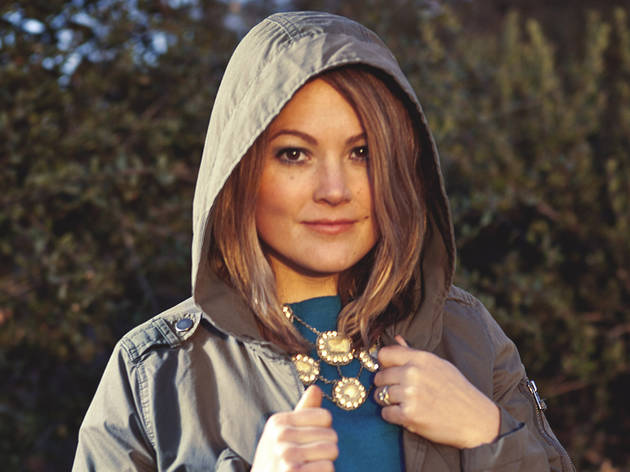 Interview - Sara Watkins
Young roots-music singer and fiddler Sara Watkins is taking her own sweet time to express herself.
It might seem just a little bit crazy to call Sara Watkins a slow starter—after all, this gifted California singer, songwriter and fiddler played her first show in 1989, at the tender age of eight, with Nickel Creek, a scintillating progressive-bluegrass trio that included her older brother, guitarist Sean Watkins, and a family friend, mandolin phenom Chris Thile. The group notched hits and broke boundaries for 18 years, during which time the boys in the band maintained side projects. Sara, 31, didn't get around to following suit until after Nickel Creek went on hiatus in 2007. An eponymous debut turned up two years later on the prestigious Nonesuch label.
Now, with her second solo album, Sun Midnight Sun, just out on Nonesuch—whose roster also boasts Punch Brothers, Thile's red-hot current band—Watkins says she has no regrets about Nickel Creek keeping her busy for close to two decades. "I got to play with these guys who really challenged me from the very beginning, and wouldn't let me off the hook too easily," she says by phone from a tour stop in Pittsburgh. (Confirming an admirer's suspicions, she's as thoughtfully sunny in conversation as her onstage persona would have you expect.)
"My brother and I still play together a whole lot—he's been touring with me these last few weeks, and we do a show together once a month," says Watkins, referring to the Watkins Family Hour variety show the siblings have hosted at trendy Los Angeles nightclub Largo since 2002. "Just to have that kind of camaraderie, that kind of musical partnership, is really priceless," she adds.
Pushed to cite negatives, Watkins demurs. "There were hard times and emotionally challenging things," she says, "but challenges are good." That the group still commands so much attention, even in limbo, can be a minor impediment to focusing attention on her current work, she admits. "But honestly, I was given such a head start with my solo career because I had Nickel Creek behind me," says Watkins. "I didn't have to start from playing to two people in a coffee shop…I got to play to 80 people in a coffee shop."
So what took Watkins so long to step out? "I probably should have diversified myself a little bit sooner, but I really didn't know what to do," she says. "I was in the process of making a solo project a couple years before my first record came out. I had made these demos and recorded these songs, and it was going to be a side project like Sean and Chris had done. But it wasn't until I was 24 or 25 before I realized what it was I wanted to record. I didn't want to make a fiddle record and I wasn't super stoked on my songwriting at that point. I didn't know what I could put out that would be worthwhile."
Perhaps unsurprisingly, the answer came via the Watkins Family Hour, where she could interact with new players and soak up disparate sounds. (It didn't hurt that she could also crash Jon Brien's eclectic, influential Largo showcases regularly.) When Nickel Creek parted company, she finally shaped her demos into Sara Watkins, a comfortably earthy debut produced by Led Zeppelin bassist John Paul Jones—a noted roots-music fan, and Watkins's bandmate in Mutual Admiration Society, a Nickel Creek spin-off.
That hurdle cleared, Watkins took some time to pursue alternative paths before pushing ahead to album number two. She's become a frequent guest on A Prairie Home Companion, establishing a chemistry with Garrison Keillor not unlike that of Dolly Parton with Porter Wagoner, and spent a chunk of 2011 as a support player in the Decemberists, taking in lessons as a hired hand. Both outings, Watkins says, were meant to push her outside of her regular comfort zone—a notion extended on Sun Midnight Sun, which includes honeyed backing vocals by Jackson Browne and a crackling version of the Everly Brothers' "You're the One I Love" sung as a duet with onetime Nickel Creek tourmate Fiona Apple. Most of all, the disc reflects an animated give-and-take among Watkins, brother Sean and multi-instrumentalist Blake Mills, whose imaginative production steers the album well clear of any documentary-purist impulses.
"It was a scary thing, in some ways, to free myself of a commitment to recording things that I knew I could replicate onstage, which had always been something that was in our minds with Nickel Creek," says Watkins. "It was something I was very aware of on my first record. And this time, I was just like, you know what? I want to make a record without any limitations."
Mission accomplished.
Sara Watkins plays City Winery June 16 and opens for Jackson Browne at the Beacon Theatre Aug 3 and 4.
Follow Steve Smith on Twitter: @nightafternight
Buy Sun Midnight Sun on iTunes