Interview: Savages
These fiery postpunk dames don't want to change music, just your life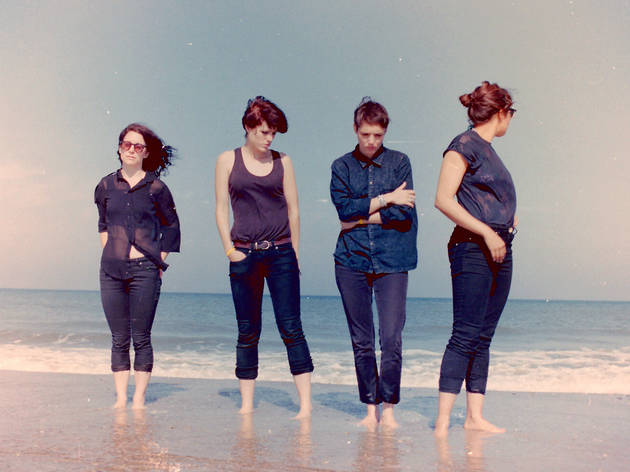 Indie-rock outfit Savages isn't striving to change the future of music or recycle any current trends. Instead, the band has set out to preserve the legacy of punk rock, and with the May release of its debut album, Silence Yourself, it has created one of rock's most commanding debuts of recent years. Time Out chatted up singer Jehnny Beth about the band's second appearance in the Big Apple.
Your band sometimes gives off the message, "we're not to be messed with," especially when you're all dressed in black.
We are not trying to find clothes that reveal our personalities, most of all because we want the attention to be on the music. We never really said, "Oh, what are we going to wear?" We naturally went for something that was easy, based on the famous Johnny Cash song, "Man in Black." It's about dressing for the music.
Your lyrics are often dark as well. What experiences do you draw on to write lyrics for songs like "I Am Here"?
"I Am Here" is inspired by a writer named Henri Michaux. When I read him, there was this idea that he tried, which reminded me of what we were trying to do with the music. He was trying to write a poem that would have one direction and would have no distractions along the way. What I was trying to do with "I Am Here" was trying to find the most straightforward line that I could keep to the end. So, starting with one idea—not two, not that three, just one idea—and that idea was "I Am Here."
How much of what you do live is improvisation?
At the beginning there wasn't any improvisation in what we were doing. The more and more we went, we allowed more space within songs or between songs, because it seemed like there was more to say. We could say more than what was already written. We didn't have time to write more songs because were constantly on tour, so I was kind of improvising something I would write on the day and then the girls would follow me. And it's really a great feeling to have the possibility, to have this freedom, to take even ourselves by surprise and to address something new.
Some male writers seem almost shocked at how well you play.
It's not like we're trying to fight anything or prove anything by doing this, apart from really loving writing music together and trying to carry on doing that. All the rest is another distraction.
I read in an interview that "Hit Me" was a personal homage to a porn actress.
Yes, it's about Belladonna. It was a shame in the beginning, because people would think we were talking about domestic violence, which is not the song. The song is about sadomasochism. I found it interesting to do a song about desire that was not coming from a demeaning place, to have a song talking about sex that's not the way people usually talk about sex. I do believe that sexuality is the best place to explore your darkest side or your traumas. It's liberating if you can explore different sides of your personality with sexuality.
What do you have in store for your upcoming show?
For Terminal 5, we are preparing something quite special for when people are going to walk in.
Any hints?
I'm not sure if I should reveal it. It's going to be a performance based on one of our tracks on the record, "Dead Nature." That track is normally 30 minutes, and so we're going to use that track and make a performance based on it. Come early.