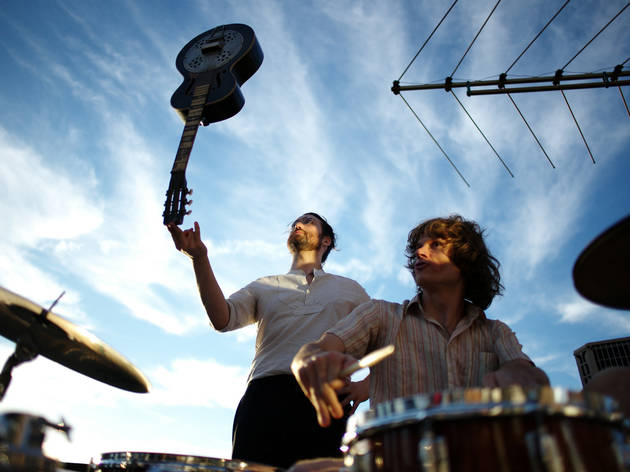 Interview: Sean Lennon
The avant-rock scion flies his free-form freak flag high with his improv combo Mystical Weapons
Sean Lennon was born with avant-garde values ingrained in his soul—no surprise given his formidable parentage. Since the 1990s he's been mixing with downtown notables like Marc Ribot, Nels Cline, and Cibo Matto's Miho Hatori and Yuka Honda, and lately he's been releasing potent albums on his Chimera Music imprint. We spoke with him about Mystical Weapons, his psych-freakout project with Deerhoof drummer Greg Saunier, which just issued a new improv CD, Crotesque, on Northern Spy, and plays Union Pool on December 5—one night after his more pop-oriented band, the Ghost of a Saber Tooth Tiger.
I saw you in the audience at the Nels Cline/Elliot Sharp/Brandon Seabrook Trio gig at the Grand Victory recently.
I had to hide behind the door because my tinnitus was acting up; I'm sure everyone's was. It was so loud, that show. It was crazy.
Mystical Weapons doesn't crank up the volume like that?
We actually do, especially Greg, who is unbelievably powerful. But there's something different about when you're making the sound. It doesn't hurt as much until after you get off stage; then you feel it…ring.
You've collaborated with Cline before. How does seeing him doing the shred-improv thing inspire your own playing?
I've played with Nels in a lot of different situations, and we have improvved, too, like in my mom's band, the Plastic Ono Band. I've seen him play a lot of amazing stuff with Julian Lage, and in fact I've seen Nels in all sorts of situations. But that was probably the noisiest band I've seen him play with. It was like a jet airplane landing. Every time I've seen Nels play, it's every inspiring—his musicianship is really stupendous.
Your guitar work in Mystical Weapons shows off your experimental side. How did you hook up with Greg Saunier?
I saw Deerhoof play, like, 15 years ago or more, and I just loved them after that. We wound up playing with them because they opened for my mom's band [Plastic Ono Band] at a theater outside San Francisco. We had a Chimera Music show the next day. There was one empty slot, and they were going to put in a local band, but we just felt odd. So Yuka [Honda] actually suggested, "Why don't you and Greg just improvise, the two of you?" It was so much fun that we've been doing it ever since.
Does one of you tend to take the lead when you're improvising?
I wouldn't say that one of us is the leader; I think it's strictly a duet, but in a way we trade off. There are moments where I try to stop playing and let him play for a while, [Laughs] just so that there are more dynamics. We trade off a little bit, but I don't think either of us leads more than the other.
You have Martha Colburn adding trippy projected elements into the MW experience.
We do. She does live editing of her projections when she's around, but when she's not, we play them anyway and rock out to them. That is an essential part of the sound for me, seeing those images of hers—I really like it.
What do you think those images add to the experience?
After the first show, and once we started playing with Martha, we would describe it as a multimedia show, because she would actually have live puppets that she would project. But now she's a successful artist doing her films in museums, so she's not often around for us to just play a rock club. Ideally, we like to have her to do the live puppets and animated edits—she has film projectors and stuff, and it's a really cool experience. We still have her films to play if she's not around to play.
Shahzad Ismaily of Marc Ribot's Ceramic Dog is playing in Mystical Weapons now. How did that come about?
Shahzad is one of my old friends, and he also played on both Plastic Ono Band records that I produced. I've played with him a lot of different situations. He and I are kind of similar, because we are both multi-instrumentalists. So when we track with my mom, it's really convenient, because he'll play bass while I play drums, or he'll play drums while I play guitar. There's a lot we can get done very quickly.… He's just a great improviser, and I've always wanted to be in a band with him. We asked him to join because I have a very complicated setup where I'm playing bass and synth pedals with my feet, and I'm playing guitar. And I have a bass and a keyboard as well, so I get a little bit overwhelmed trying to hold everything down. We wanted to try having Shahzad there so that I can focus on one instrument at a time, as opposed to playing two or three at a time.
Shahzad does amazing stuff in Ceramic Dog.
Yeah, of course! I saw them play like 10 years ago. I know Marc pretty well because he plays with my mom, as well. Actually, he played on "Spoon," the Cibo Matto song, when I was playing with them, like 20 years ago or something.
Crotesque is completely improvised?
Totally. It was a completely improvised thing.
Do you have a preference between doing improvised music or the pop-oriented songs you write for the Ghost of a Saber Tooth Tiger?
The GOASTT is so composed that Mystical Weapons is the antidote.
The artwork you did for Crotesque is pretty trippy.
Well, I was at Dave Fridmann's [studio] mixing the GOASTT record with Charlotte [Kemp Muhl], my girlfriend. I don't know, I was just drawing, so.… [Laughs] His studio is sort of like a log cabin in the middle of nowhere—well, not nowhere. Fredonia is not nowhere. I don't want to insult anyone there. But it is quite isolated, so I spend a lot of time just drawing and stuff. And I like pyramids, so.… [Laughs]
Do you do artwork for other records?
Sure. A lot of the stuff that comes out of Chimera Music is stuff that I draw, like the GOASST's "Jardin Du Luxembourg" single, and I draw the T-shirts that are available on our website.
You've put out a lot of good records on Chimera besides your own, like Floored by Four with Cline and Mike Watt.
I love that band, too. I want them to play again.
You also put out your mom's most recent Plastic Ono Band record, Take Me To The Land of Hell.
Yeah, yeah! I produced it.
What else is coming up on Chimera?
The GOASTT is what I love, and that's the thing I'm really focused on right now.
You and Greg did a self-titled Mystical Weapons record that came out earlier this year. What do you see as the difference aesthetically between that one and Crotesque?
The second record is a live improvisation with no overdubbing, and it's with Shahzad, so it's a trio, whereas the first record was just Greg and I, and it was quite a long time ago. That was our first attempt at recording, and we did some overdubbing, as well, so it's kind of different. The first one is sort of our pop record, and the second one is a little wilder.
Is Shahzad a permanent member now?
Yeah, depending on his availability. He's a busy man.
What kind of music are you into?
I'm kinda late, but I'm still blown away by that fuckin' "[Fatty] Boom Boom" Die Antwoord video—that shit is so funny. I love the Devendra Banhart video where he's kind of in an S&M gay relationship with this big, burly man, and he's getting beaten. I like Brooke Candy, the rapper. [Laughs] But my favorite band now, actually, is Death Grips—I love that. I mostly listen to old folk music. I'm not that hip. [Laughs]
Chimera released the latest Plastic Ono Band album, Take Me to the Land of Hell. Does your mom tell you what to play, or do you improvise and then figure out what she likes?
It's always very organic with her, and it's always very spontaneous. She works really fast, and a lot of the time it's like flying off the seat of your pants. She doesn't like to dwell on things—let's put it that way.
Crotesque is being released as part of Record Store Day's Black Friday event.
Sure, man. Any record store that can stay open is a good thing to me. I way I feel is Tower and HMV closing makes it easier for the little guys. It's like WalMart closing down or something.
Are there record stores you frequent?
I love Other Music. I like House of Oldies on Carmine Street—that place has everything. There's a lot of places, but that place has like a fuckin' vault downstairs. They got like every rare record ever. But there are a lot of cool places…in Brooklyn, too.
How did you hook up with Northern Spy to release Crotesque instead of putting it out on Chimera?
I think they are friends with Greg, because he told me "Northern Spy wants to put out the Crotesque thing," and I was like "Really?" I was surprised, because we have our own label, and I was like, "That sounds great." I like working with other people and they are really cool and dedicated. They have a lot of really cool shit on their label. Our plate is full, so I was psyched to not have to deal with the bureaucracy of one record. We got the Cibo Matto record coming out and we have the GOASTT record coming out, so there's a lot of stuff coming out in a couple of months. I'm really happy to let other people help with administrating shit.