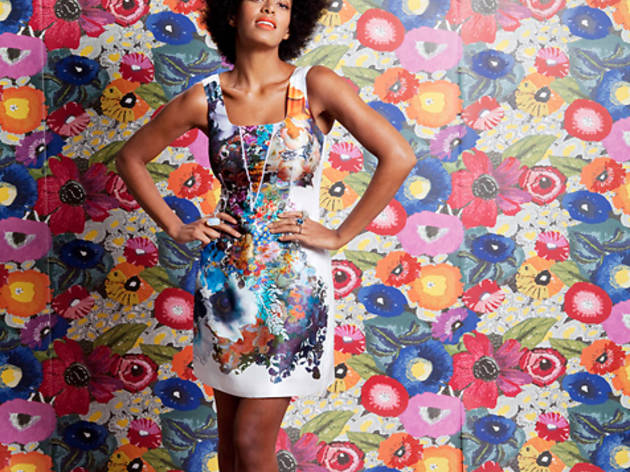 1/7
Photograph: Jolie Ruben
Cynthia Rowley Forced Perspective floral tank dress, $395, at Cynthia Rowley, 376 Bleecker St between Charles and Perry Sts (212-242-0847, cynthiarowley.com). Double Happiness opalite and gold-fill Cara ring, $115, at doublehappinessjewelry.com. Lorraine Schwartz rings.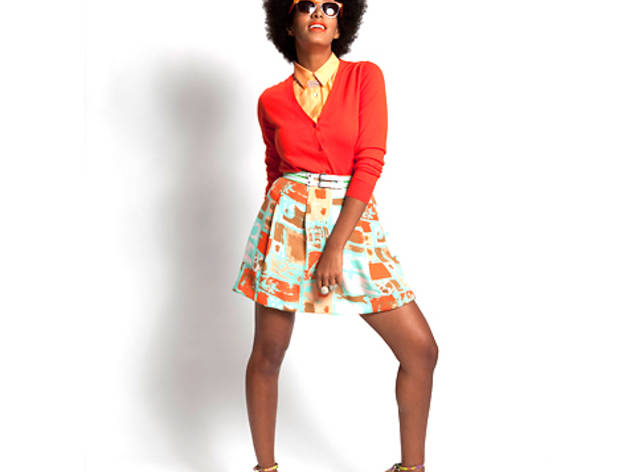 2/7
Photograph: Jolie Ruben
Uniqlo knit cardigan, $30, at Uniqlo, locations throughout the city; visit uniqlo.com. Raoul sleeveless shirtdress, $128, at shopbop.com. H&M swing skirt, $40; and leaf-print wedges, $35; both at H&M, locations throughout the city; visit hm.com. Lorraine Schwartz necklace and rings. Rebecca Taylor Alma double-wrap skinny leather belt, $175, at Rebecca Taylor, 34 Gansevoort St between Greenwich and Hudson Sts (212-243-2600, rebeccataylor.com).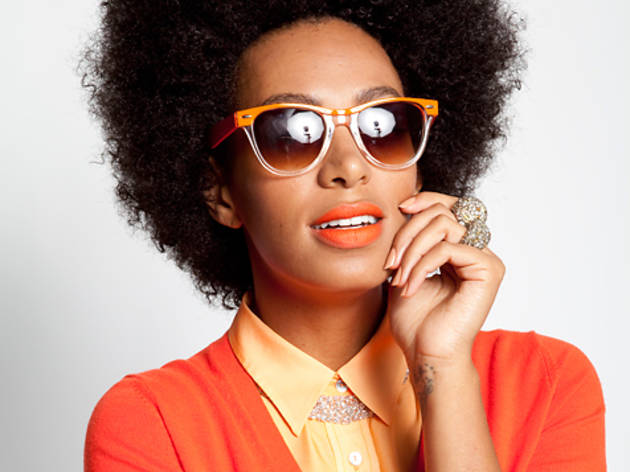 3/7
Photograph: Jolie Ruben
Charming Charlie Too Cool wayfarers, $10, at charmingcharlie.com. Lorraine Schwartz jewelry.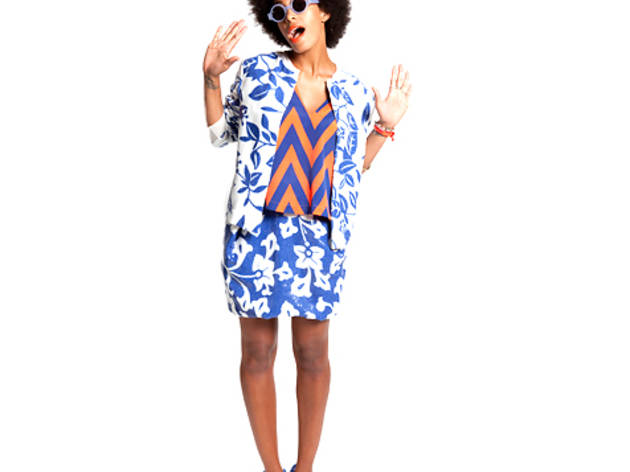 4/7
Photograph: Jolie Ruben
Diane von Furstenberg Marcie jacket, $598; and Alex skirt, $565; both available Apr 15 at dvf.com. Lush zigzag top, $38, at lulus.com. Miu Miu check-print slingback pumps, $595, at nordstrom.com. H&M round sunglasses, $8, at H&M, locations throughout the city; visit hm.com.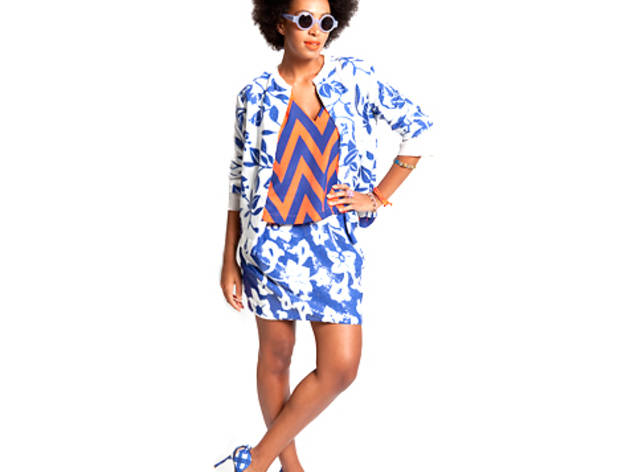 5/7
Photograph: Jolie Ruben
Double Happiness Kaden bangle, $31, at doublehappinessjewelry.com. Freedom at Topshop braided neon bracelet, $18, at Topshop, 478 Broadway between Broome and Grand Sts (212-966-9555, topshop.com). Lorraine Schwartz rings and bracelets.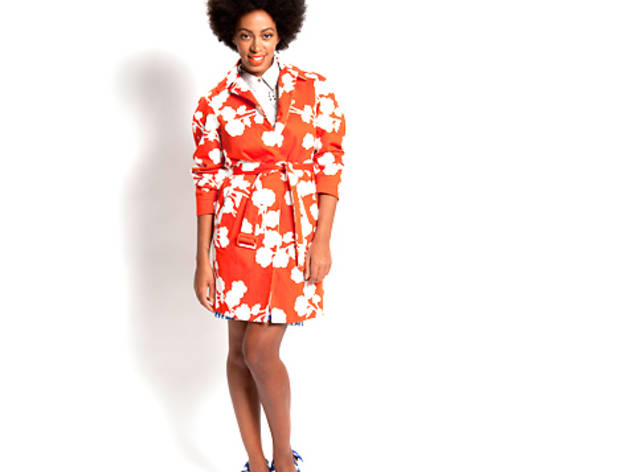 6/7
Photograph: Jolie Ruben
Diane von Furstenberg for Current/Elliott the Skinny skirt, $229; Diane von Furstenberg Lennon jacket, $498; and Namid shirt, $245 (available Apr 15); all at dvf.com. Miu Miu check-print slingback pumps, $595, at nordstrom.com.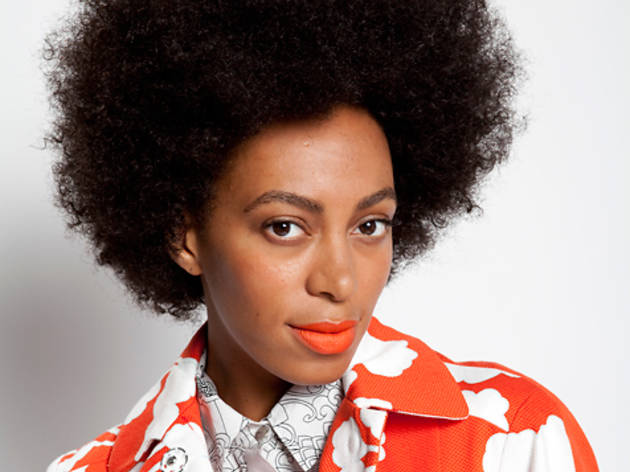 7/7
Photograph: Jolie Ruben
Lancome Rouge in Love lipstick in MissCoquelicot, $25, at Sephora, locations throughout the city; visit sephora.com
Interview: Solange Knowles
The 25-year-old musician may be best known as Beyonce's little sister, but recently she's been gaining notoriety for her adventurous sartorial choices. We asked the budding style star about her favorite local hangouts and new album.
You recently made the move from L.A. to Brooklyn. How are you adjusting?
I love it. My entire family lives here, and [since] my niece [Blue Ivy] was born, I love being close to her.
Did you get any advice from friends and family about moving to New York?
Honestly, everyone really frightened me. I had sort of a Texas hillbilly [attitude] about the subway and walking [everywhere] and layering [for the cold weather]. But I'm a tough girl—I lived in Idaho, and if I can survive there, I can survive anywhere.
What's one of the biggest differences that you've noticed?
People who live in L.A. don't like to leave their homes because they have so much space. They have the nice kitchens and a cook and a pool. When you live in L.A., there is a sense of isolation in terms of raising a family.
What are some of your favorite things to do in the city?
I definitely have that sort of Brooklyn vibe of "oh, crossing the bridge is sooo far," so we stay pretty local in terms of our restaurants, movie theaters and bowling alleys. But really, I love eating out. Some of my favorite new spots in the neighborhood are Buttermilk Channel and Frankies [457 Spuntino]. I've definitely packed on the pounds since moving here.
Where are some of your favorite places to shop?
Opening Ceremony is my number one favorite place to shop here. It's the only place I'll shop in New York with my son. All of the sales people are so cool; the music is great; it's just like a big fun house, so he stays entertained. I like the Barneys [co-op] in Brooklyn because it's very laid-back and chill; there's not as much hustle and bustle as the one in the city. Aside from that, I literally buy everything online. Once I had my son, I stopped shopping in stores because it's not an easy process to try on clothes—and I'm not an impulsive buyer. I need to do the dance in front of the mirror, the whole nine yards.
What's your favorite place to shop online?
I love Net-a-Porter (netaporter.com), but it's a gift and a curse. Living in New York has made [the site] that much more dangerous because I have my settings set to New York Premier, which means [purchases] come the same day. It is such an addictive drug, to be able to wake up in the morning, order a pair of shoes, and they are at your door four hours later. I made the biggest mistake of introducing that to my sister, and she's just been out of control...out of control. It's just out of control.
Who are some of your favorite designers?
I love Tibi for all of my classic staples; Suno because I'm a print girl and they do it so well; and Diane von Furstenberg because she does a phenomenal job with prints and color and just makes wearable, accessible womenswear that's easy to throw on.
You've been getting quite a bit of attention from the fashion industry. What's your take on that?
I'm humbled and excited about it, but I'm not trying to be a huge designer or a big model. I've been clear I just want to express myself. I'm really appreciative for the love and respect [from the fashion community], but I just want to do the fun shit. I'm a lot more interested in style than fashion—style is what makes us who we are.
Do you have any long-term fashion icons?
I'm inspired by my mother from the '70s and '80s--she looked like a walking American Apparel ad. She definitely set the bar in terms of style. I'm also inspired by Bjrk, Erykah Badu and Diana Ross. I gravitate to the people who have stood the test of time; that's why so many of my style icons are older. If you can conquer that many decades and that many trends and still look timeless and beautiful—that's where I'd like to be.
What are you working on now?
I've been working on my album for two years. It's my first independent record and it's been a journey. It will be out this summer.
How is it different from your last album?
It's very sensual, very percussive and the songwriting is a lot more complex than my previous music. It's inspired by '80s R&B, pop and soul. Pop has become a term of cheese now, of selling out, but it was never like that in the past. Right now it just seems like a trend is so important—people find a formula of what's working and what's successful, and they try to re-create it, or a variation of that. You turn on the radio, and it's like 60 minutes of one song. I hope 25 years from now, my son can look at the pop stars [of today] and have that same feeling that I have when I listen to Whitney Houston or Mariah Carey records, and experience that timelessness of just good songs. Those artists have something so utterly unique and amazing about themselves, their voices or their styles: It's musical integrity.
Solange Knowles cover shoot
Watch a video of the stylish songstress posing for our Spring Fashion issue.
You might also like
Buy Solange's music on iTunes
See more in Shopping + Style