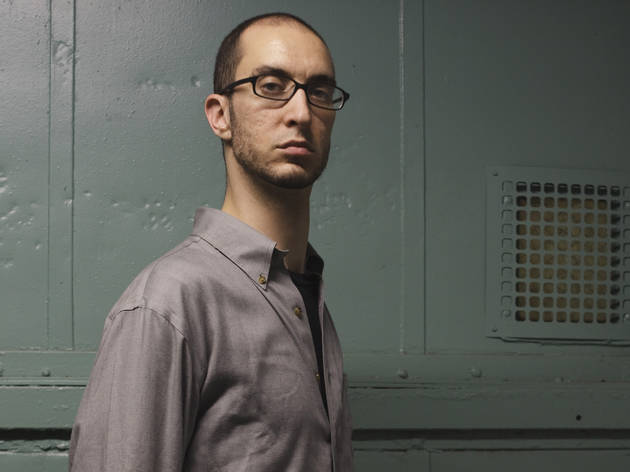 Interview - Steve Lehman
A future-minded saxophone star makes peace with tradition.
Young rockers don't need to worry much about the past. Since punk came along, the idea of killing—or at the very least flipping off—canonized idols has become not just common but welcome. Jazz doesn't really work that way. No matter how much the music has expanded over the past century, each new upstart still has to reckon with history: "He's exciting, sure, but can he play a standard?"
Plenty of jazz artists spend their careers addressing this question, operating in obvious deference to the Big Brother they know is watching. They stock their records with time-tested tunes, serve up dutiful tributes to the masters and pose for stagy album-cover portraits. Steve Lehman is not one of these artists.
Over the past decade, the 33-year-old Brooklyn saxophonist has gradually established himself as one of the key exponents of the new in jazz. Releases like 2007's On Meaning and '09's Travail, Transformation and Flow—as well as the two albums Lehman's made as part of the collective trio Fieldwork—have been some of the sleekest, most sophisticated and most sheerly enjoyable recent statements in the genre. They feature dazzling young talents like drummer Tyshawn Sorey and vibraphonist Chris Dingman; they incorporate lessons from Lehman's graduate-level composition studies at Columbia yet surge with a fiercely kinetic pulse. In short, they're what you point to when someone asks you what NYC jazz sounds like right now.
That's not to say Lehman has voiced disdain for history. He's paid consistent respect to his dual mentors, saxophonist-composers Jackie McLean and Anthony Braxton, and he's recorded pieces by Andrew Hill and other masters. But before this year, he's always put originality first.
Lehman's new record, Dialect Fluorescent (Pi Recordings), shifts that focus. Look past the futuristic title and you'll find a relatively conventional program: four Lehman originals alternating with four covers, including a McLean piece, John Coltrane's Blue Train classic "Moment's Notice" and, most surprisingly, "Pure Imagination," otherwise known as the Willy Wonka & the Chocolate Factory theme. The record is the antithesis of a nostalgia trip, thanks to the crackling, wickedly funky interplay among the leader, bassist Matt Brewer and drummer Damion Reid, but you can't help but notice the contrast with Lehman's back catalog.
Typically, Lehman didn't approach the record blithely. Sitting in the practice room of his Park Slope walk-up recently, he shared his initial doubts. "I want to do this, but am I fooling myself?" he recalls thinking. "Is this just another guy making an album that's half standards, half originals, but trying to put it in a new package?"
When considering how to follow up the extraordinary, hyperambitious Travail, which sounds like a cutting-edge jazz orchestra remixing itself in real time, Lehman realized he'd earned himself a bit of wiggle room. "At the risk of sounding slightly immodest, I feel like, at least for the next few months, I don't have to prove that I have an original conception of harmony or rhythm," he says. "I've addressed my take on that, so that frees me up to do a project with another orientation."
Lehman's next move turned out to be a minimalist one. Dialect trades Travail's lush octet palette for a spare trio featuring the leader's darting, urgent statements, Reid's crisp hot-potato flow and the meaty connective tissue of Brewer's bass. "Everything on the record is oriented to really throw our interaction into relief," Lehman asserts. "And bringing in repertoire that others are familiar with is a useful way to highlight that."
Fair enough, but that practical rationale doesn't account for the curveball of "Pure Imagination," rendered by the trio as an up-tempo burner that nevertheless preserves the tenderness of the original. Lehman chuckles when asked about it, voicing his love for the melody but denying any kind of deep-seated connection to the Roald Dahl saga. "I mean, I watched the movie," he explains. "But it wasn't, like, [Mock-sappily] 'I always loved that song when I was a kid.' " The response is typical of the Lehman aesthetic: Take what you need from the past, and leave the baggage behind.
The Steve Lehman Trio plays Jazz Gallery June 7–9.
Follow Hank Shteamer on Twitter: @DarkForcesSwing
Buy Dialect Fluorescent on iTunes