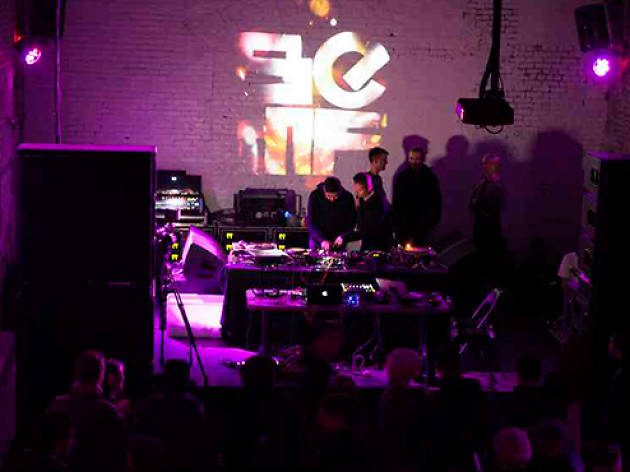 Jen Lyon and Katie Longmyer interview: 'We were at the beginning of that trend, and it blew up so quickly'
The Brooklyn Electronic Music Festival co-owners discuss spotting new talent and tapping into the Brooklyn vibe
Jen Lyon and Katie Longmyer, the owners of
MeanRed Productions
and
Good Peoples
, respectively, assumed control of the
Brooklyn Electronic Music Festival
in
2011
and have built it into one of the most exciting electronic-music events of the year. The growth has been gradual, or as Longmyer puts it, "We're sort of 'slow and steady wins the race.'" If you ask us, with these two in charge, BEMF is destined to pull away from the pack. The two-day fest takes place this Fri 7 and Sat 8 at some of our favorite Brooklyn venues. (You've got favorites, too? Go vote for them in the
Time Out Love New York Awards
!)
RECOMMENDED: Brooklyn Electronic Music FestivalBEMF is entering its seventh year. Has there been anything unexpected along the way?Katie Longmyer:
When we started, festival culture didn't exist. There were festivals that were big, like Coachella, but small festivals weren't as prominent. We were at the beginning of that trend, and it blew up so quickly; it was really interesting to see the changing landscape.
Jen Lyon:
One of the things we talk about a lot is how fun it's been that people who buy festival passes wander around Brooklyn and are willing to walk from venue to venue and experience new talent. And that really, legitimately happens. People are really open to finding something new or different.
You've both been working in New York nightlife for some time. How has it changed over the years?Lyon:
The caliber of venues has really improved. We're seeing consistently that venues need to provide the artist with a great experience, and the audience with a great experience. On the DIY/underground end, the parties have gotten more substantial and professional as well. I think both underground and overground have shifted to be more on par with what happens internationally. We're at a really good point. There are amazing options every weekend for great stuff to do. It's a good time to be a fan.
Longmyer:
How people discover music is a big thing. Spotify and SoundCloud both popped off in the middle of us owning this festival. That just completely changed the dynamic of how people discover, consume and share music. People are going to Pitchfork for music news; that's not necessarily what they did when we were younger promoters. You had to hit the streets and hand out flyers and have conversations and build your community in person. Now you can partner up with a digital news source and share music with a widget.
What goes into selecting the lineup?Lyon:
I think it's different every year. Katie and I have been booking together for so long, I think we always have a running hit list of artists that we think would be interesting and that are interested in doing stuff in Brooklyn. Some artists reach out to us; some managers or agents reach out to us. I think there's a sense that this is a good breeding ground for artists. A good example would be
a double-bill lineup we have at Villain on the 7th
. Early in the evening we have Deru's
1979
project and Alessandro Cortini from Nine Inch Nails doing an ambient set, and then later we have White Material doing a lineup. White Material—those guys are great and what they're doing in Brooklyn is great. They're excited and they're exciting. They're a young label that's making waves. That's a natural fit, right? Of course. We're always thinking, Let's support Brooklyn labels or entities. Earlier in the night, the Alessandro Cortini lineup, it's musically really interesting. He really wanted to play the festival, and said, "Look, this is the way I want to experience New York." There are so many more folks coming to see you that normally wouldn't. For every lineup there's a different reason.
Longmyer:
Because we're throwing other parties throughout the year, we're constantly looking at the landscape of music. There's a reality of what the movement of success looks like with an artist. You can feel when a track starts to play all the time and the room reacts in a certain way. You can see what people get attached to. Both of us get attached to different things, and we compare our hit lists and find a middle ground. It's almost a 365-a-year conversation.
How much of it is observation, versus instinct?Lyon:
Probably 50-50, right?
Longmyer:
Yeah, I was going to say the same thing.
Lyon:
It's totally half and half. Half of it is your research and your academic perception of what's going on with an artist. And half of it is gut. If you don't have both, then it's probably not going to work.
What are your hopes for the fest?Longmyer:
Every year, we try to root ourselves deeper in the community and find ways to highlight Brooklyn. This year,
Kinfolk
, which is the bike store on Wythe Avenue, just opened a venue. Our box office is going to be in there, and they designed our merch. That's us trying to really drive home the Brooklyn vibe. And there will be some surprise BEMF footprints, so you'll be able to walk through the streets and look down and see our logo, guiding you from the subway to all of our venues. So no matter where you are, you know you're on the pathway to BEMF.
Lyon:
We have so much good stuff. We have so many artists engaged in it and so many artists creating special mixes for us; there's just this constant hit list of artists who are connected to Brooklyn. We definitely have old-school house artists and disco artists from New York that we haven't booked yet, that we would like to. It's nice, because it seems like we're headed where we need to go and it's all happening.
The Brooklyn Electronic Music Festival goes down at various venues Nov 7 and 8.
Listen to Machinedrum's Exclusive Mix for BEMF