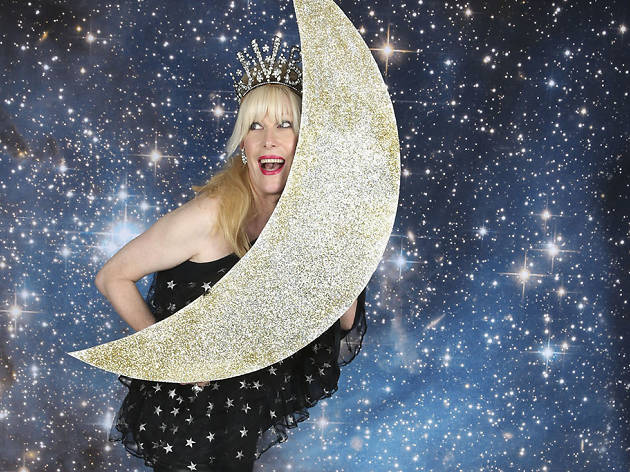 Justin Vivian Bond on art, gender, NYC and the future of Kiki and Herb
Alt-cabaret star and transgender icon Justin Vivian Bond returns to Joe's Pub to look back at 25 years in show business
Justin Vivian Bond has been at the molten core of the downtown scene for two decades: first as ferociously decrepit chanteuse Kiki DuRane in the lounge-punk act Kiki and Herb, and then as an eclectic alt-cabaret solo artist and transgender standard bearer. Through each era, the singer's caustic wit, witchy charisma and subversive queer wisdom have made Bond one of New York's essential performers. Now longtime fans can rediscover this history, and newer ones can make up for lost time. In a yearlong retrospective at Joe's Pub, Bond, who prefers the pronoun v to gendered alternatives, will recreate shows from the past quarter century of v's career. First up: Bond's debut, Dixie McCall's Patterns for Living, an homage to 1950s torch singer Julie London.
How did this Joe's Pub series come to be?
I had the idea of redoing Dixie McCall's Pattern for Living because it's been 25 years, and Shanta [Thake, director of Joe's Pub] came up with the brilliant idea of making it a 25th anniversary season. So I had to figure out what shows to do. There was the Dixie one, and then I thought it'd be interesting to do the set that I was supposed to perform on 9/11. For Christmas I'm doing something new: Angels We Have Heard When High, about the messages that people get from God in Heaven telling them to act a certain way. [Laughs] That will give me lots of freedom to make social commentary and to honor the birth of our Lord.
How will you be reconstructing these shows?
I have video footage of the Dixie show, so that one's easy to re-create. I'm gonna try to get into exactly where I was at that time. It's very silly and fun, but it's not really sophisticated in the musical choices: There's a whole section of James Bond theme songs. I have charts for the 9/11 show, and Julian Fleisher, who helped me put it together, says he's gonna look for all the messages I left on his answering machine: "We have to do the show! We can't cancel!" I don't know exactly what my pitter patter was gonna be for that, but I'm sure I'll come up with something.
The original musical director for the Dixie McCall show was Kenny Mellman [who played Herb in Kiki and Herb], but he's not scheduled to join you this time.
No. The second weekend will be Thomas Bartlett and the third weekend will be Matt Ray. I have not been able to announce who will be playing the first weekend. That is a secret. I'm just so grateful to all the musicians that I have worked with: Kenny, Matt, Thomas, Nath Ann Carrera, Claudia Chopek, David Berger. That's what makes it fun: working with great people in a collaborative way. Kenny has had so much to do with the success that I have had and vice versa.
But you're not doing any of the Kiki and Herb material for this anniversary season?
Not…as planned currently. We've considered it and haven't decided. Kenny's got a great success going on with the Julie Ruin, so I think we're both in places where we're pretty satisfied with our careers. In a way, that makes it easier to talk about the joys of Kiki and Herb. So we've been revisiting our appreciation for what we accomplished, but we haven't made any total decisions.
As Kiki, you could basically say anything. Is it harder to feel that free as yourself?
It was a progression. It was very difficult for me to be myself early in my career because I felt like it made me very vulnerable, and I didn't like that. Hiding behind Kiki made me able to say a lot of things but it made me kind of invulnerable, and toward the end of it, I felt like it was a trap. Because over the course of those years, I personally became a lot more confident in who I am and what I had to say. Having it come from me felt more revolutionary.
You've been an important figure recently in the trans performance community. Do you feel any pressure in that role?
No, not really. I guess I think of myself first and foremost as an artist, so those messages come from a place of personal expression of my art and creativity. Any impact I've made in that way is sort of a side effect of my being an artist, not driven by my activism.
What name do you prefer to go by now? Vivian? Justin?
I like Mx. Viv. But I deal with just about anything. [Laughs] Except for he, him or his.
When it comes to pronouns, do you still prefer v?
Sure, but I also like they because it refers to a plurality of genders.
I feel like some people assume that the trans debate is reinforcing a gender binary, just in reverse.
Mm hm. And in many instances it is.
But in some cases, and certainly among many of the trans people that I know, it seems like more of a neither/nor situation.
Right. And that's where it is for me. I mean, I support everybody's gender identity. If someone says, "I'm a woman" then they're a woman—that's that, case closed. But there are a lot of us who are not men or women, we're trans, and that case isn't closed, because there's no language and acknowledgment. When I go through security at the airport, my passport says male. I could get it changed to female, because that's possible now, but it would still be a lie. So therein lies the rub. And there are a lot of us that feel that way. I'm so excited that at least in the U.K. the dropdown things say you have the option of being Mx now, which says that you don't identity with either gender.
The trans dialogue has evolved with astonishing velocity. How do you feel about your role in that?
It's always been my intention to make queer visibility one of the cornerstones of my mission as an artist. And I think that's part of why Kiki and Herb lasted as long as we did. I hadn't intended to have that character be such a central part of my work, but the offers that came in around the time I was ready to quit—to do the Cherry Lane and Carnegie Hall and Broadway [in 2006]…. I felt like it would be amazing thing to have our characters on Broadway. I did a big monologue in the middle of the show about how anyone who didn't support gay marriage supported a system of apartheid. I was never that strident as Kiki for a gay audience, but once we got in front of the straight ones I felt like I had to make a few points.
We talked a few years ago, when you were just starting a phase of your transition, and you said that you were doing it because you preferred to get old as an old lady.
That's workin' out real well! [Laughs] I'm getting older, and I'm more of a lady!
And are you enjoying that?
Honestly, I love getting older. I would not go back 5 years or 10 years or 20 years. Every year, knock on wood, so far gets better. So I guess Dan Savage was right. But it took until my fifties for it to really start. [Laughs] Tell the kids: "Wait another 40 years! You'll be okay!"
Do you think that you've mellowed?
I think that as I've gotten older, I've become more intelligent and thoughtful, which might also have to do with why it's easier and more pleasant for me to not have a character to hide behind. When you get real worked up and you get yourself into a tizzy, it's really just allowing yourself to get high on adrenaline, which is kind of like a drug. I try to avoid that. I think I still feel as passionately about things, I just don't get myself all buzzed about it.
People keep saying that New York is dying. Is that truer now than usual?
The whole world is dying! So, I mean, yes, I'm sure it's true. It seemed like New York was dying in the '80s, when everyone was dropping of AIDS; it seemed like New York was dying in the '90s, when Giuliani was destroying the nightlife; and it still feels that way because it's being taken over by all these rich people and nobody can afford to be here. But honestly, I'm not one of those naysayer people. There are amazing people here, who are somehow—as has always been the case in New York, in spite of all the odds—finding their voices. So I think New York is amazing. I could go out every night of the week and find something fascinating and interesting to do if I had the energy.
Has anything changed for the better since you've been in New York?
Well, we're not all dying. Those of us who aren't dead aren't dead. That's a plus. In most cases. [Laughs] And I like that the downtown performance scene, which used to be seen as outsider art, is being integrated into more institutional places. I think a lot of that has to do with the fact that there's so much less homophobia. Queer artist are generally, let's face it, the better artists with more interesting things to say [Laughs]. Now they're getting their due.
We lost almost a whole generation of queer culture to AIDS. There was such a continuity problem for a while.
Well, because of that I've always had to find my inspiration from a younger generation. That's just my m.o.: I have learned so much from younger people, and sort of pitched my work to them. And that's been a great blessing for me, I think, to keep my art fresh and to keep me interested in what's going on in the world. And also to keep me from being one of those people who's older and sits around bitching about how great everything used to be. [Laughs] Because it wasn't that great as far as I knew!
See the show
Joe's Pub kicks off a yearlong retrospective of Justin Vivian Bond's prolific career in cabaret, comedy, art, nightlife and more with a revival of V's first-ever show, which premiered in San Francisco 25 years ago.