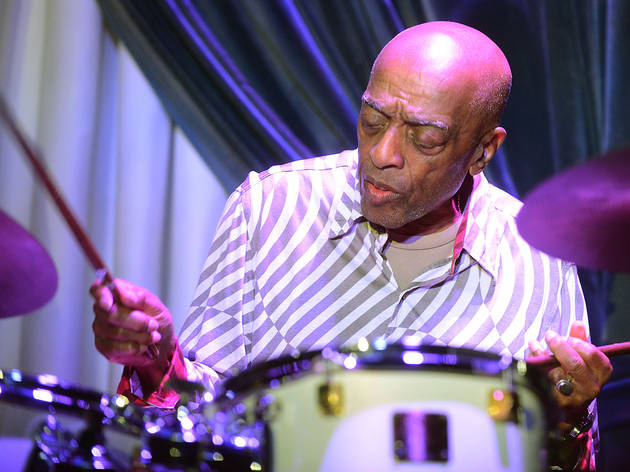 Legendary jazz drummer Roy Haynes reviews a career playing with the greats
Drummer Roy Haynes's new retrospective set provides a picture of eternal youth
By K. Leander Williams
"Is it possible for you to call back a little later?" asks Roy Haynes, when reached recently at his home on Long Island. There is no detectable fatigue in the jazz-drumming icon's voice, but as it turns out, the previous evening "was a bit of a long one," in Haynes's words. "Since I was up at Jazz at Lincoln Center doing a panel on Charlie Parker, I stuck around and heard the band playing at Dizzy's. Of course, we got to drinkin' and carryin' on—you know how it is. Good times, man. Got home late and then was on the radio this morning with [WKCR DJ] Phil Schaap. So before I do any more talking," Haynes assesses, "I should probably get some sleep and maybe have a sauna or something."
When you consider that Haynes has been in the upper echelon of timekeepers for some 60 years—he arrived in New York from his native Roxbury, Massachusetts, in 1945—the above becomes more than just another tale of a jazzer on a wingding. At Haynes's age of 82, it's positively awe-inspiring. The drummer insists that it was someone else's idea to name his current ensemble the Fountain of Youth Quartet, but it's easy to see why the name sticks.
His unlined face makes him look decades younger than he is, and his compact, powerful frame is often as flamboyantly attired now as it was when Esquire named him one of America's best-dressed men in 1960. "Yeah, me and Miles [Davis]," Haynes remembers, laughing. "We always dug the clothes and fast cars. I was on his first recording session for Prestige back in 1951, and we bought our first sports cars within weeks of each other."
A quick scan of the tracks on the ambitious new career retrospective A Life in Time: The Roy Haynes Story reveals the hard work that enabled Haynes to indulge his flair for fashion and road hogs while raising a family (his sons Craig and Graham, a drummer and cornetist, respectively, are cutting-edge musicians in their own right). The snare-and-cymbal panache that earned him the early nickname "Snap Crackle" is what binds the astonishing who's who spread across the three-CD/one-DVD package's first two discs, which span the years 1949–1998. It's not just a figure of speech when Haynes says that he's played with "everybody." You can choose the name of a historic figure at random (Getz? Coltrane? Monk? Dolphy? Corea? Sarah Vaughan?) and find it in the lineup. And using the set as a guide, anyone looking to build a jazz record collection could start here and walk away with a dozen stone-cold classic long-players.
But A Life in Time is unprecedented in a couple of other ways, too. Box sets tend to document the careers of musicians as bandleaders only, and even though Disc Three showcases some fine recent ensembles with Haynes in the driver's seat, his work as a sideman predominates. To top that off, Dreyfus Jazz, the French indie that released the box, pulled off a coup by acquiring music from a wide range of competing labels (among others, Blue Note, Prestige and Verve). "It was quite a bit of work clearing most of the stuff on an independent label's budget," says Doug Yoel, the set's coproducer. "But there was also plenty of goodwill at the majors—once you got past the legal folk to the music people. Obviously, Roy's career is uniquely suited to something like this. We listened to tons of great recordings while putting this together, and the only thing we went after and didn't get was Roy's work with Ray Charles on Genius + Soul = Jazz."
For his part, Haynes says listening to the tracks jogged his memory about past sessions. "Sarah Vaughan, for instance, was surprised at how well I swung with a big band," he recalls, "but of course, that was my foundation before I played bebop with Charlie Parker. Max Roach recommended me as his replacement." Mention of Parker and the bebop days spurs a memory connected to Haynes's upcoming run of live dates. "Y'know, I opened up the original Birdland with Bird in 1949." he says, proudly. "Five groups were on the bill, and that night I also played with Harry Belafonte. Would you believe it only cost 99 cents to get in?" Few details say as much about the trajectory—and continued vitality—of an extraordinary career.
A Life in Time: The Roy Haynes Story is out now on Dreyfus Jazz. Roy Haynes's Fountain of Youth Quartet plays Birdland Dec 11–15.