Liturgy interview: "I was treading water and avoiding tough decisions."
The polarizing local black-metal innovators reconvene, older and wiser, as a brutally effective quartet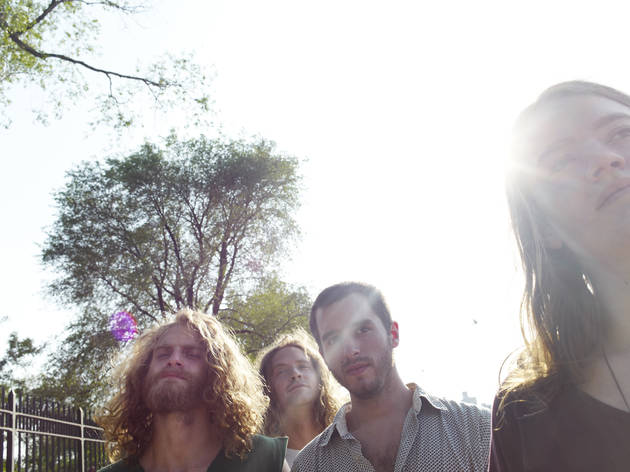 Greg Fox puffs vigorously on an e-cigarette outside crucial Williamsburg DIY hub Death by Audio, having just completed a face-melting yet therapeutic solo-drums set. Fox—a local avant-rock drum luminary currently working with Guardian Alien, Zs and countless others—delves into both his 2011 departure from and recent return to neo-black-metal vanguardists Liturgy. "I felt like Liturgy was taking too much of my mental and physical energy," Fox explains. "Which is basically why I left."
Fox and bassist Tyler Dusenbury were barely on speaking terms with bandleader Hunter Hunt-Hendrix after the split, but the original quartet lineup—also featuring guitarist Bernard Gann—is now copacetic and about to embark on a series of shows, starting August 23 at Pioneer Works, with a brand-new record on tap for early next year. Call 2014's version of Liturgy older and wiser. "[Our] arrangement had been cut short unnaturally," says Hunt-Hendrix. "It was worth seeing if we could still make use of our group energy."
That energy was first realized in 2005 when Hunt-Hendrix hatched Liturgy from his bedroom as a lo-fi one-man experi-metal statement. But the project reached full potential when he converged with Gann, Dusenbury and junior-high friend Fox. Both beloved and reviled for its self-described transcendental black metal—a concept elucidated in a divisive Hunt-Hendrix mission statement—Liturgy combined high-minded philosophy with a sonically brutal wall of shoegaze-inspired noise and proggy intricacy, as documented on brilliant albums such as 2009's Renihilation (a Thrill Jockey vinyl reissue is due August 26) and 2011's Aesthethica.Liturgy also riled hard-core metal types with a decidedly anti-black-metal image and appearances on rock-oriented bills.
In 2012, the blogosphere buzzed with a fresh dose of disdain for Hunt-Hendrix, when the Liturgy founder decided to replace the departed Fox with the project's original drum-machine accompaniment. Looking back, Hunt-Hendrix expresses regrets. "I was treading water and avoiding tough decisions," he says. "But during that period I was feeling more pressure than I was able to handle. I was sick of playing metal and wanted a new direction but didn't have the willpower to follow through entirely. The notoriety of the transcendental-black-metal vision was difficult to handle, and Greg's departure was very sudden. But we had these big festival shows coming up. The easiest way to fulfill those obligations without putting in effort was to revive that [drum-machine] version."
Now as Fox returns to the Liturgy fold, the drummer brings with him a wealth of experience and maturity culled from work with free-jazz guru Milford Graves and Oneida's Kid Millions. "More than the experiences I've had, I've learned about being in a band and working with people," says Fox.
As Liturgy 2.0 gears up for a fresh round of gigs and a forthcoming LP that Hunt-Hendrix calls "the most honest Liturgy record so far," the bandleader looks back fondly at the recently revived Renihilation. "I remember playing a lot of DIY shows, almost never with metal bands on the bill, and being relieved to find a label [20 Buck Spin, which originally issued Renihilation] that could bring the music to a metal audience on the Internet, which didn't seem to exist in Brooklyn," recalls Hunt-Hendrix of the quartet's debut. "Or if it did, we had no connection to it."
The reunited Liturgy has already hit the stage, playing an unannounced show at Silent Barn last month. Fox, ever the optimist, is stoked. "It's good—everybody just grew up," he says. "I feel like we're going to play better than we ever did."