Lou Reed: In memoriam
TONY's music editor reflects on a telling downtown encounter with the late local legend.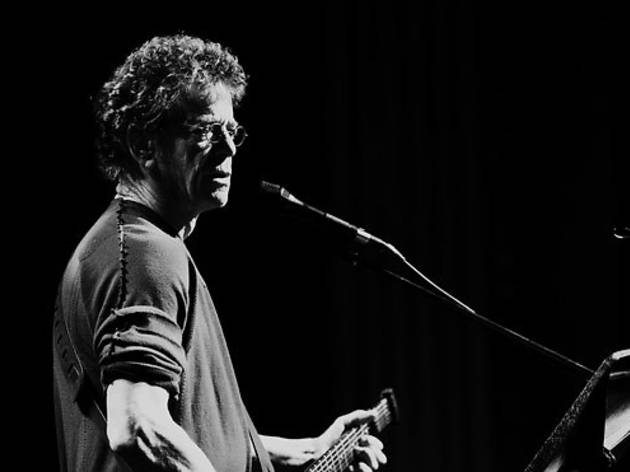 The last time I saw Lou Reed was on an overwarm evening this past August, when Laurie Anderson—an iconic artist in her own right, and Reed's wife since 2008—played an improvised set with British guitar maverick Fred Frith at the Stone, John Zorn's bare-bones musical laboratory in the East Village. The house was packed when Reed ambled in, fashionably late. He took a look around the room and didn't spot an empty chair, so he just sat down on the floor among the other fans.

RECOMMENDED: All Lou Reed coverage

It was a perfect Lou Reed moment: no nonsense, no airs, no screwing around. I'd spotted him before, with and without Anderson, at several other concerts, including an all-Mozart symphonic gig at Lincoln Center. Just clapping eyes on him was a kind of confirmation for nascent New Yorkers, as any number of tweets attested to in the wake of his passing on October 27. ("Sunday Morning"—damned if even in dying, Reed didn't manage a bit of self-referential poetry.)

Arguably, no single figure personified New York City music more completely. Reed rose from the ranks of anonymous tune-slingers at Pickwick Records to become a Warhol superstar and art brut guitar slasher with the groundbreaking Velvet Underground—the inspiration for a thousand-thousand indie-rock outfits who couldn't touch the hem of their taboo-trashing, avant-garde-besotted forebears.

Even before that band ran its meteoric course, Reed was onto the next one. Had he penned nothing more than the iconic "Walk on the Wild Side"—No. 6 on Time Out New York's list of the Top 100 New York songs—his place in the annals of music history would be secure. But he pushed onward, through a Baroque-minimalist concept album (Berlin), an epic live set (Rock 'n' Roll Animal), an middle-finger-raising wall of sound (Metal Machine Music), an exquisite comeback (The Blue Mask) and a state-of-the-union address he could only title New York.
Thereafter, Reed's output swung between haunted elegies and arty intrigues, and boldfaced names like John Zorn, Antony Hegarty and Robert Wilson all felt the tug of his ineluctable gravity. To the end of his days, the word compromise never entered the man's vocabulary: witness Lulu, his 2011 collaboration with Metallica, and the most divisive album he had made since Metal Machine Music.
For music journalists, a withering encounter with Reed during an interview amounted to a Purple Heart. Hank Shteamer, my Time Out colleague, earned what was surely one of the last such badges minted, for a Q&A he conducted during Reed's Lulu cycle. Me, I never had one of those fabled altercations. But I have my August close encounter, which I choose to view as being indicative of who Lou Reed really was: an insatiably inquisitive artist, a staunch supporter to friends and lovers, and a no-bullshit character who wasn't above grabbing a spot next to you on the floor.
Essential Lou Reed playlist: Ten songs you need to know
1. "Heroin" (from The Velvet Underground & Nico, 1967)

2. "White Light/White Heat" (from White Light/White Heat, 1968)

3. "Walk on the Wild Side" (from Transformer, 1972)

4. "Caroline Says II" (from Berlin, 1973)

5. "Intro/Sweet Jane" (from Rock 'n' Roll Animal, 1974)

6. "Waves of Fear" (from The Blue Mask, 1982)

7. "Dirty Boulevard" (from New York, 1989)

8. "It Wasn't Me" (from Songs for Drella, 1990)

9. "Ecstasy" (from Ecstasy, 2000)

10. "Candy Says" (from Berlin: Live at St. Ann's Warehouse, 2008)


Bonus track: "Junior Dad" (from Lulu, 2011; listen here)
LISTEN TO THE ESSENTIAL LOU REED PLAYLIST TO THE RIGHT —>