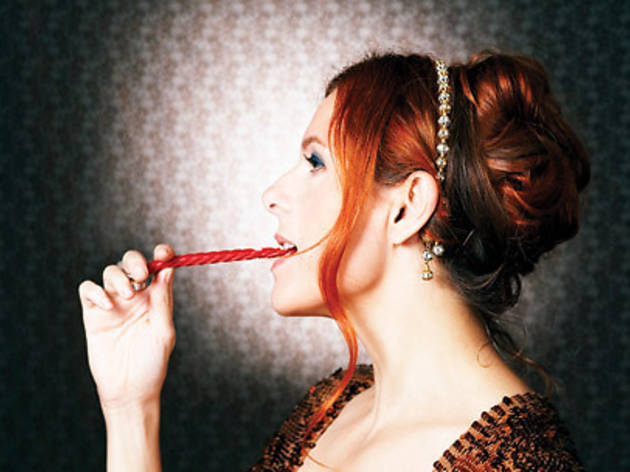 The Hot Seat: Neko Case
Like a twister in a trailer park, this dreamy siren has no time for ceilings.
The first song on Neko Case's latest album, Middle Cyclone, tells the sad story of a tornado that falls in love with a person. The twisty love ode is something of a departure for the refreshingly plainspoken singer-songwriter, who is known for eschewing songs of romance—whether involving people or heavily sighing weather systems. We talked with her about the new record, as well as other cross-species relationships.
RECOMMENDED: Full list of Hot Seat interviews
Time Out New York: Your album makes for good hoofing-around-the-city music. What do you listen to when you're ambling about outside?
Neko Case: Well, when I'm in the city I listen to headphones, but in the country I don't. You should kind of have your ears open if you're in the wilderness. There are bears where I live in Vermont. But I often walk with dogs, so usually I'm okay.
That frog concerto at the end of the album is the finest amphibian song since Kermit's "It's Not Easy Being Green."
Thank you. They're all excited about mating. It's a little cold there in Vermont now, but they'll be out in like another month. I love the sound of them. Very soothing.
Whose gas-guzzler is that on the cover of the album?
That's my car. I think I'm going to auction it off for charity in the next couple of months.
Springsteen auctioned off one of his motorcycles at a benefit here in New York a while back. I imagine your car will fetch a good price.
Um, well, I'm not as popular as he is, but we'll see what happens.
He threw in his leather jacket to sweeten the pot.
I'll throw in some of my used gym pants. That's all I've got. I don't have any awesome leather jackets or anything. I'll throw in a skanky sports bra. Drive the price higher. Up about 60.
You look like a hell-for-leather Valkyrie on the cover. Pretty sure they don't wear sports bras.
I don't like getting my picture taken. And I thought, If I was an eight-year-old boy, what would I want to see on the cover of my record? If I was an eight-year-old boy, I'd want me to have a sword.
Did you have to claim it from a mountain temple or a slain foe or anything?
No. It's just like that awesome moment on the Star Wars poster. Leia clinging to Luke's leg. Just happens to be his sister.
So wrong.
Well, there's nothing wrong with your sister cowering near you for protection, I guess. Although you want to see the ladies be a little tougher, like maybe she gets to have a fucking sword? So maybe that's what I'm doing there. Maybe that's my Princess Leia moment and I'm just like, Fuck, finally.
She was a pretty tough lady.
She was super tough, but why doesn't she get to hold a sword on the fucking poster? She was actually more muscular than Mark Hamill.
Your song "People Got a Lotta Nerve" makes me think of SeaWorld, with all its talk of man-eating killer whales.
Oh, it makes me think of SeaWorld too. I hate SeaWorld. It's kind of about childhood memories of the Vancouver aquarium. It was right across the border, and there were all these whales and they'd make them do tricks, and it made you feel fucking sad.
It'd be cool if they revolted one day.
Well, sometimes they do, and they bite their trainers' legs off, and they're like, "Why? Why? What happened?"
I'd join a whale revolt.
Oh, me too. Or a tiger revolt. Or an elephant revolt. They have to stop having those large predators in zoos. You could put polar bears in the mix.
Well, obviously bears would have to be in the rebellion.
You could put apes in there, too. You're a primate. Well, I guess technically we're Homo sapiens, but...
Whatever. Who's counting?
Yeah, why do we have to be so genusist about it?
Case performs Mon 13 and Tue 14 at Nokia Theatre Times Square. Middle Cyclone is out now.
Download Middle Cyclone from iTunes now | Buy it now from BN.com
You might also like
See more Hot Seat
See more in Music