Nick Cave shrugs off his darker image
Australia's thin black duke braves the bearable lightness of being, on record and in a string of sold-out shows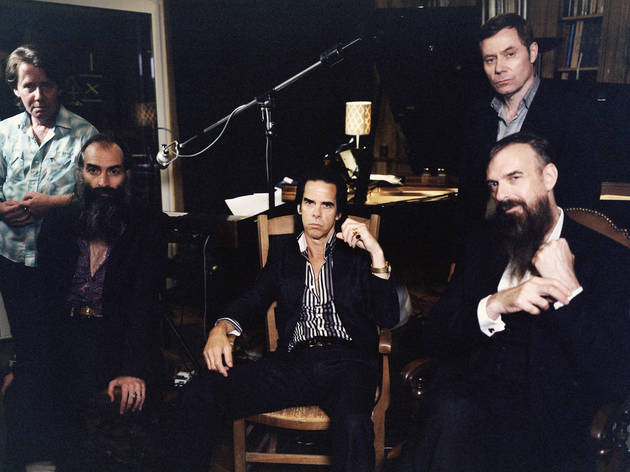 When Nick Cave cuts loose with laughter, it's almost as unnerving as it is refreshing. He is, after all, the moody art-rock antihero whose career with trusted henchmen the Bad Seeds has given us such luridly titled slabs as Your Funeral… My Trial, Murder Ballads and Abattoir Blues. He's also the author of the shadowy novel The Death of Bunny Munro, and the screenwriter for two films: last year's blood-feud thriller Lawless and 2005's brutal revenge Western The Proposition.
"Despite what people might think, I'm not interested in being dark all the time," cracks Cave, amused at how his stormy reputation precedes him. "I'm actually searching for some kind of light, and I'm always very happy when I can achieve that."
Push the Sky Away is Cave's 15th outing with the Bad Seeds, and although it roils with his signature themes of love, sex, violence and the apocalypse, its sound—unadorned, intimate, at times even ghostly—sets it apart from the spiky brashness of 2008's Dig, Lazarus, Dig!!! or the garage-powered buzz saw of Cave's Grinderman side project. The recent departure of Mick Harvey, a longtime Bad Seed and fellow founder of legendary Aussie band the Birthday Party, might explain the noticeable absence of electric guitars on the new album. But according to Cave, the do-or-die camaraderie of recording in a secluded French studio made all the difference.
"Early on we thought, All right, this could be an absolute disaster, or it could be really good, and it turned into something really good," says Cave. "We were in this beautiful old studio—its major function is to house this classical vinyl collection—and it was actually a pleasure to be there. You couldn't leave the grounds, and there was nothing else to do but work, sleep or eat. A lot of us hadn't been together for a long time in that same way, so we all got very close, and I think that's reflected in the music. Everyone had the same agenda."
The songs on Push the Sky Away don't crash so much as creep into existence; from the menacing lilt of "We No Who U R" ("And we know who you are / And we know where you live / And we know there's no need to forgive") to the slow-building fever dream of the Second Coming that drives "Higgs Boson Blues" ("Robert Johnson and the devil man don't know who's gonna rip off who"), Cave takes advantage of the wide-open atmospherics with lyrics that cut to the bone. But amid the grim tableaux and gallows humor, he also reveals a tenderness in "Wide Lovely Eyes" and the title track, a solemn elegy that somehow merges Curtis Mayfield with Mahler in its hymnal refrain of "keep on pushing."
"That song seems to be more purely expressive, which is why it feels like an achievement for me," says Cave. "The songs that I like are the ones that you can't visualize, that are just cries from the heart—those very straight, direct songs that make rock & roll music so wonderful. 'And some people say it's just rock & roll, but it gets you right down to your soul'—I was just really pleased to have written that, even though it's probably been written a hundred times before. I mean, you write that on a page and it's just plain embarrassing, you know? But if you can tough it out and get to the point where you actually sing the thing, suddenly it has this resonance that it doesn't have on the page."
At 55, Cave finds himself in an intensely productive period, with none of the concerns about whether he's considered a cult figure or a bona fide rock star. "I still feel very much an imposter in the whole music scene," he revealed at this year's SXSW music conference, "which I'm quite happy about, to be honest." No doubt, ambiguity has its perks, especially when it comes to flexing creative freedom.
"There's a sense of journeying and adventure that goes on when we record, and that's very much what we bring to the live show," notes Cave. "We've been going from town to town, getting local string players and maybe a local school to send their kids down to sing with us. They just jump up and start singing, and it's like…wow, that's cool! We weren't gonna do this in New York, but we just enjoy it so much, we're hoping to set it up again. These magical things happen without us being prepared for them, which is really quite beautiful."
Nick Cave and the Bad Seeds play the Beacon Theatre Thu 28–Sat 30.
Follow Bill Murphy on Twitter: @RoninScribe
Buy Push the Sky Away on iTunes