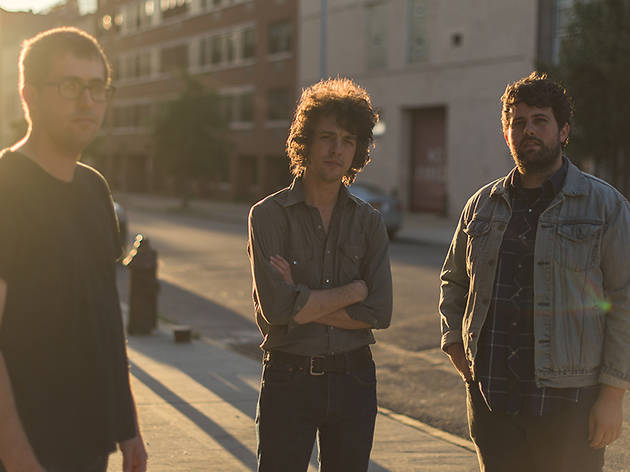 1/6
Photograph: Loren Wohl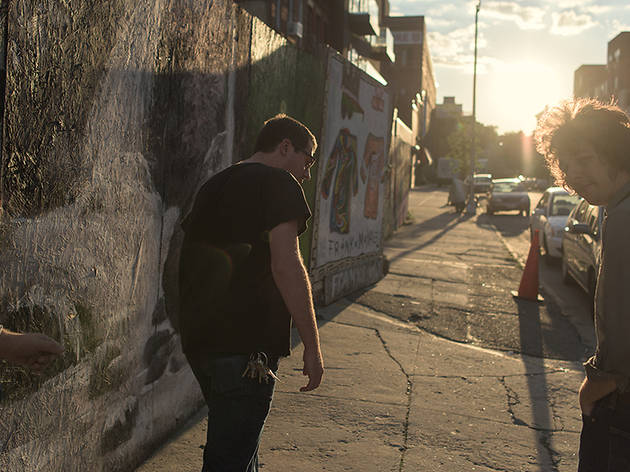 2/6
Photograph: Loren Wohl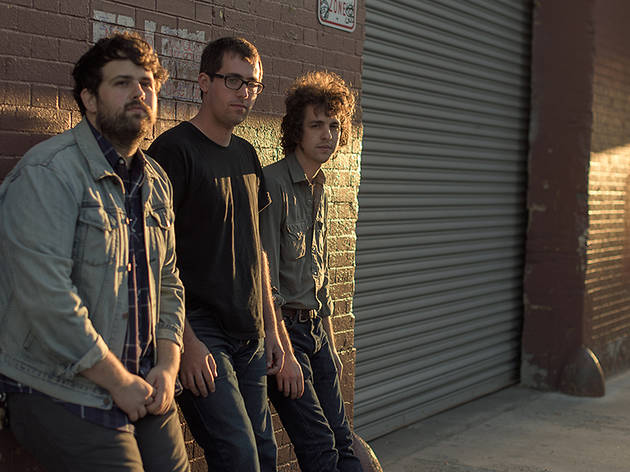 3/6
Photograph: Loren Wohl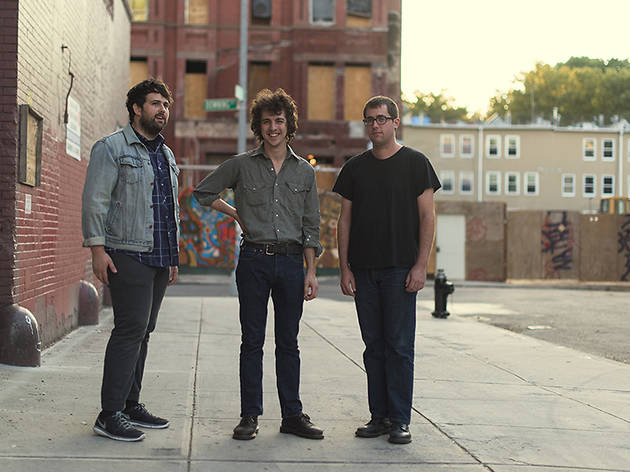 4/6
Photograph: Loren Wohl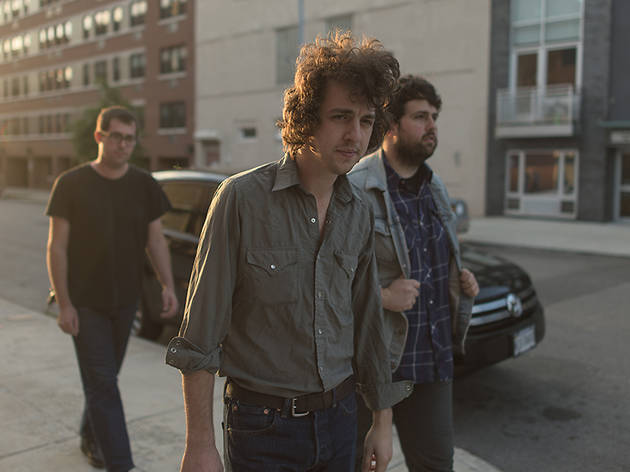 5/6
Photograph: Loren Wohl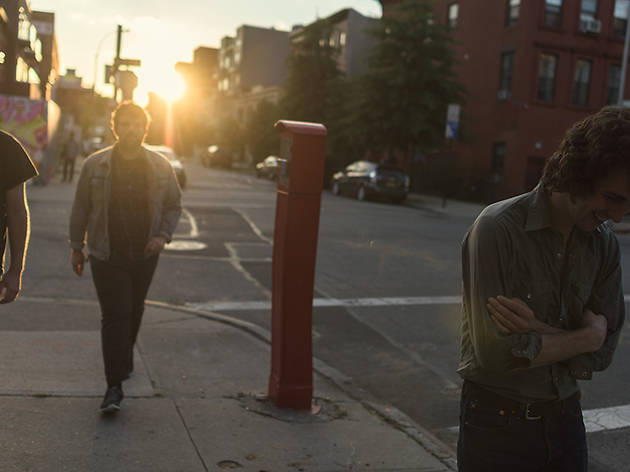 6/6
Photograph: Loren Wohl
Nude Beach talk Elvis, Letterman and a new bandmate
The Brooklyn trio cements its status with a superlative new double LP
Sitting around a candlelit booth at Bed-Stuy watering hole Dynaco (among the city's best quiet bars), Brooklyn punk trio Nude Beach is discussing its ambitions for its third album, the 18-song opus 77. It's the first time they've really discussed the record and considered where it might take them. "To try to tour and go to some cool new places is No. 1," says drummer Ryan Naideau. "When you play in a band that even 10 people give a shit about, you can travel places."
It's a modest aim for such a sprawling work—a double LP that makes room for acoustic shuffles, glam-rock power riffs and a 10-minute jam ("I Found You") that's somehow one of its catchiest tunes. There's still the Tom Petty–gone-DIY burners that made Nude Beach's 2012 breakout, II, such an immediate thrill, but there's also quite a bit more. If that release served as an introduction to the band and advertisement for its full-tilt, beer-soaked live show, the new one is a bold statement that reframes the group as serious songsmiths, capable of dipping into the well of '60s and '70s rock without losing its scruffy charm.
Between shifts at their day jobs­—Naideau, guitarist-vocalist Chuck Betz and bassist Jim Shelton work at a record store, coffeeshop and coffee roaster, respectively­—the members made weekend trips to their native Long Island to record in a soundproof basement apartment. They finished overdubs and vocals in Betz's Bed-Stuy apartment, but the album sounds more like an analog-studio artifact than a home-recording project.
The record's title, 77, comes from another NYC abode: the number of an old Greenpoint apartment where Betz and drummer Ryan Naideau lived while writing many of the songs. "Obviously, the number 77 has a lot of connotations," says Betz. "The big one being Elvis dying [that year and] punk coming in. It's a changing point."
Despite the album's extended running time, the band members make it clear that it's not intended as a concept album or any kind of grand statement. There's no overarching theme, and the extended—and ultimately more expensive—format wasn't a lock from the outset. "We had come up with multiple different versions of a 10- or 11-song record, but kept coming back to [the double LP]," says Shelton. Betz cuts in, "In the end it was just like, Fuck it; this is the record."
To release 77, the band hooked up with New Brunswick label Don Giovanni, a longtime Nude Beach supporter. "Joe [Steinhardt] from Don Giovanni booked one of our first shows," says Shelton. "They were really psyched and not hesitant at all about our recording being this long, weird double LP."
When the group begins supporting 77, playing CMJ gigs before hitting the road, it'll be as a four-piece. Guitarist Matt Winn, a friend and collaborator who lent his talents to the new record, will now join the Beach onstage at local shows.
As the conversation continues toward eventual goals, talk drifts to dream bookings, possible tours to Europe and Japan, and one target that's at the top of the list: "We should play the last Letterman show," says Shelton. "Unfortunately, I don't think we'll get the chance to. The days are numbered." Start the petition now, folks.

Nude Beach plays an in-store at Other Music on Oct 20, a CMJ set at Union Pool Oct 24 and an album-release show at Mercury Lounge on Nov 5. The 77 LP is out Oct 21 on Don Giovanni.
The scruffy Brooklyn band plays an acoustic in-office in advance of its superlative new double LP