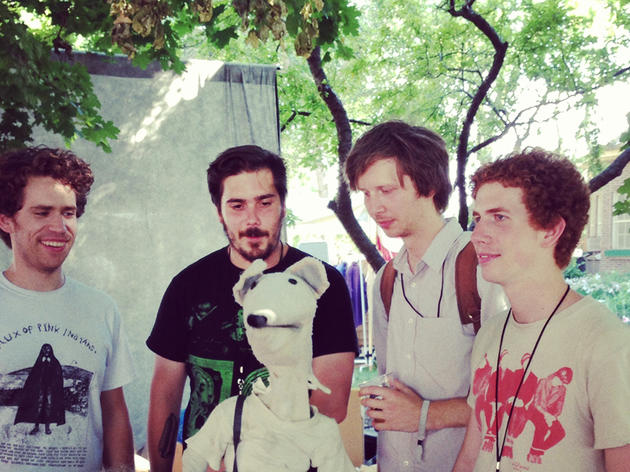 Parquet Courts interview: 'My cat's acting like a bitch right now'
Get to know the ace Brooklyn rock quartet before it blows up
Local band Parquet Courts has created quite a buzz over the past year, drawing comparisons to Pavement, Television and the Strokes from an army of fawning critics. And this summer it'll only get bigger, with a globe-crossing tour that will hit Britain's Glastonbury and other top fests, plus an album, Sunbathing Animal, that's a catchy cocktail of down-strummed guitars, back-to-basics beats, clever lyrics and brainy-punk attitude. Here are some not-so-brainy reasons to check 'em out:
The video for the forthcoming record's title track stars none other than lead singer-guitarist Andrew Savage's cat, Frida. "She's acting like a bitch right now," he laughs. "I've had friends over at my apartment and she's really rude to them, hiding under the couch and yelling at them. So yeah, she's turned into a bit of a diva since that video."
2. They write about the munchies.
In their song "Stoned and Starving," off last year's Light Up Gold, Savage sings about searching for little red treats while baked in Queens. "People have actually thrown Swedish Fish at us while we're onstage thanks to that song," he says. "It's cool. When I do eat candy, that's pretty much my favorite."
3. They don't "do" Twitter or Facebook, thank you very much.
I don't think not having them is that radical," says Savage. "People have been making music without them for ages, so it's really not a big deal for us. It's not a statement or anything. People said that we were making one when our first album [American Specialties] was put out on cassette. But most people I know that listen to bands like us have cassette players. So it made sense."
4. They're not afraid to rip off one of the most famous musical-theater numbers ever.
In our opinion, the lead-guitar line in "Instant Disassembly" sounds a lot like "Tomorrow" from Annie. "You're the first person to mention that connection," Savage claims before humming the orphan anthem to himself. "I hear it now! Interesting! Maybe it just comes from things floating around in hyperspace; the ideas are out there and pass through my head."
5. Because when you get right down to it, they're just a bunch of sensitive boys.
In "You've Got Me Wonderin' Now," Savage drops the specious line "Toothache is better than heartache." "It's true!" he asserts. "I even had a toothache when I wrote that song. It was incredibly painful—but I'd take it over heartache. It's one of the worst pains you can have!" Our suggestion? Fewer Swedish Fish.

Parquet Courts releases Sunbathing Animal June 3 and plays Sugar Hill Supper Club June 11.
Watch the video for "Sunbathing Animal"