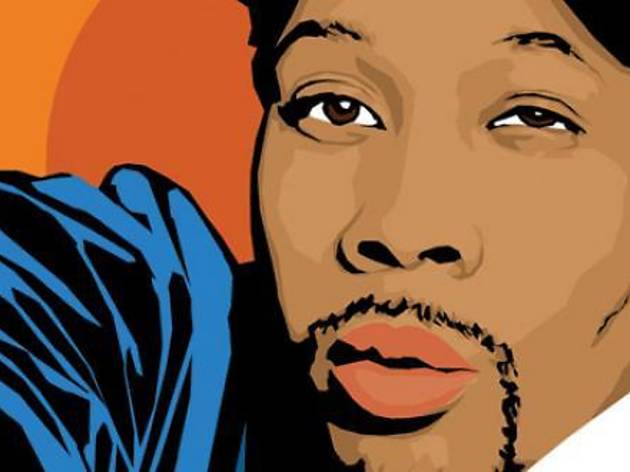 The Hot Seat: RZA
We get Tao with the shogun of the Wu-Tang Clan.
RZA (a.k.a. the Abbot, a.k.a. Bobby Digital, a.k.a. Divine Prince Master Rakeem, a.k.a....never mind), driving force behind the Wu-Tang Clan and its many offshoots, has various names, and accordingly does the work of at least half a dozen men. When he's not busy watching every kung fu movie ever made, the Staten Island native can be found producing, emceeing or acting (he did a hilarious turn in Judd Apatow's Funny People this summer). And now, the man formerly known as Robert Diggs has written his second book, The Tao of Wu, in which he imparts life philosophies and anecdotes from his own experience. When we called RZA, he was in a restaurant and asked us to "hit him back" in ten minutes. So we did.
RECOMMENDED: Full list of Hot Seat interviews
So, what were you eating?
Peace. Oh, I just had me some cucumber rolls. Shit.
You use peace as a salutation—that ever throw anyone off?
[To someone else] Hey, get her number, yo. Yeah. Tell her we're gonna call her for a shoot. [Back to us] Yo. I'm just trying to get this girl and get her number for a video. [To someone else] How old is she, you think? Wow, she looks only 25. I thought you were gonna say it was your girl. Word.
What video are you going to put her in?
I don't know. We gotta think of one! [Laughs] Gotta make one up and shit. Write a song tonight about her, how about that? He's getting her number now, so it looks like it's gonna be working out. I'm a businessman. I'm strictly business. So what's going on?
You use a Marcus Garvey quote in the new book, and talk about how enlightened men do not fear. This idea frightens me. With fear all over, terrorism, economic collapse and the like, how am I supposed to become an enlightened man?
Well, definitely first thing is, I think fear is one of the biggest blockages of all things. To be enlightened means to walk the path, to cross the stream, as they say in Buddhism, but you gotta be brave enough to cross it. They always say that knowledge is half the battle, but if knowledge is half the battle, fear may be the other half.
What're you afraid of?
Me? You know, man, my fear is always fearing the Most High. And the Most High can mean different things to different people, but for me, you know, I give all praises to Allah, because within Allah I get all, within Allah is one, but for that one, I know all things spring forth from it. The other thing, what keeps me earthbound and shit, is being a man who has children and a family. I will continue to build my family up, so they can maintain life without me. So to have that cut short by any malfunction or any malpractice or miscalculation of anyone infringing on my life, what I would have to do to defend that, you know?
Yeah, totally. What about the centipede? Does that scare you?
Oh, the centipede style from Five Deadly Venoms? That don't scare me, because I know all the poisons. How one poison counters the other poison. So I ain't worried about that.
During your days as Bobby Digital, did you really buy an armored SUV and go out to fight crime?
Yeah, I went out a few nights on a mission and shit, you know. [Laughs]
So do you have a secret lair under the Wu Mansion, like Wayne Manor?
Nah, I don't have a secret lair, but my driveway is long enough to make you scared to enter.
If you ever open a Wu-Tang School, will an unenlightened slob like me be eligible to enroll?
Me and my wife talk about that. Maybe one day, if life permits and time permits, maybe open up a Wu-Tang School of Thought. Because my main thing is this: People always discriminate between one thing or another thing or another thing or another thing is real. Now, I don't eat meat, right? Because I know the unhealthy factors of meat. And so therefore, I'm gonna try and preserve myself longer by staying away from the depths of the meat. But at the same time, if I'm in a situation where I'm in a place where it's the only source of nourishment, what am I gonna do? I'm gonna eat meat! I'm not gonna not eat meat and then die because I'm not eating meat.
RZA reads from The Tao of Wu Oct 15 at the Union Square Barnes & Noble.
You might also like
See more Hot Seat
See more in Music
See more in Books