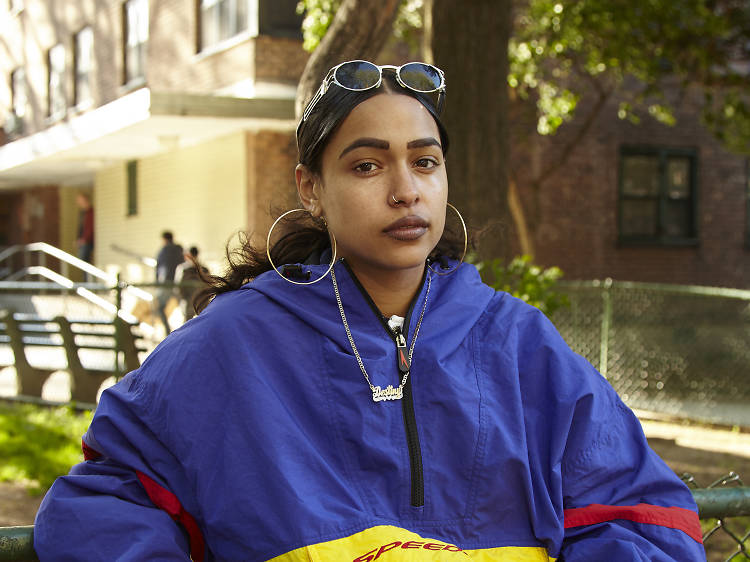 "I'm not just an internet rapper," says 24-year-old Destiny Frasqueri, a.k.a. Princess Nokia. "I'm an artist, I'm a Diddy, I'm at the top." She's also a street punk, a skater, an outspoken black feminist, a descendant of Taino brujas—and most of all she's on a meteoric rise in the music world, thanks to her latest EP, 1992, an ode to her rich narrative about growing up between the Lower East Side and Harlem.
The first song on the album is "Bart Simpson." Is that a character you connected with while growing up?
He's an all-around cool kid. He's a prankster. He's always up to no good, skating and getting into schemes. That was me in high school. Also he likes to moon people. So do I.
In that song, you also mention the comic-book store Forbidden Planet. Do you have any special memories from there?
I remember my first time going there at its original location. It was the coolest place I'd ever been in my life. I messed with figurines and the cards on the second floor, and I read through comic book after comic book.
Which comic-book heroes did you dig?
I love Storm and Anya Corazon [Ed. note: from X-Men and Spider-Girl, respectively]—amazing female protagonists who offer representation for Afro-Latina girls.
What was the first CD you bought?
It was by this group B*Witched—think I heard it on Disney Channel or Disney Radio. It was just really fun pop music. I loved the Celtic aspects, the intros, outros and breakdowns.
Outside pop, I hear you loved hardcore.
I was raised by a couple goth kids, so I loved Limp Bizkit and Slipknot. The first concert I ever attended was that all-girl metal band Kittie. Everyone had leather jackets and studded belts at those shows, but I went in jeans and a tank top. I wasn't trying to fit into a scene or category. I was just about being different everywhere I went.
Princess Nokia performs at Afropunk Fest Aug 26 at Commodore Barry Park (afropunkfest.com). $55.