Steadfast soul man Bilal resumes his surge to the top
Stylish vocalist Bilal celebrates his new album with a concert in New York this week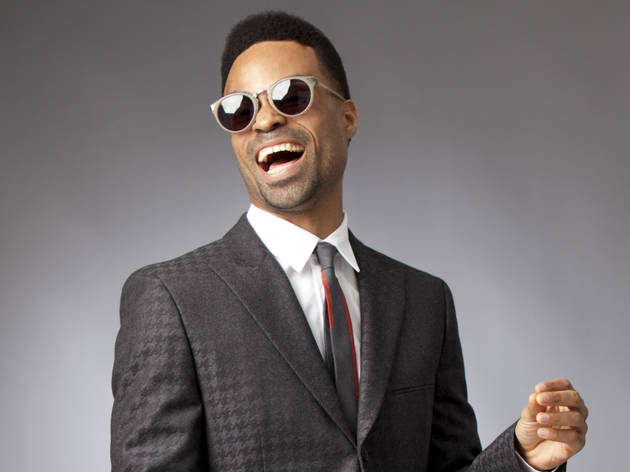 "The struggle makes you fly," assures soul singer Bilal on "Butterfly," a track from his fourth and latest album, A Love Surreal. On the surface, he's messaging a winged insect newly freed from its chrysalis. But he's also singing to himself. In 2006, still riding high on the success of his gritty but sensitive 2001 debut, 1st Born Second, Bilal had the rug pulled out from under him when his sophomore LP, Love for Sale, was leaked ahead of its release date, then put on ice by Interscope Records. By the time his third album, Airtight's Revenge, appeared on Plug Research in 2010, the listening public hadn't heard from the Brooklyn vocalist in an official capacity for nine years.
It was worth the wait: Revenge, which yielded the Grammy-nominated "Little One," was moody and cathartic, the kind of album that wrings hope and empowerment from darkness. Its follow-up, A Love Surreal, is a winning effort about holding on to matters of the heart even as they threaten to dematerialize. At the Highline Ballroom on Tuesday night, Bilal will celebrate the release of Surreal and a recent career-spanning mixtape, The Retrospection. Not bad for a painter who's been back at his canvas for only three years.
Originally from Philadelphia, Bilal moved to New York in 1997 to attend the New School for Jazz and Contemporary Music. There he formed important relationships with one of the school's founders, saxophonist Arnie Lawrence, and a promising classmate, pianist Robert Glasper. Augmented by bassist Carlos Henriquez and Spin Doctors drummer Aaron Comess, the three would convene weekly for a performance led by Lawrence at East Village venue Sidewalk Café. The session would commence at 3am and run until 5.
"It would be hard to stay up to even make it to the gig," recalls Bilal. "So one day I'm talking to [Comess], getting to know him, [and] he was like, 'Oh, let's just meet up at my house. We could play around in my studio.' So I'm thinking he's just a regular cat from the school—and I go to his house, and he lived in a giant loft. I didn't know anything about the Spin Doctors, so that was my introduction [Laughs]."
Early morning hours can be oppressive, though, and in 2001 Bilal graduated from after-midnight marauder to prime-time player. The powerful 1st Born Second, featuring tracks produced by J Dilla, Dr. Dre, Raphael Saadiq and Comess, among others, showed off the leader's range, breezing from frenzied ("Second Child") to sensual ("Soul Sista") and from introspective ("Reminisce") to stream-of-consciousness ("Sometimes"). The subsequent Love for Sale grooved even higher, with haunting, otherworldly funk junkets occupying the same space as spare, earthy R&B rituals and a cover of Fela Kuti's "Sorrow, Tears and Blood."
Though widely heard and well received, Sale was never sold by Interscope, leaving Bilal without a sanctioned sequel to 1st Born Second for nearly a decade. "It was kinda like being in the airport for a long time: flight delayed," explains Bilal. "But it turned into something else. It brought everything back to the Reason: I really do this because it's fun. I do this for the original passion that burns inside of me."
Nowhere is that inner urge more evident than on A Love Surreal. From the hypnotic thump of "West Side Girl" to the mellow soul of the Curtis Mayfield–channeling "Never Be the Same," the album is a meditation on the complicated nature of relationships. "The concept behind [A Love Surreal] is just love, and the intricacies of it," says Bilal. "It's almost surreal at times, the fact that we really can't control anything."
That lack of authority is a central theme of the aforementioned "Butterfly," too. But rather than lamenting an inability to effect change, the song celebrates pains endured to make dreams become reality.
"I think a struggle is the main part of anything that you do that you love," says Bilal. "You always get to a place where you're reaffirming. And especially if it's a ball of fire—a passionate thing—it's always being reaffirmed so we can burn brighter and brighter."
Bilal plays the Highline Ballroom Tue 12.
Follow Brad Farberman on Twitter: @BradFarberman